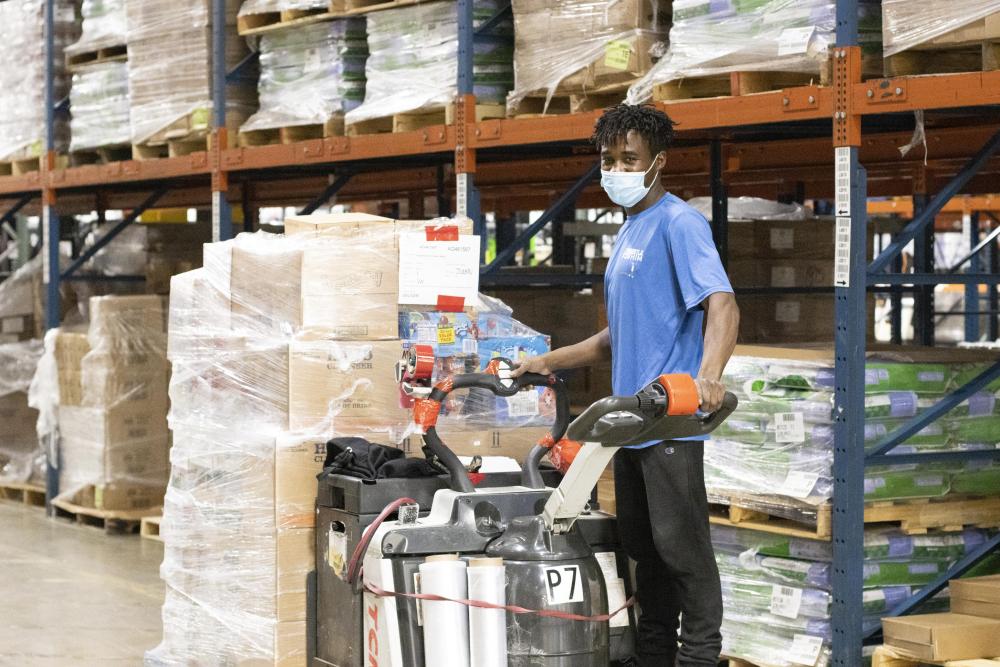 FOOD WAREHOUSING
Every day, more than 350,000 pounds of healthy food moves safely and efficiently through our state-of-the-art facility in Brooklyn Park, Minnesota.
Step 2 in Hunger Relief: Warehousing Food
Safely and efficiently handling donated and rescued food is critical to the success of our food bank operations. Our state-of-the-art warehouse facility in Brooklyn Park, Minnesota, acts as a hunger-relief hub.
Every day, our dedicated team of operations specialists, order selectors and food safety experts work to quickly unload and inventory new items, store perishable and shelf-stable foods safely, and fulfill orders from our network of food shelves and agency partners.
A network of dedicated volunteers supports our operations team. These individuals sort and pack food into smaller orders that are ready for distribution to local food shelves and the dinner tables of hungry households.
More than 175 tons
Amount of food that moves safely and efficiently through our food bank every day.
Over half a football field
Refrigerated space now available, enabling us to deliver more produce, fresh and frozen foods to food shelves and agency partners.
Up to 100 volunteers
Generous individuals who work each shift, helping to repackage food to family-sized portions.
Our Highest Priority Is Food Safety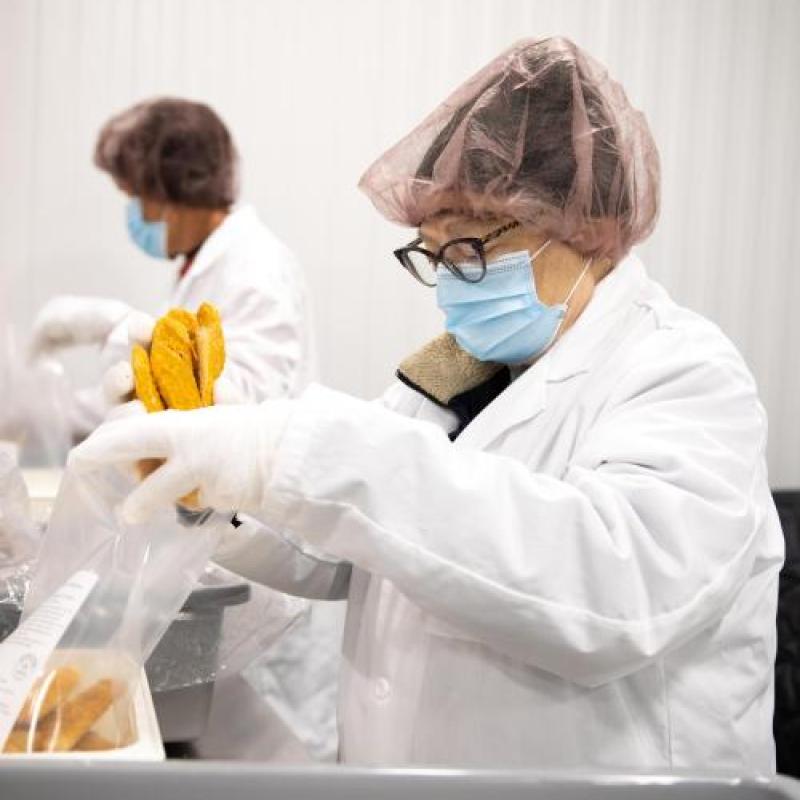 When you or a hungry neighbor receive food from the Second Harvest Heartland food bank, you can be confident in its quality and safe handling. That's because food safety is our top priority. 
We adhere to the same stringent requirements that govern grocery stores, food manufacturers and restaurants. We also follow specific protocols for food banks, including specially designed, third-party audits.
Our warehouse and distribution teams undertake rigorous training to ensure we transport and store all food items safely. Second Harvest Heartland also employs a full-time team responsible for sanitation, food safety and compliance across our facility and our distribution network.
"This is a place where miracles occur every day."
Tom Vilsack, U.S. Secretary of Agriculture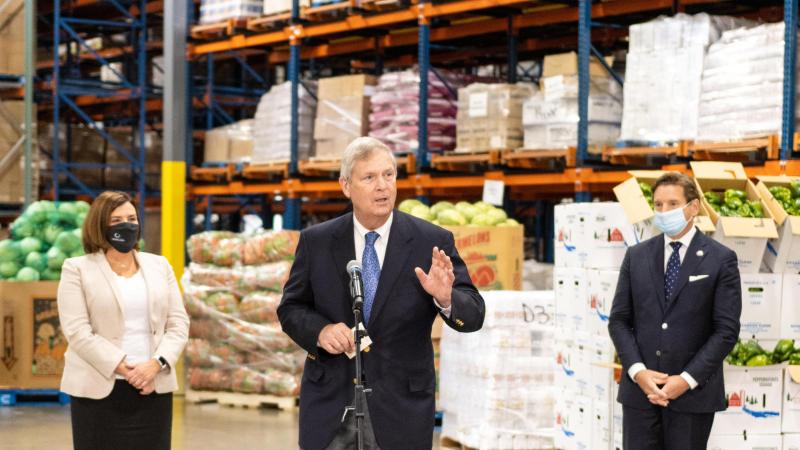 Tour Our New Facility
Central to our regional food bank operations is our new 233,000-square-foot hunger-fighting facility in Brooklyn Park, Minnesota, which opened in spring 2020...just in time to respond to the COVID-19 pandemic.
Just what can we do in this amazing space?
Unload, inventory and store whole pallets of donated, rescued and locally sourced bulk foods in 177,000 square feet of space.
Safely accommodate fresh, refrigerated and frozen food items in 30,000 square feet of temperature-controlled space.
Welcome dozens of volunteers for daily food packing shifts in the 24,100 square feet of our new volunteer center.
Learn More About Food Banking
Food warehousing is the second step in how Second Harvest Heartland works as a wholesaler, sourcing large amounts of food and making it available to smaller, local food shelves and food pantries, so they can provide free groceries and healthy meals to our neighbors experiencing hunger and food insecurity.