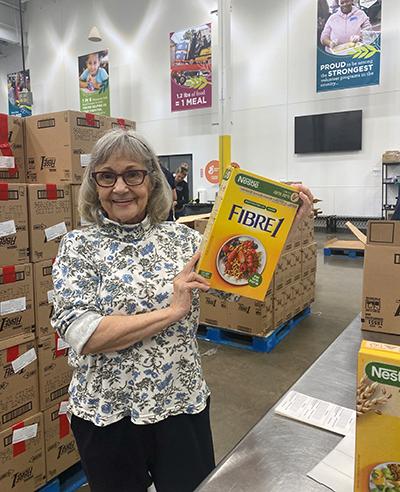 Get to Know Some of Second Harvest Heartland's Volunteers
For Volunteer Appreciation Month, I had the opportunity to sit down with Posa, a first-time Second Harvest Heartland volunteer, as well as Jacky, a loyal volunteer who's been participating in food packing shifts for over a year, to learn about their experiences.
Posa helped us pack some bread and onions. When asked what she thought of her experience, she said, "It was good. Initially I was worried the spoiled food would go to a landfill. I was happy to know that it goes to pigs." At Second Harvest Heartland, we have a partnership with a pig farm that allows us to use any food waste generated during a food packing shift to feed pigs.
Volunteering with Second Harvest Heartland was appealing to Posa because food security is important to her. "I always look for volunteer opportunities. I'm always fishing [for them]." Posa enjoyed her experience and said she would recommend it to others.
When she's not at home reading or out taking a walk, Jacky, a retired psychologist and world traveler, enjoys volunteering. Jacky describes herself as short and energetic, to which I would have to agree. A little over a year ago, she decided to try volunteering at Second Harvest Heartland and has been coming back regularly ever since.
When asked what compelled her to volunteer at Second Harvest Heartland for the first time, Jacky replied, "I like to help!" She then added, "There aren't too many things that little old ladies can do to be helpful, but this is something I can do." Jacky attributes Second Harvest Heartland's accessibility to the staff. "[They're] very helpful and patient."
I also asked Jacky what she enjoys most about volunteering, and she said she likes being with others. "I like the people that I work with and the people that I meet." She also mentioned how Second Harvest Heartland has helped build her awareness of hunger. "Before I came here, I really didn't understand how many people are going hungry."
When asked if she would recommend other people volunteer at Second Harvest Heartland, Jacky responded with a quick "Absolutely!" To those who aren't sure about volunteering, Jacky recommends that they come give it a try. "It's hard for me to understand why everyone doesn't want to help out," she said. Jacky would tell a prospective volunteer that "the help is needed" and that they will be in good hands at Second Harvest Heartland. "It's immaculate. It's very well organized. It's safe. The people are really nice. It's very well managed, and there's always a parking spot!"
Jacky's favorite food packing project is bread. She says that she enjoys it because "it's fast packing, it's wrapped, and it's so necessary." It makes her feel good to know that the food was donated as well. "It pleases me that wherever the bread came from, those people gave it so that other people could eat it."
Jacky feels hopeful about being able to volunteer in the midst of a pandemic. "Like many people, I felt helpless to do anything about COVID, but I could do this, and I was glad I could." Volunteering gives Jacky "a sense of satisfaction and pleasure at being able to help."