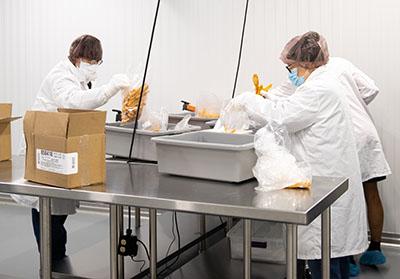 Staying Cool This Summer with Our New Temperature-Controlled Clean Room
The summer weather may be a warm one, but we're keeping things cool in our new temperature-controlled clean room in the Volunteer Center of our Brooklyn Park facility. This new area, which builds upon the standards of the existing dry clean room, will allow Second Harvest Heartland to accept a wider range of ready-to-eat donations, such as meat and poultry, which must remain within a safe temperature range.
In fact, Second Harvest Heartland is one of five food banks in the country that has a temperature-controlled clean room! Supported by the Schwan's Corporate Giving Foundation, the new space will be regularly inspected by the U.S. Department of Agriculture (USDA) to ensure food safety through cleanliness and proper cold temperatures.
In this clean room, volunteers—wearing food safety apparel such as lab coats, gloves, shoe covers, hairnets and more—will pack ready-to-eat foods into manageable quantities for distribution to food shelves and other meal programs, making in-demand foods more accessible to our partners and their clients.
Recently, three volunteers joined our inaugural volunteer shift to re-package large, commercial-sized bags of frozen chicken tenders into smaller, take-home sized bags that can be stored in smaller, family- and food shelf-sized fridges.
Expanding access to protein
Protein is a much needed and requested food staple that is more difficult for food banks and food shelves to receive as donations, due to the food safety and temperature requirements for shipment, storage and repackaging.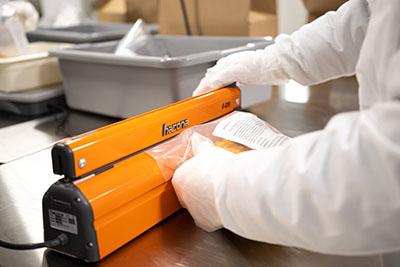 "This new temperature-controlled clean room opens us up for more donations, and especially for more items that we could not receive in the past," explained Justin Hauser, Second Harvest Heartland's first-ever clean room repack lead. "Protein is an extremely high-demand item, and we are really excited to be able to help get more of it to our agency partners and the families they serve."
Like the existing dry clean room, the new temp-controlled clean room has high cleanliness standards that must be followed, and volunteers require additional training to ensure all protocols are understood and followed. Additionally, the new clean room will be regularly inspected by the USDA to ensure the room's temperature complies with food safety regulations.
Once the room is fully up and running, repackaged food items coming out of the temperature-controlled clean room will sport a new label with an establishment number, in addition to a USDA inspection label. For example, volunteers may be repackaging donations of 10-pound bags of chicken tenders from a meat company into smaller, 2-pound bags for distribution to our agency partners, carrying the label for traceability purposes.
"While this room comes with more rigorous requirements, we are looking forward to what it means for expanding access to protein for our partners, and ultimately, families who need it. Not to mention the varied opportunities for our volunteers," Justin added.
Important hunger-fighting capabilities like this are made possible thanks to support from our generous corporate partners. In this case, long-time partner Schwan's Company, a leading provider of quality foods in the United States and their Schwan's Corporate Giving Foundation. Just last year, they helped provide more than 800,000 meals for our food insecure neighbors through food donations and financial grants.
Volunteering in the Temperature-Controlled Clean Room
At this time we offer volunteer opportunities for individuals and groups of up to 4 people. All volunteers must be age 18 and older to volunteer in this space. Visit Volunteer Central for more information and to sign up for this opportunity.