EMERGENCY RESPONSE
During challenging times, we're ready with healthy food and hunger help. See how we're addressing today's most urgent hunger needs.

From the COVID-19 pandemic to the Twin Cities uprisings to the pressures of inflation, we respond to meet today's hunger needs.
The Need Is Real
The Hungriest Summer Sets Records
We're working hard to make sure schoolchildren, working families, seniors and others have enough to eat. Here are a few of the ways we're helping meet the urgent need for healthy food right now.
420,000 pounds
June 2022 | We loaded and delivered the most food ever in a single day - 420,000 pounds - for local food shelves and meal program partners.
Demand up 27%
JULY 2022 | The need for fresh fruits and vegetables reaches a new high, up 27% compared to the height of the pandemic in 2020.
3 million meals
AUGUST 2022 | Kitchen Coalition, our prepared meals program, delivered its 3 millionth meal.
Hunger and COVID-19
Meeting an Urgent Demand for Food
When COVID-19 emerged in 2020, we stepped up emergency food support.
At the height of the pandemic, an additional 275,000 Minnesotans—including 112,000 kids—faced hunger, driving record demand for food assistance in our community.
Getting food to people safely and in new ways was an around-the-clock effort, requiring us to reinvent our service model again and again. To meet the increased need, we covered transportation costs, provided emergency and extra food deliveries, distributed face masks (and more) to our nearly 1,000 food shelf and other hunger-relief partners.
Teaming Up to Support Our Community
Our multi-year COVID-19 response brought us together in new ways and created new and lasting hunger relief solutions.
Together, we:
Instituted extra measures to keep people and food safe.
Stepped up

free food distribution

across the region.
Offered safe, curbside pickup for emergency food boxes.
Facilitated emergency grocery pop-ups.
Collaborated with local restaurants to launch

K

itchen Coalition.
Helped more Minnesotans access

SNAP benefits

.
We're proud to have met the moment and optimistic about making our emergency hunger response even stronger going forward.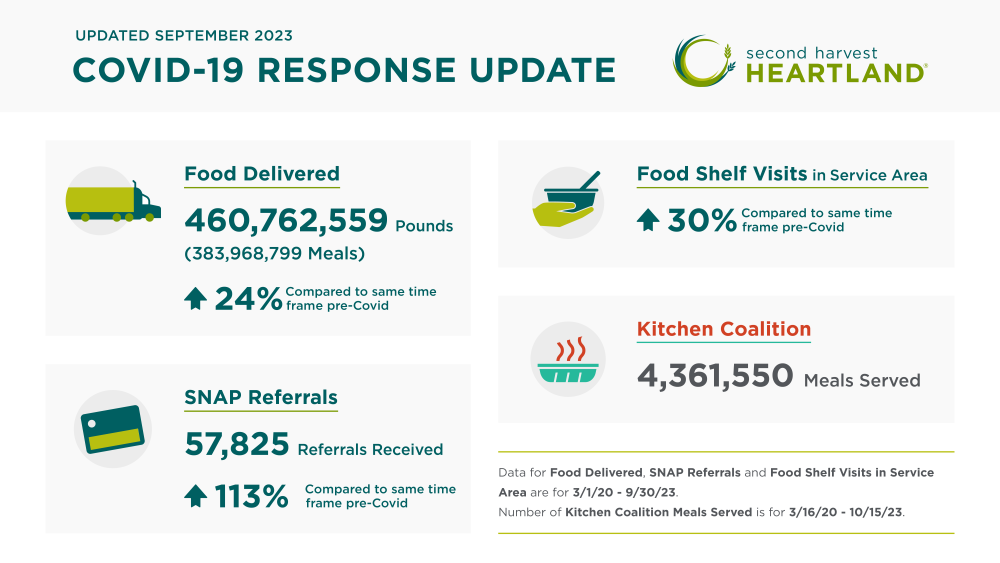 The Crisis That Changed Us
Responding to the Twin Cities Uprisings
In the summer of 2020, more than the pandemic disrupted access to food here in the heartland. Unrest swept across the Twin Cities in the days following the murder of George Floyd. The resulting destruction left local neighborhoods with damaged or shuttered grocery stores and limited access to healthy food and supplies.
We responded immediately, calling the food shelves and hunger relief partners in affected areas to ask how we could help.
Working together, we:
Responded with quick distribution of food and other necessities like baby formula and diapers.
Helped organize three large, weekly food distributions and emergency grocery pop-ups in hard-hit south Minneapolis.
Expanded Kitchen Coalition's service area to deliver even more prepared meals to those affected.