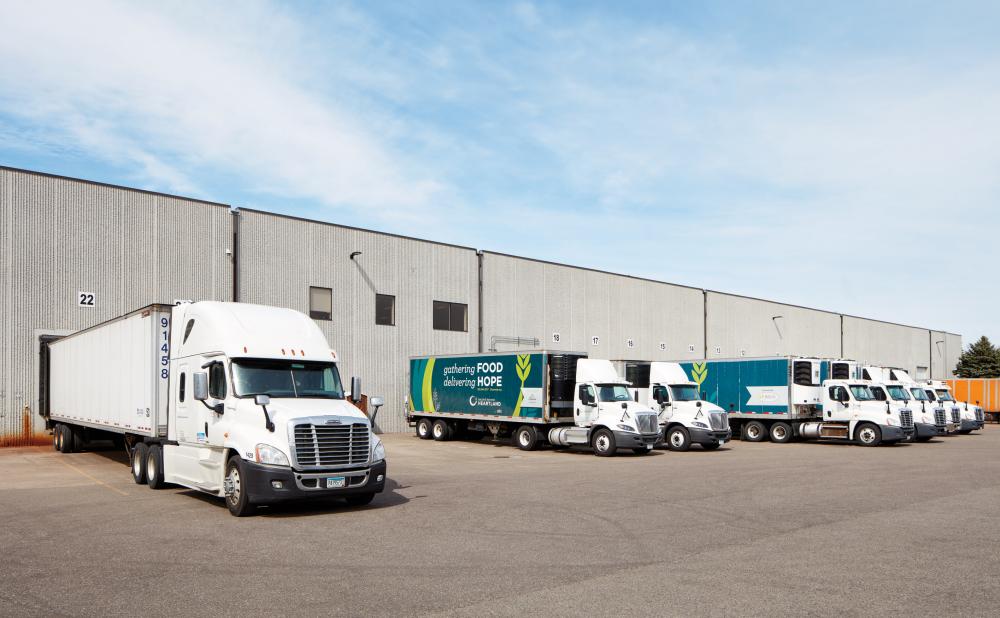 FOOD DISTRIBUTION
Delivering fresh, healthy food to the local food shelves who serve our hungry neighbors is the last mile in the emergency food chain.


Step 3 in Hunger Relief: Food Distribution
An expansive network of agency partnerships makes our work to end hunger possible. Nowhere is this group effort more critical than when it comes to food distribution, or the "last mile" process of getting healthy, nutritious food from our warehouse into the fridges and onto the tables of hungry neighbors in Minnesota and western Wisconsin.
Working together, we provide the transportation and technology to safely manage the distribution of fresh produce, refrigerated and frozen foods, and shelf-stable items.
Our agency partners make sure this precious, nutritious food moves smoothly to the people in need in each local community. These hard-working groups and volunteers cover 1,115 different partner programs.
113 million meals
Last year we helped provide more than 113 million meals to households in Minnesota and Wisconsin.
813,000 people
In partnership with our powerful network of local partners, we supported more than 813,000 people struggling with hunger and food insecurity.
94% of food
As one of the nation's largest hunger relief organizations, our food bank distributes approximately 86% of the food that our agency partners deliver in their communities.
Safely and Efficiently Moving Food at Scale
Inside Our Food Distribution Network
Every day, thousands of hungry seniors, parents, students and families across our region visit their local food shelves, food pantries and hunger relief organizations for free groceries and healthy meals. 
How that selection of fresh, nutritious food makes it to their shopping basket requires the coordinated logistics of regional food banks like Second Harvest Heartland.
ORDER: Community partners place orders with us for the foods that best fit their neighbors' needs. 
PACK: Within a few hours, our order selectors pick and package up pallets with these orders, checking each for accuracy and ensuring proper food handling.
DRIVE: Our drivers fill trucks for delivery, each bound for a different community hunger relief agency.
RECEIVE: The requested food arrives at our local partners, where hungry neighbors can access the ingredients they need for the meals they love.
How do we safely and efficiently move more than 350,000 pounds of food each day? We employ multiple fleets of refrigerated trucks and use sophisticated inventory, ordering and logistics technology to everything moving smoothly. 
Last year, our drivers tallied more than 621,000 miles on our food distribution routes.  
READ HOW ONE DRIVER DELIVERS HOPE
Nourishing Local Communities
Our Food Distribution Partners
No one is better placed to understand the challenges (and opportunities) of food insecurity and hunger than our many local agency partners. 
These organizations work tirelessly to fill unmet gaps in the community, from distributing free food to helping low-income households apply for reduced-price meals, to connecting seniors with chronic conditions to specially tailored nutrition boxes. The list of support services is numerous. 
Second Harvest Heartland relies on these "boots on the ground" resources to distribute food across our 59-county service area. 
Our partners include large and small meal services, urban and rural food shelves, greater Minnesota schools, non-profit organizations, community centers and numerous other hunger-relief groups.
MEET OUR HUNGER RELIEF PARTNERS IN ROGERS
SEE HOW FOOD DISTRIBUTION WORKS LOCALLY
Our Hunger Relief Service Area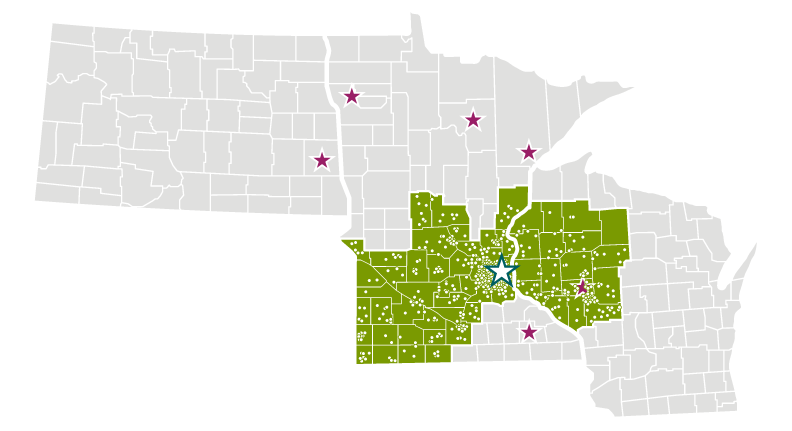 PURPLE STARS = Other food banks we partner with
Counties in Minnesota:
Anoka, Benton, Big Stone, Blue Earth, Brown, Carver, Chippewa, Chisago, Cottonwood, Dakota, Hennepin, Isanti, Jackson, Kandiyohi, Lac qui Parle, Le Sueur, Lincoln, Lyon, Martin, McLeod, Meeker, Morrison, Murray, Nicollet, Nobles, Pine, Pipestone, Ramsey, Redwood, Renville, Rock, Scott, Sherburne, Sibley,  Stearns, Swift, Todd, Washington, Watonwan, Wright and Yellow Medicine.
Counties in Wisconsin:
Barron, Buffalo, Burnett, Chippewa, Clark, Dunn, Eau Claire, Jackson, Pepin, Pierce, Polk, Price, Rusk, Sawyer, St. Croix, Taylor, Trempealeau and Washburn.
Learn More About Food Banking
Food distribution is the third and final step in how Second Harvest Heartland works as a wholesaler, sourcing large amounts of food and making it available to smaller, local food shelves and food pantries, so they can provide free groceries and healthy meals to our neighbors experiencing hunger and food insecurity.