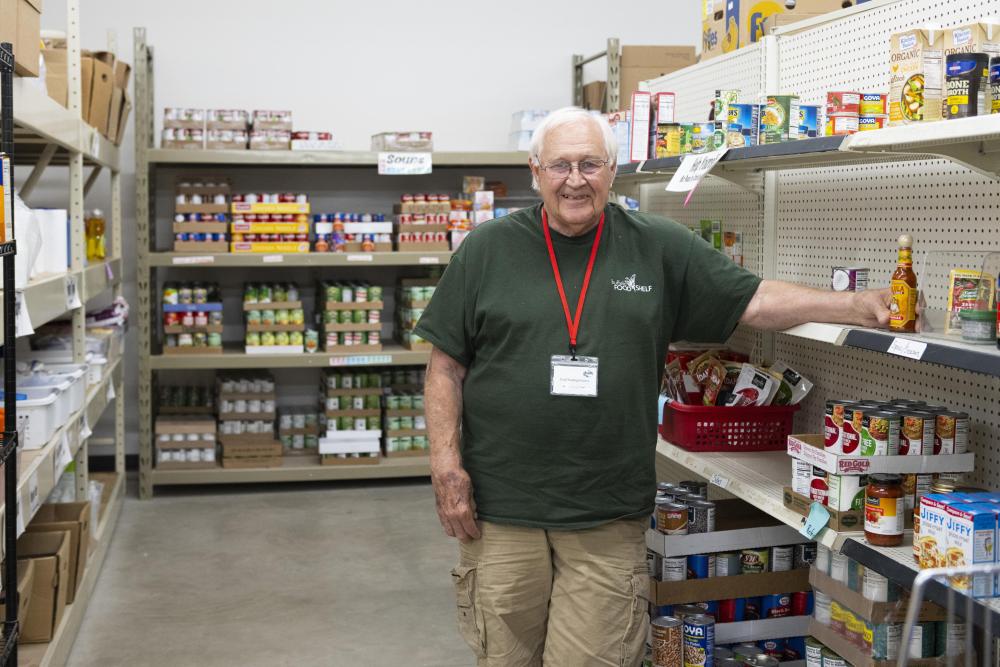 Community Solutions: Partnering to End Hunger at the Local Level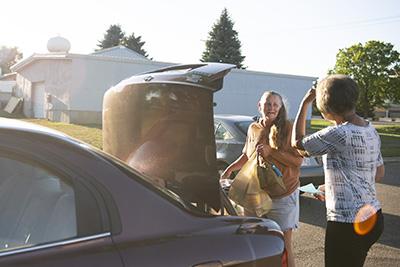 "Produce, produce, produce!" Buffalo Food Shelf Executive Director Fred Naaktgeboren kicks off the evening shift with gusto, reminding the group of energetic volunteers that fresh fruit and vegetables are the stars of the evening. The industrial refrigerators are stocked with fresh produce, much of it donated by local businesses. Heirloom tomatoes and a massive bin of sweet corn are the rescued foods of the week. "We've got broccoli to burn, we've got cucumbers, you name it," Fred tells the circle of volunteers before opening the doors to visitors like Heather, who started coming to the Buffalo Food Shelf in 2014.
"I got some heirloom tomatoes," says Heather, loading bags of pork, chicken, dairy and garden vegetables into her car, "and this is the best time of year for tomatoes."
At Second Harvest Heartland, we fight to end hunger every day. We do that by working closely with more than 1,000 agency partner programs throughout Minnesota and western Wisconsin that provide food directly to families facing food insecurity. We know that listening closely to the unique needs of every community is one of the most important parts of successful collaboration. And luckily for us, our trusted partners have an ear to the ground on how best to end hunger in their own communities.
In Buffalo, Fred and his staff have added more fresh produce options for visitors through Second Harvest Heartland's Retail Food Rescue Program. In 2020, more than 63 percent of the food distributed by Second Harvest Heartland was fresh food, helping partners like Buffalo Food Shelf ensure that Minnesota families experiencing food insecurity can access the nutritious foods they know and love.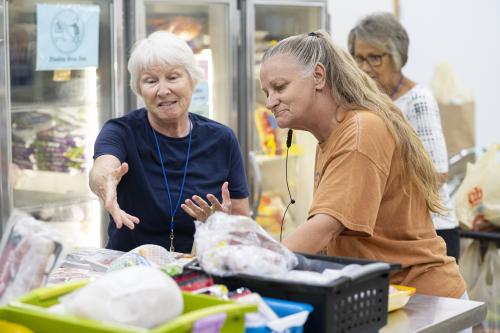 We're also working with Buffalo Food Shelf at the intersection of hunger and health through our FOODRx Program—an innovative initiative that provides medically tailored prescription boxes to address food insecurity and chronic health conditions like diabetes and heart disease. Participants can pick up their free FOODRx box each month at Buffalo Food Shelf and take home healthy foods and recipes to help manage their symptoms. Born out of a need to address food insecurity for patients struggling to make ends meet, the FOODRx Program helps ensure that patients can access healthy foods and still budget for other essential items.
We've also been listening to our partners at VEAP—Volunteers Enlisted to Assist People, based in Bloomington—who noticed a need for culturally connected foods at weekly distribution events at Dar Al-Farooq Islamic Center in Bloomington. After years of building relationships with visitors to VEAP's Mobile Food Pantry at Dar Al-Farooq, VEAP staff know how vital it is to make available the foods families know, love and choose to eat, like halal meat for many Muslim Minnesotans. Second Harvest Heartland has connected VEAP with proteins donated by Minnesota Halal Meat, providing visitors with fresh, local meats that hold religious significance.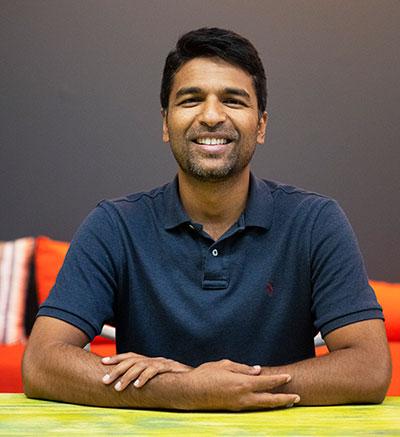 "The halal meat goes as soon as we get there," says Sean Trenary, VEAP mobile foods services manager, "and I think the folks in the community really appreciate that we try to curate food that is specific to their culture."
Minnesota Halal Meats is the passion project of Rashed Ferdous, who works full-time in IT. Before Rashed started the company, connecting local farmers to meat processors to ensure a halal option was available, more than 90% of halal meats available for sale in Minnesota were shipped in, frozen, from Australia or New Zealand.
As an act of service to his community, Rashed educates farmers and processors on halal requirements, then sells a large percentage of the meat to Second Harvest Heartland, which we purchase using federal funds allocated to Minnesota through the Coronavirus Aid, Relief, and Economic Security Act. For Rashed, however, the driving force in partnering with Second Harvest Heartland is faith.
"My main driver for partnering with Second Harvest is because they're Second Harvest," says Rashed. "They actually have a good cause in their mission, and at the end of the day, they serve the same community of customers that we also serve: halal and Muslim."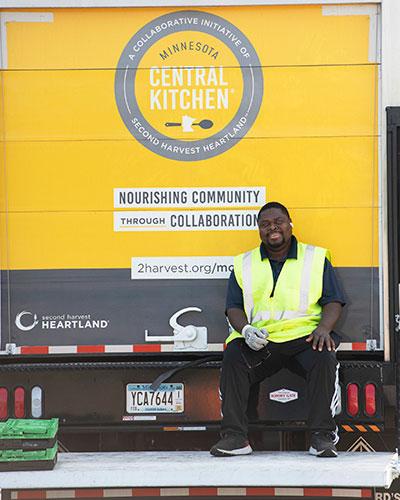 Minnesota Halal Meat products have also been used by Second Harvest Heartland's Minnesota Central Kitchen initiative. By providing prepared, heat-and-serve meals, Minnesota Central Kitchen has distributed more than 2 million meals since its launch in March 2020. Born in the early days of the pandemic, the program rescues food, re-employs furloughed workers, and partners with organizations in our hunger-relief network who are already trusted in their communities.
One such partner, Robbinsdale Area Schools, serves around 11,500 students in 17 schools covering seven municipalities.
"I think with the pandemic, we immediately realized how important our schools are," says Robbinsdale's Director of Nutrition Services Katie Wahl. "They act as a place for our children to go to learn. Students have access to school meals when they are at school, and that's something that not all of our students actually had access to when they were at home."
In the darkest days of the pandemic, an estimated 1 in 8 Minnesotans, including 1 in 5 Minnesota kids, faced food insecurity.
Listening to our school district partners across Minnesota, we responded to the need for additional, prepared meals families could enjoy together. Katie saw the gap Minnesota Central Kitchen meals could fill for families in her district and quickly operationalized to meet that need. By adding the chef-prepared, family-style Minnesota Central Kitchen meals to their weekly distribution events throughout the summer, Robbinsdale Area Schools ensured that families could make a single stop and leave with enough food for the entire week.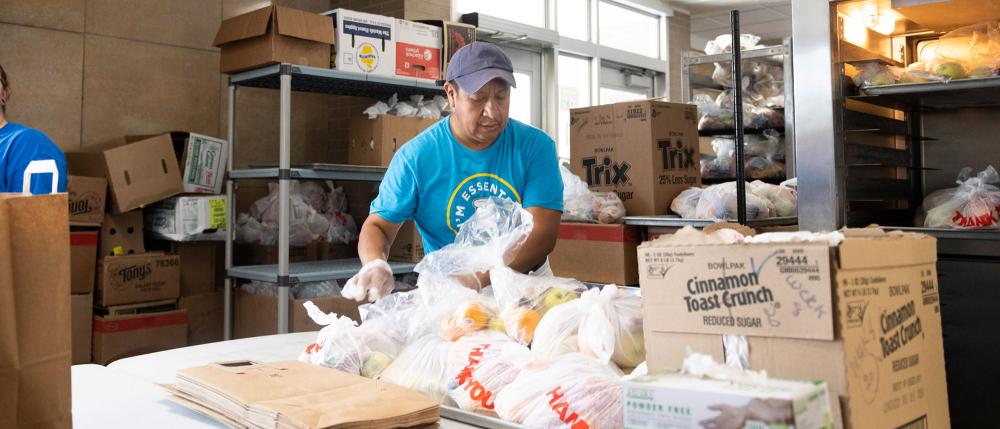 "One of our values is really, 'How can we support our families?'" says Katie. "The take-and-bake meals are an amazing opportunity to connect with more of our families in the community and have them be supported on all fronts. They're getting breakfast and lunch from us. And then Minnesota Central Kitchen is pulling up and providing them with dinner. So, it was a win-win for us."
Parents like Anne—whose children are 10, 13 and 15—quickly recognized the valuable combination of Minnesota Central Kitchen and school-prepared meals.
"The Minnesota Central Kitchen meals have been really great," says Anne, "especially during the school year when my kids were doing distance learning, and you're a working parent and you're trying to juggle it all. It's really nice to have that option."
"I would say that throughout the pandemic, Second Harvest Heartland has been a phenomenal partner to us," says Katie, smiling as she thinks back on the 2.2 million meals she and her staff served between March of 2020 and August of 2021, with a little help from Second Harvest Heartland and Minnesota Central Kitchen.

Our partners know best what their communities need, and we will continue collaborating on solutions that work to end hunger.