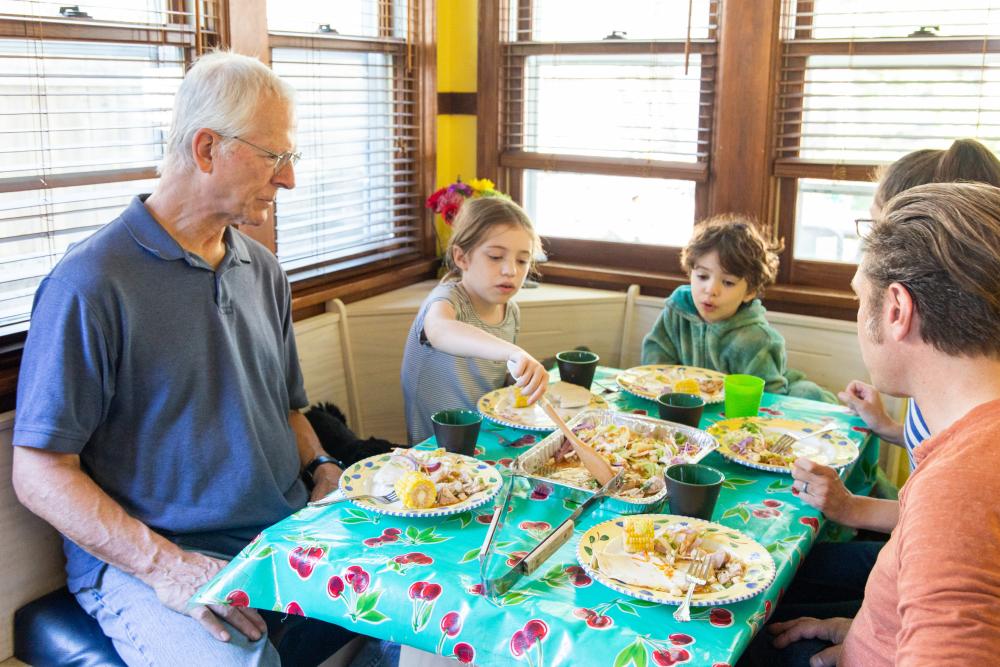 4 Reasons Why People Need Food Assistance This Winter   
In the latest edition of our "4 Reasons Why" series, learn about the challenges that are exacerbating food insecurity in Minnesota this winter.
Heading into the holidays, we're all ready to celebrate the season with our family and loved ones. But for too many, recent financial pressures have made it difficult to afford the same comforting meals we turn to this time of year. But behind the headlines warning of more expensive holiday dinners are a number of challenges exacerbating food insecurity this fall and winter. 
1. The cost of food at home continues to rise, and wages aren't keeping up
Although the latest inflation numbers from October showed that prices were rising slower than anticipated, the cost of basics like groceries and housing continued to grow on top of already record-high levels. In the Twin Cities metro area, the Bureau of Labor Statistics reports that overall grocery prices are up 13.7% from a year ago. Prices for healthier options like fruits and vegetables are up 14.7% compared to last year. For many low-income households, who typically spend a higher proportion of their income on these types of goods, this is the main way inflation puts pressure on household budgets. In fact, research shows that most of us have changed how and where we're grocery shopping as inflation drags on.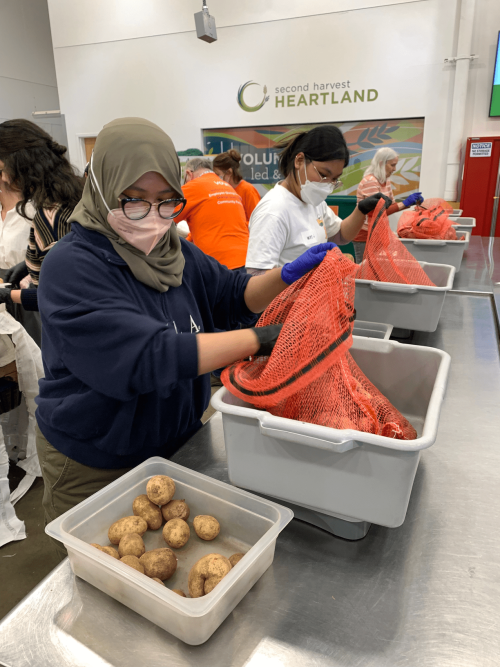 With the increased cost of produce, it's no surprise that fruits and vegetables are among the most in-demand items at food shelves, so we make sure to provide year-round access to staples like potatoes, onions, and apples.
Unfortunately, wages aren't keeping up to help Minnesota families afford the higher prices of these basics. While for many, the last two years have brought wage growth due to a tight labor market and people finding new, better-paid work, average hourly earnings have only increased 6% in the last 12 months.  
Based on client research Second Harvest Heartland conducted last year, most people visiting food shelves in our service area (63%) live in a household where at least one person is working, but over half (53%) report household incomes of less than $35,000 a year. Moreover, 50% of Minnesotans participating in SNAP come from households with at least one employed member. These data points suggest that food insecurity doesn't just stem just from unemployment, but from work that doesn't pay enough for families to keep up with the rising cost of living. 
With international conflicts and other pressures on the global food supply, including high prices for the many inputs that go into the growing and processing of the food we eat, it's not expected that grocery prices will decrease significantly anytime soon.
2. Non-food price increases also put pressure on grocery budgets 
Hunger doesn't exist in a vacuum, and we know that when housing costs, gas prices, and medical bills go up, families' overall budgets are strained and they become more at risk of being food insecure. In the last year, we've not only seen historic increases in the price of food, but dramatic growth in other costs like rent and gas.  
A consequence of efforts to limit inflation is that housing costs are rising for many, particularly for those who rent instead of own their homes. Rental demand is expected to remain strong as prospective homebuyers stay in the market, deterred by mortgage expenses nearly doubling since January 2022. While Minnesota enjoys one of the country's lowest average rent increases, it is still on par with the average wage growth in our state, meaning any additional income is being immediately eaten up by rising housing costs. Housing costs have been outpacing income growth for decades, but the pressures of the last year present a uniquely challenging time for renters, and the majority of renters are now worried about making monthly rent payments. 
During the pandemic, the national eviction moratorium and programs like RentHelpMN helped families stay housed and afford rent. As the moratorium phased out and rental assistance funds ran dry, eviction filings in 2022 nearly doubled compared to pre-pandemic levels.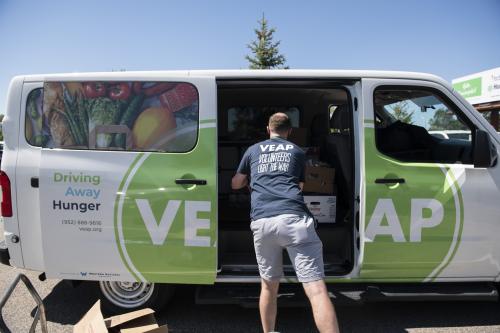 Many of Second Harvest Heartland's partner organizations, like VEAP, operate food shelves and provide rental assistance.
Many organizations in Minnesota continue to provide housing support to those in need. Additionally, those facing tight budgets might turn to their local food shelf for support—saving money on groceries each month can be one strategy for maintaining the income needed to make rent or mortgage payments. It's helpful to understand how rising costs, even when not explicitly related to food prices, can still affect one's ability to keep their fridge and pantry stocked. 
3. School meals are no longer free, and more expensive than before the pandemic 
In prior editions of this story, we've discussed the positive impact of pandemic-era supports like enhanced Child Tax Credit payments, stimulus checks, additional unemployment insurance benefits, and increase SNAP benefits—and the increase in food insecurity associated with the end of these programs. 
A recent article in the Journal of the American Medical Association confirmed previous research that food insecurity increased substantially after the expiration of federal child tax credits in January 2022, affecting many of the estimated 1.1 million kids who benefitted from the program in Minnesota. Authors found a nearly 25% increase in food insufficiency, affecting Black, Hispanic and Indigenous families the most. 
Later in 2022, we also saw the end of the universal school meals program that had been in place for the 2020-21 and 2021-22 school years. This fall, schools returned to "normal" pre-pandemic operations, which only allows for free meals for families making 185% of the Federal Poverty Level or less (just over $51,000 annually for a household of four), who also apply for meal benefits through their district. Despite schools' best efforts to communicate this change with families, and even with the implementation of programs to directly enroll kids who participate in other low-income programs like Medicaid, we're already seeing repercussions for kids and school administrators alike. 
School districts across the state are incurring school meal debt from families who don't qualify for free meals but don't make enough to afford the cost, which ranges from around $475 a year to over $500 depending on your district. To make matters worse, some districts are having to increase prices families are paying for meals as inflation affects their own operating budgets, which only puts meals further out of reach for those on the brink.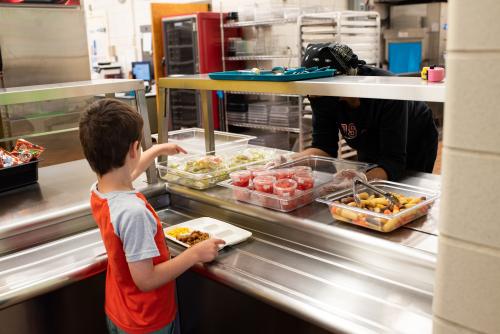 For too many Minnesota kids, the healthiest, and sometimes the only, food they get each day comes from their school cafeteria.
While Minnesota's anti-lunch shaming legislation prevents schools from denying kids meals, students still bear the stress and uncertainty of having a negative meal balance. Plus, other hunger-relief organizations primarily serving kids, especially on weekends and during holiday breaks when school meals aren't available, are seeing growing demand for their services without the resources to meet the need. Some are cutting programming or seeing ever-growing waitlists of families needing help. The loss of universal meals has put additional strain on families, as well as the emergency food providers trying to fill the gap left by the end of this program. 
4. Disparities in race and place continue to affect hunger rates and access to support 
The common theme underlying all of the factors listed above is that while times are tough for everyone, systemic barriers have led to racial and geographic disparities in food insecurity, and the drivers of food insecurity, across Minnesota.  
For the first time, Feeding America's most recent Map the Meal Gap report included breakouts by race and ethnicity. In Minnesota, Black Minnesotans are more than six times as likely to face hunger, and Hispanic Minnesotans are almost five times as likely as White Minnesotans to experience food insecurity. Using Map the Meal Gap data, we can also see how hunger affects rural communities in Minnesota. The counties with the highest food insecurity rates in Minnesota are all rural, primarily in the northern half of the state.  
Economic factors like employment, income, and poverty levels are strong predictors of a community's overall food security rate. And according to Feeding America, "associations between household characteristics and increased risk of food insecurity often reflect underlying inequalities, such as longstanding economic and social disadvantage resulting from systemic racism." Through a partnership with Tableau, Feeding America created a dashboard that helps to visualize national and state-level disparities in some of the leading drivers of food insecurity.  
In Minnesota, it can sometimes be hard to see these inequalities, as media and state agencies usually report on average rates across our whole population. Take unemployment, for instance. You've likely seen headlines promoting Minnesota's unemployment rate as the lowest in the state's history, and even the lowest in the whole country. However, this statistic doesn't paint the full picture, as disparities persist for Minnesotans of color. For Black Minnesotans, the unemployment rate was 5% in October 2022, for Hispanic Minnesotans, it was 3.8%, and for White Minnesotans it was only 2.1%. 
These stark disparities contribute to what we call "the hunger divide." In October, we convened a panel discussion with community leaders at Sabathani Community Center to explore solutions and opportunities to bridge this gap. 
Not only are there inequalities in the drivers of food insecurity, but disparities in access to the programs and supports that can help people get food. This August, we convened a series of listening sessions ahead of the 2023 Farm Bill, which provided our team the opportunity to hear from partners across the state. The sessions held in greater Minnesota, including Bemidji, Fergus Falls, and Albert Lea, revealed the geography-based challenges clients face in trying to access help.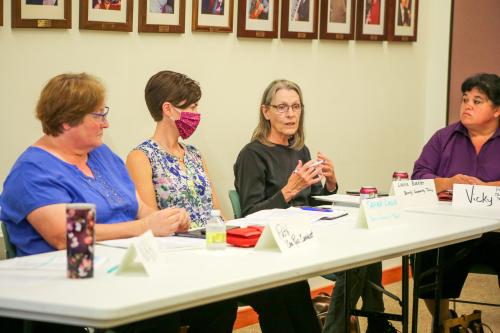 Participants at the Bemidji Farm Bill listening session share challenges unique to rural hunger-relief organizations.
There are generally fewer food shelves in greater Minnesota counties, often with more limited operating hours and smaller staff or volunteer capacities. Limited broadband service in rural areas can make it difficult or even impossible to implement Covid-era innovations like online ordering systems at food shelves. Transportation emerged as the most commonly-cited barrier during our listening sessions, with clients often not having reliable means of getting to their closest food shelf, and pantries and meal programs not having resources needed to operate home-delivery programs.
What you can do to support those facing food insecurity as we continue to navigate historic levels of hunger: