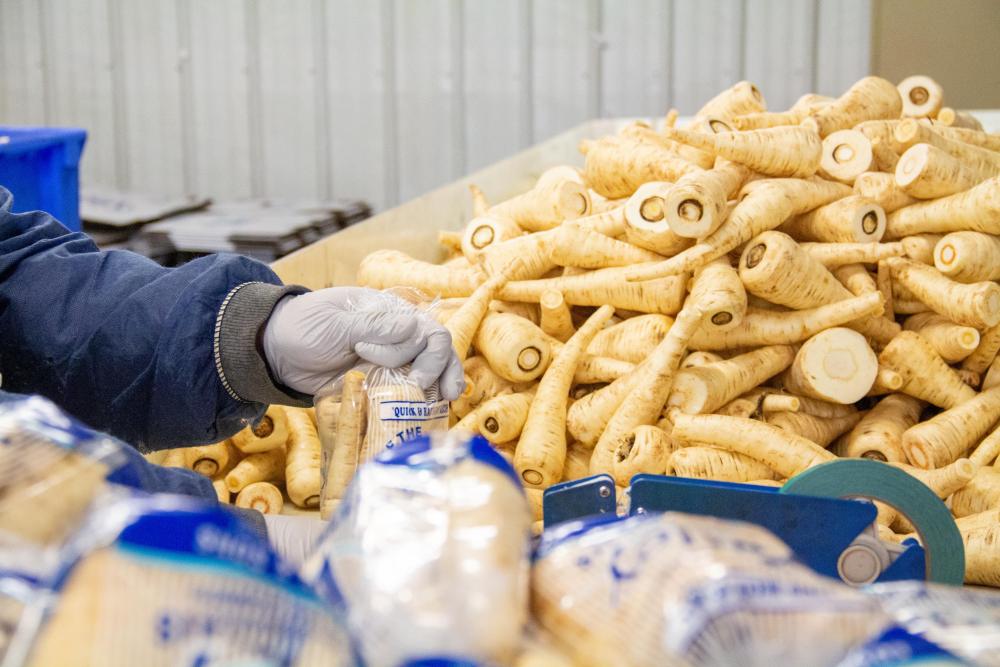 Food Sourcing
Collecting nutritious, healthy, fresh and diverse foods at scale is a critical part of our role as one of the nation's largest food banks. Last year we sourced nearly 123 million pounds of food.
Step 1 in Hunger Relief: Sourcing Food
At Second Harvest Heartland, we're excited to be pioneering new ways to safely and efficiently source and distribute more fresh foods, more culturally connected ingredients, and to work with a larger variety of farmers, growers, manufacturers and retail partners.
Together, we reduce food waste and divert safe, edible food from landfills to provide it to more people in need. In all our food rescue and sourcing efforts, we're committed to ending hunger, sustaining our environment and supporting diversity and inclusion.
Nearly 2/3 fresh
Fresh foods like meats, produce, dairy and bakery items comprise nearly two-thirds of the food we source and distribute.
39.4 million pounds rescued
Our largest sources of edible and nutritious food are items unsold at grocery and convenience stores that we rescue from going to waste.
Nearly 10 million pounds sourced locally
Minnesota farmers, growers and processors contribute excess crops and produce directly to our food bank.
Meet Our Partners in Food Rescue and Sourcing
Retailers
Through our Retail Food Rescue program, we collect unsold but perfectly edible and nutritious food from retailers like grocery and convenience stores. Last year we worked with approximately 590 retail partners and saved more than 39.4 million pounds of food from going to waste. Retailers are our largest food source and provide us with sizable quantities of produce, dairy, meat, bakery and grocery items.
Farmers
Local farmers, commercial growers and food processors support us by donating excess produce and slightly imperfect foods that would otherwise go unharvested, or go to waste if unsold. Through our agricultural partnerships, we also support BIPOC growers and community farmers by purchasing needed food items directly from growers. Sustainability and inclusivity are cornerstones of our mission and values.
Manufacturers
Food manufacturers and distribution centers donate products that may be mislabeled or have a short shelf life remaining, such as frozen meats, cereal or baked goods. Our participation in the Feeding America network of food banks helps facilitate this collaboration.
Restaurants and Caterers
Food manufacturers, restaurants, caterers, event centers and other commercial kitchens donate excess prepared food through the MealConnect program. It's a convenient and safe way to share the bounty of surplus meals, help our hungry neighbors and help reduce waste—all at the same time.
Second Harvest Heartland Food Sources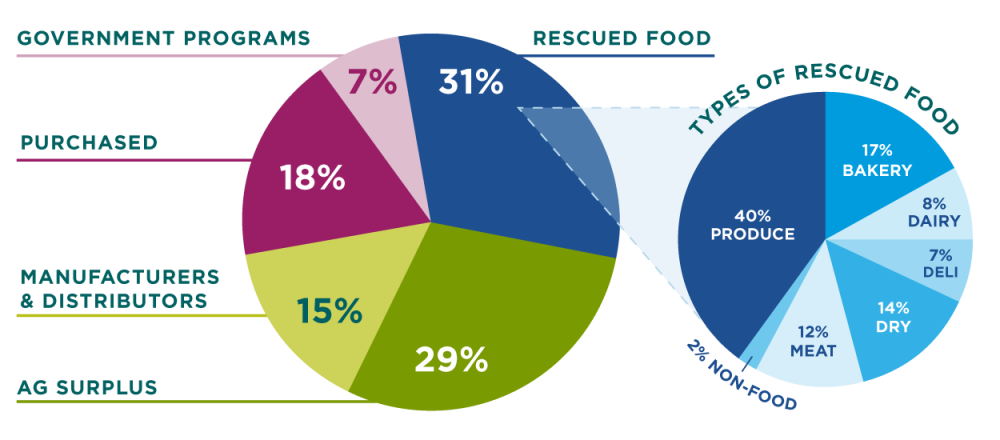 Food donations from individuals make up only a fraction of our food sources—less than half of one percent last year. Our size and scale as one of the largest and most efficient hunger relief organizations in the country enables us to collect, rescue and purchase needed food items in bulk, which amplifies our reach and significantly reduces the cost of getting healthy food where it's needed most.
Learn More About Food Banking
Food sourcing is the first step in how Second Harvest Heartland works as a wholesaler, sourcing large amounts of food and making it available to smaller, local food shelves and food pantries, so they can provide free groceries and healthy meals to our neighbors experiencing hunger and food insecurity.