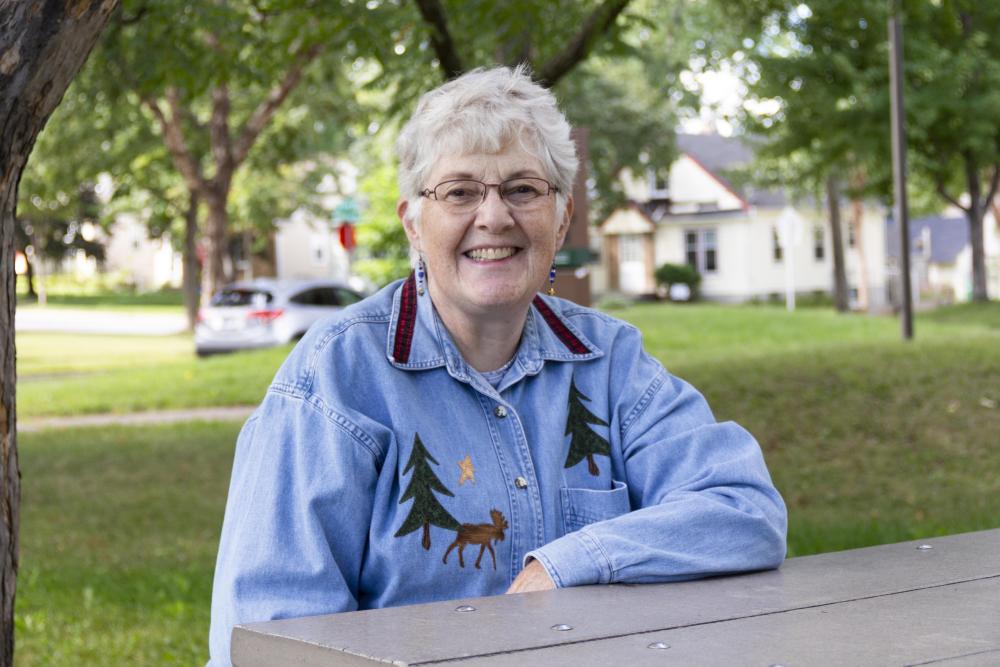 PLANNED GIVING
Help end hunger for years to come by including Second Harvest Heartland in your will, estate plan or charitable giving strategy.
Make a Difference With Your Estate
Our vision is a future where no one is hungry. By making a planned gift through your will, estate or other financial plan, you can help us put food on the tables of those in need for years to come.
Unsure where to start? Our Will Planning Guide can help you consider your priorities and gather helpful financial information you'll need for estate planning and thoughtful charitable giving.
It's also advisable to consult with your attorney or financial planner before making financial commitments to Second Harvest Heartland or any other charitable organization.
"Going thought that process allowed me the opportunity to really think. Why not benefit a much larger group than just a few friends and family members? Once I made the decision, it was really easy."
- Tami, planned giving donor
Ready to Discuss Your Legacy?
Let's Talk
There are many ways to support hunger relief today—and in the future. Our development team can help you understand the options and create a charitable giving strategy that's right for you and your loved ones.
Contact Kelsey Tyler at 651-282-0865 or ktyler@2harvest.org.
Already planning a charitable gift for Second Harvest Heartland? Thank you! Use this form to notify us.
Ways to Make a Planned Charitable Gift
Your generous support helps sustain our food bank's programs and services across the heartland—and plan ahead to invest in new opportunities that help us meet the ever-changing demand for healthy, nutritious meals.
By planning a charitable bequest, designating Second Harvest Heartland as a beneficiary or considering other estate planning options, you can help hungry neighbors across Minnesota and Wisconsin for years to come.
Please contact our development team for specific language, tax ID information and other details to include in your financial documents.
Wills and Bequests
Making a bequest to Second Harvest Heartland in your will or living trust helps you support our mission, while also taking care of your loved ones. You can leave a percentage or set amount of your overall estate, or help us fight hunger with specific assets like real estate.
Beneficiary Designations
You can help end hunger by leaving the funds in your financial accounts, insurance policies or other retirement assets to Second Harvest Heartland. Simply designate Second Harvest Heartland as a beneficiary on your accounts, just as you would a loved one or other individual.
Designating our food bank as a beneficiary ensures your generous gift is put to use as soon as possible. That's because beneficiary designations supersede allocations made in a will and can be distributed outside the probate process.
Charitable Gift Annuities
A Charitable Gift Annuity (CGA) is a smart way to increase your charitable giving and meet your own future financial goals. If you're 65 or older, you can fund a CGA that supports both you as a donor, and Second Harvest Heartland. You receive an immediate tax-deduction on a portion of that gift, then receive fixed payments every year for your lifetime—and the lifetime of one other beneficiary if you choose. After your passing, Second Harvest Heartland receives the remaining balance of your charitable gift.
MORE PLANNED GIVING OPTIONS
Frequently Asked Questions
A planned charitable gift to Second Harvest Heartland helps us feed hungry neighbors right now—and plan for the needs of tomorrow. With a planned gift through your estate, your passion for feeding our community can become a lasting legacy of ending hunger.
You can support Second Harvest Heartland in a variety of ways. You can make a bequest to our food bank in your will; name Second Harvest Heartland as a beneficiary on your insurance policies or financial accounts; or establish a charitable gift annuity that helps solve hunger. Second Harvest Heartland can accept a wide range of other gifts, including stocks, IRA charitable rollovers—even donations of used vehicles.
Have estate planning questions? Contact Development Officer Kelsey Tyler at 651-282-0865 or ktyler@2harvest.org.
You can support your loved ones and Second Harvest Heartland in your will, trust or estate plan. A planned charitable gift of any size will have a significant impact on our ability to help end hunger and feed those in need. Charitable estate giving can also help your heirs by lessening capital gains tax liabilities for your individual beneficiaries.
Second Harvest Heartland is a tax-exempt 501(C)(3) nonprofit organization recognized by the IRS, tax ID number: 23-7417654. Your gift is tax-deductible as allowed by law. Review our annual reports and tax filings here.