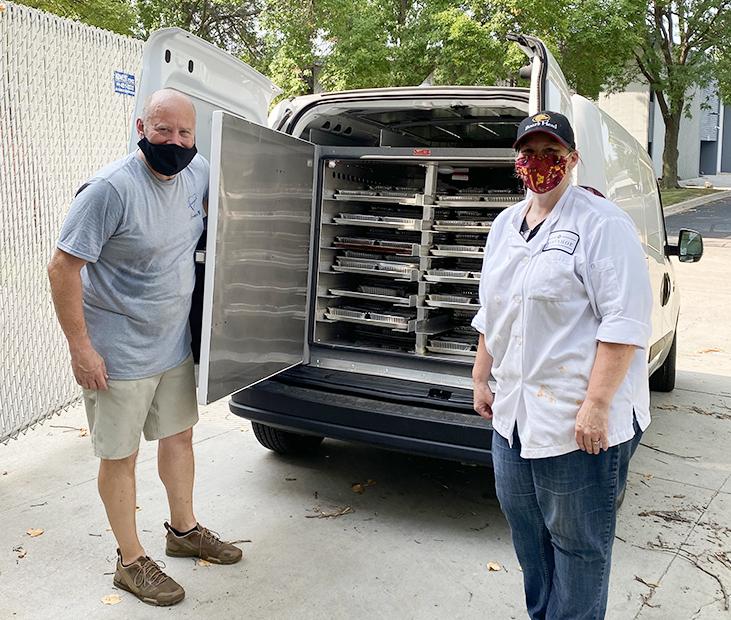 Minnesota Central Kitchen Aims to Distribute One Million Prepared Meals
It's been months since we introduced you to Minnesota Central Kitchen. Months that have seen hunger in our communities surge and demand for Minnesota food resources skyrocket, while our economy—our hospitality sector specifically—struggle to see a way through the pandemic. This reality makes us even more proud of the positive impacts Minnesota Central Kitchen and our partners have made, and more committed than ever to the work that's ahead of us.
Minnesota Central Kitchen 101
As a refresher, Minnesota Central Kitchen rescues food that would otherwise go to waste, re-employs furloughed culinary workers to prepare fresh and nutritious to-go-style meals in otherwise under-utilized commercial and restaurant kitchens— utilizing in-kind and financial contributions from partner organizations and corporate and individual donors.
We provide meals to anyone who needs them, responding to the surge in hunger and seeing communities through recovery. Our intention is to serve Minnesotans who might not be able to cook or access prepared meals right now including those who are sick, homebound, unhoused, frontline or essential workers, and the children and families whose caregivers are ill.
By the numbers
Since launch in late March, and through both longstanding and brand-new partnerships, more than 700,000 prepared meals have been distributed to urban, suburban and rural meal sites. Meals are made by 139 re-employed food service workers at 11 kitchen sites from mostly rescued food (nearly 900,000 pounds of it). With a current production output of 25,000 meals per week and through 50 meal distribution sites, we're on track to provide one million meals in 2020.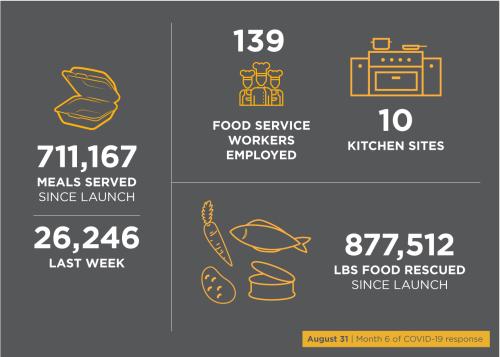 News from our partners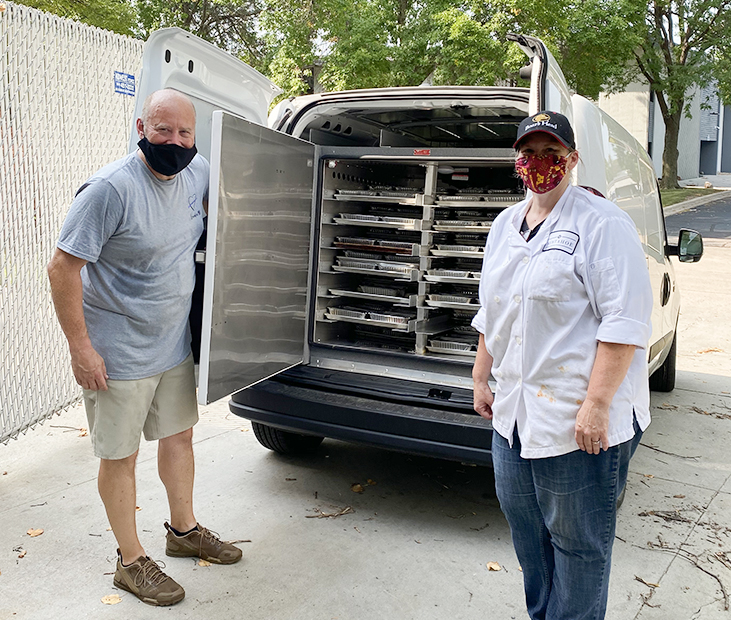 Our founding meal distribution partner, Loaves & Fishes, along with Pillsbury United Communities, The Sanneh Foundation, SafeZone and InvolveMN deliver delicious and nutritious meals to sites throughout the region, including places of worship, community centers, health care facilities, senior centers, tent encampments and more.
We're honored to welcome Mintahoe Catering to our growing network of kitchen sites. Mintahoe Catering will work with distribution partner InvolveMN and utilize their new temperature-controlled transport van to deliver 2,000 hot meals each week to unhoused residents of Minneapolis tent encampments.
Also joining the kitchen roster is Eurest Dining, Boston Scientific's corporate catering company. This new culinary team will prepare 600 meals per week for distribution. Welcome, Boston Scientific and Mintahoe Catering!
A look ahead
With the Minnesota Central Kitchen foundation laid, we're exploring new ways to ensure all who need a meal can have one, how we can continue to build our network of partners to address the growing need for prepared meals and what new delivery mechanisms and operations will effectively and appropriately allow for that. As our seasons change and the restrictions and impacts of COVID persist, we're eager to forge our path forward and bring you along on that journey.
Thank you to our supporters
The work of Minnesota Central Kitchen wouldn't be possible without financial and in-kind support from our very generous donors, including the Cargill Foundation, General Mills Foundation, Medtronic Foundation, Cloverfields Foundation, Pohlad Family Foundation, Humana Foundation, Boston Scientific, ReFED, The Good Acre, UnitedHealth Group and more than 2,000 individual donors.
Join them in supporting Minnesota Central Kitchen—your gift today can provide twice as many meals. A guaranteed match of $100,000 from Medtronic is helping fund prepared meals for those in need.
Find a Minnesota Central Kitchen meal and other Minnesota food resources
Whether you need food now or in the days ahead, visit our resources page for a full list of all available options.
Use an interactive map to find food resources in your neighborhood, including meal distribution sites, food shelves, community food distributions and more.