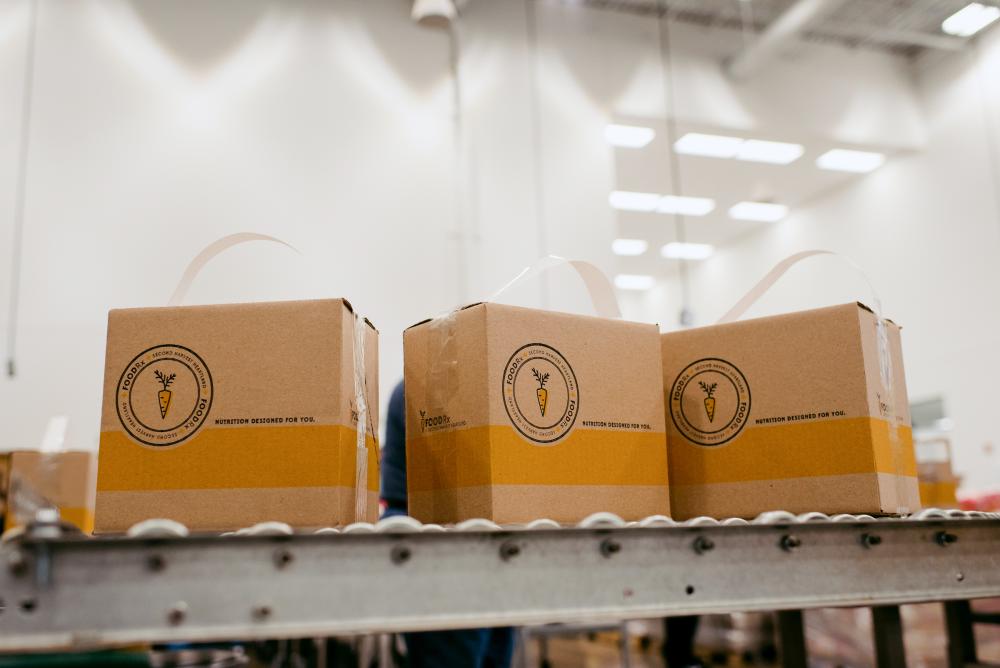 FOODRx
This innovative program ensures people with chronic health conditions have access to the food, education and support they need to thrive.
Healthy Food as Medicine
Custom Nutrition Boxes Support Individuals with Chronic Health Conditions
At Second Harvest Heartland, we are on a mission to end hunger in ways that result in better overall health outcomes and help lead to nutrition security for all of our neighbors.
Our innovative FOODRx program works at the intersection of hunger and health, supporting individuals with both food insecurity and chronic health conditions such as diabetes, high blood pressure or heart disease.
Households with both food insecurity and health issues are prevalent. According to Feeding America:
More than half of households served in their network have at least one member living with high blood pressure.
More than one-third have a member with diabetes.
FOODRx launched after seven years of clinically testing different ways to integrate food security solutions with health care systems. Now, FOODRx gives healthcare providers and insurers a simple and cost-effective way to connect patients to nutritious food and education that will improve their health.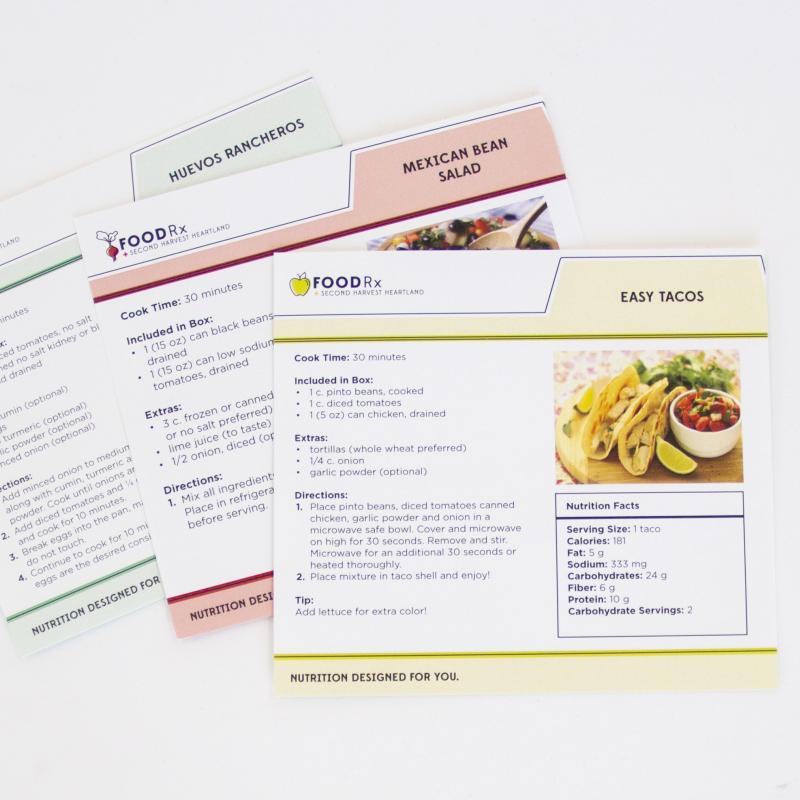 How FOODRx Works to End Hunger and Promote Good Health
Created with guidance from a registered dietician, FOODRx offers a variety of support services, determined by patient interest, eligibility and by their health care provider or insurance company's contract with Second Harvest Heartland.
FOODRx options include:
Individual support from patient engagement specialists including monthly touchpoints throughout their participation in FoodRx.
Nutrition boxes that are medically tailored and culturally connected to each individual, complete with recipe cards and educational materials.
HIPAA-compliant patient data analytics to track participation and outcomes.
Access to warehousing, clinical research and evaluation, and the highly efficient food logistics operations of Second Harvest Heartland.
Supporting Positive Outcomes for 10,394 Individuals
In 2022, FOODRx provided helped 10,394 individuals with support for a healthy diet and improved health.
This support came from:
Our chronic disease management program
Nutrition stability boxes
Referrals for assistance with the Supplemental Nutrition Assistance Program (SNAP)
Other community resources
FOODRx engagements in 2022 included these healthcare providers and insurance companies:
Blue Cross Blue Shield (Project Well/NourishedRx)
Children's Minnesota
Essentia Health
Hennepin Healthcare
Lakewood Health System
Medica
North Care Collaborative
North Memorial
UCare
Winona Health
Community-Based FOODRx Wellness Partners
In addition to home delivery options, FOODRx connects to patients in Minnesota and Wisconsin through our vast food bank network by empowering food shelves as FOODRx Wellness Partners.
These community hubs provide no-cost groceries to local neighbors and serve as FOODRx nutrition box pick-up locations.
These vital partnerships help patients complement their medically tailored nutrition boxes with fresh produce, dairy and protein, along with a serving of conversation and connection with every visit.
Information is power when it comes to maintaining a healthy lifestyle. FOODRx has a number of resources for those with diabetes, high blood pressure or heart disease. We offer recipes and educational materials in English, Spanish, Somali, Hmong, Karen, Russian and Vietnamese.