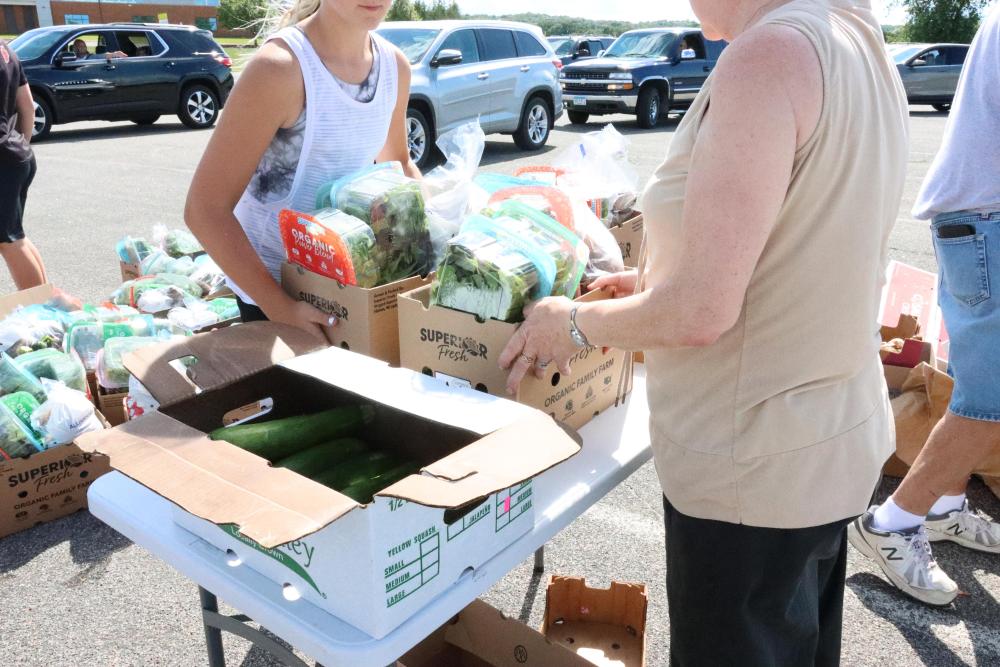 A Fresh Resource for the Belle Plaine Community
Each summer, the Belle Plaine Area Food Shelf makes fresh fruits and vegetables from Second Harvest Heartland available to their whole community. In addition to regular food shelf operations, they run a produce distribution in the parking lot of a nearby athletic complex.
At the produce distribution, participants do not need to complete any paperwork, so many are in and out in a matter of minutes. "This is open to the whole community," said founder and food shelf leader Betsy Ollhoff. "We want everyone to come, and we emphasize that over and over."
Community members drive up, open their trunk, and volunteers from the local baseball team load up a full box of free produce.
In a summer defined by high costs for essentials like gas and groceries, families across the heartland are finding it increasingly difficult to make ends meet.
"It doesn't matter where you are financially, it's just there to assist you," said Lindsay, a mom visiting the event. She found the produce especially helpful with the cost of groceries rising. "I don't work in the summer so I can hang out with the kids, and it just makes life a little easier," she shared.

Roger said that in addition to the produce distribution, he also visits the food shelf regularly, which helps stretch his social security income. "It gives me more money to pay for different things. Everything is just so expensive," he said.

Betsy confirmed that many of their food shelf shoppers express similar sentiments to Roger, "we get lots of people who say that we've saved them."

The Belle Plaine Area Food Shelf, which just celebrated 11 years, relies heavily on community support. "We have a wonderful community that is very supportive and lots of volunteers, so we are very grateful," Betsy reflected.
This has been a record year for produce at Second Harvest Heartland. In July alone, demand for produce was up 27% compared to 2020, the height of the pandemic. So far, in August, we've distributed over 30 varieties of produce from BIPOC farmers through The Good Acre. Our volunteer center has been re-packing 100,000-150,000 pounds of produce per week!
With so much coming in, partners like Belle Plaine Food Shelf are able to order a wide variety of fresh fruits and vegetables—for the low cost of one penny per pound—to make sure neighbors' fridges are stocked.
To learn more about the Belle Plaine Area Food Shelf, visit https://bpareafoodshelf.org/.