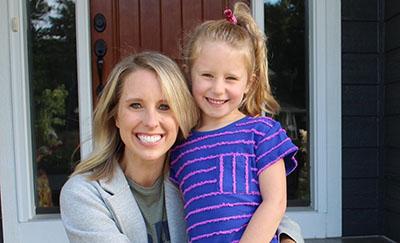 Thank You, Donors! Donor Appreciation Week, August 2-8
August 2-8 is Donor Appreciation Week at Second Harvest Heartland! This week, we're giving a special shoutout to everyone who has supported our mission to end hunger in the heartland. Community support makes everything we do possible.
Whether you're able to lend a hand—or need one for support—it takes all of us working together to fight hunger. Because of the outpouring of support in the past year—in the form of financial, time and food donations—we were able to fight off the worst of the pandemic hunger-surge. Thanks to you, more families could access the nutritious food they needed. See how your support has made an impact in this short video:
Support from donors plays a crucial role in our mission to end hunger together. Gifts of all sizes and types make a difference and help provide meals to those who need them the most. Whether it's $5 or $500, an individual gift or corporate sponsorship, your support matters.
"We never know what cards life will deal us, but we do know we can always help others if they've received a disadvantaged hand."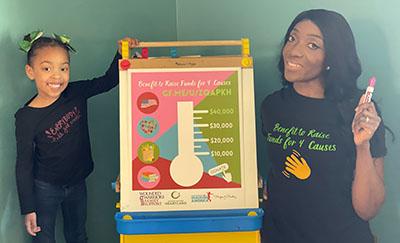 Individual donors like Paulette and her daughter Harper, who have generously supported Second Harvest Heartland multiple times this year, helped provide thousands of meals for neighbors facing hunger. Paulette said she is teaching her daughter the importance of giving back to others in need.
---
"Hunger exists no matter what shape the economy is in, or how many jobs exist. Together, we can make all the difference."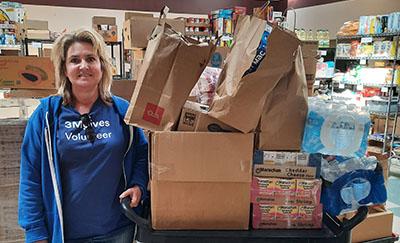 We're grateful for donors like Darlene, who also contributes her time as a volunteer. She has worked with nonprofits for years and has seen firsthand how great the need is.
---
Thanks to neighbors like Katy, who said she donates to Second Harvest Heartland...
"to give back to my community and support a trusted organization doing great work."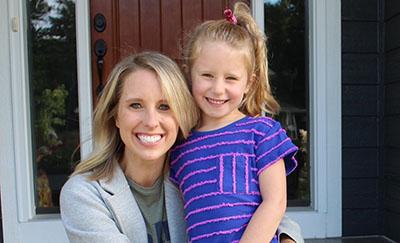 ---
Second Harvest Heartland counts on sustaining support from monthly givers like Lois, who shared,
"Everyone needs food. Without it, everything else must be more difficult. Hard to think/function if you are hungry and are worrying about your next meal."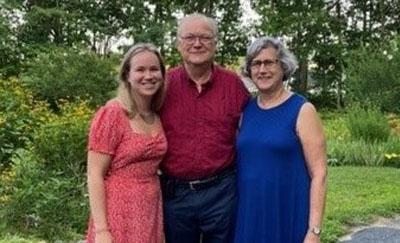 Thanks to ongoing monthly support, more families have the nutritious food they need—and peace of mind—today and year-round.
We're All in This Together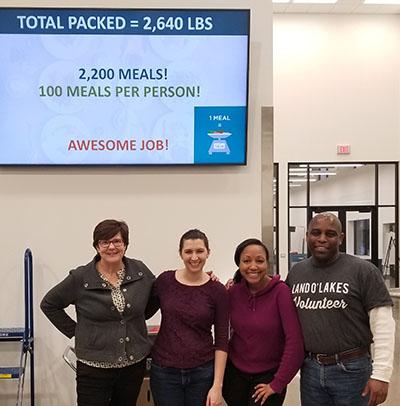 Support from organizations of all sizes and industries helps us work more effectively to achieve our mission to end hunger. We're grateful for local companies like Land O'Lakes, who have contributed toward our mission through matching gift funds, event sponsorships and volunteering.
---
"As a farmer-owned cooperative, Land O'Lakes believes in supporting communities where our members and employees live and work. We know this past year has been particularly difficult, and Second Harvest has been a lifeline for people who are struggling to put food on the table. We're proud to support Second Harvest Heartland and their mission of ending local hunger."

–Sheilah Stewart, SVP & General Counsel, Land O'Lakes, Inc. and Second Harvest Heartland Board member
Second Harvest Heartland also counts on support from organizations like Radisson Hotel Group America, who recently hosted the FireLake Restaurant Chef Competition to raise funds for Second Harvest Heartland. Through the end of the year, when you order FireLake's new Bone-In Filet at either Twin Cities location, 15% of proceeds will go toward our mission to end hunger. We also count on support from companies like Total Wine & More, who help fight hunger by donating a portion of their proceeds to Second Harvest Heartland and provide key support toward fundraising events like our Dish: Cuisine for Change event in September.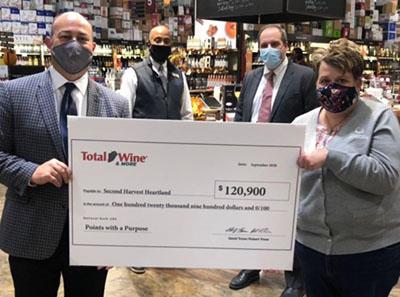 It's truly a team effort. With help from thousands of individuals and local organizations, and in partnership with 360 food shelves and nearly 1,000 hunger-relief programs, your support last year:
provided more than 105 million meals to neighbors facing hunger,
rescued 38.5 million pounds of food from retail partners, diverting unsold but perfectly edible food from landfills,
prepared and distributed 854,965 to-go style meals to local families in need through Minnesota Central Kitchen, and
developed safer and more accessible ways to distribute food, including curbside-to-trunk pop-ups, prepared meals and to-door delivery.
Although the fight against hunger isn't over—1 in 10 Minnesotans still face hunger today—the continued generosity from our community has shown that when we all pitch in, we can make a real difference. Because of your support, more kids, seniors and families in our area will have enough to eat.
On behalf of the entire Second Harvest Heartland team, our hunger-relief partners and the neighbors we serve, THANK YOU!