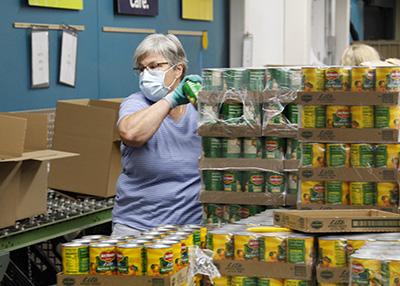 Spotlighting Senior Hunger in Minnesota
Older Americans Month in May is a time to reflect on the many contributions seniors make to our community, but it's also the perfect time to shed light on the many challenges older adults in Minnesota face—including food insecurity.
At Second Harvest Heartland, we're working hard to make sure all seniors in our community have the nutritious food they need to lead healthy, active and productive lives.
Seniors are currently the fastest-growing segment of the population visiting food shelves. In fact, more than 20% of older adults in the United States will experience food insufficiency at some point in their 60s and 70s, according to a 2022 University of Michigan study. Consistent increases in medical and housing costs hit those on a fixed income, like seniors, the hardest. That means putting food on the table can be a struggle for many older adults, and this problem is only amplified by the persistent health and economic challenges of the pandemic.
Hunger is a health issue. If seniors are worried about where their next meal is coming from, then they are often not able to access the nutritious food they need and want—and is likely recommended by their doctors. Poor health can be both a cause and a consequence of food insecurity, putting seniors at risk for chronic health conditions like depression, asthma and diabetes, which is particularly problematic given the unique health challenges that can already result from aging. Like anybody, older adults who are food insecure may also make tough trade-offs between paying for food and other necessities, like medicine, to stretch budgets, which could be harmful to their health.
Many food assistance resources exist, but there is often a lack of participation among seniors due to technology or terminology barriers, or concern that the benefit is not worth the effort. A significant obstacle to food access is the invisible barrier of stigma about receiving help, or the misperception that there isn't enough food to go around, both of which are far from the truth. The senior population also continues to grow as Baby Boomers reach retirement age, and it's possible many of them have never needed to access food assistance resources before.
Discovering and applying for these resources can be intimidating, but it doesn't have to be.
The Supplemental Nutrition Assistance Program (SNAP) can be used to buy nutritious foods that folks may not be able to get otherwise, and it can make room in the budget for other necessities. Millions of seniors qualify for SNAP, but according to the Minnesota Department of Health, less than half of eligible seniors are participating.
SNAP is based on household size and gross monthly income, so individuals qualify if they are under the income guidelines. Many people are surprised to learn they qualify, and far too many Minnesotans are eligible but not enrolled. This monthly financial benefit is easy to use and comes in the form of an EBT card, used like a debit card, to directly purchase food at or online from local grocery and convenience stores—and even some farmers markets.
Through the Commodity Supplemental Food Program (CSFP), Second Harvest Heartland provides a box of nutritious food each month to low-income individuals 60-years and older that may include canned fruits, vegetables and juices, milk, cheese, canned meat, peanut butter or dried beans, cereal, rice or pasta. In Minnesota, CSFP is also referred to as the Nutrition Assistance Program for Seniors (NAPS), but both programs are the same.
Second Harvest Heartland provides CSFP food to more than 240 different distribution sites throughout the state, serving approximately 6,500 seniors monthly, including seniors like Gregory, a local CSFP participant. Gregory told us, "Right now, it's just hard to make ends meet. By the time I pay my rent and stuff tomorrow, I got maybe about 20 bucks to my name. Being diabetic, I have to buy [medication] … so that's 36 bucks. But I got to survive. [CSFP] helps."
Many people think they can only participate in one food assistance program, but individuals and families are welcome to enroll simultaneously in all the programs for which they qualify. SNAP to CSFP to food shelves and more all provide different types of support and complement each other.
These programs have been paid for with everyone's tax dollars over time and there is plenty to go around. Older adults wouldn't be taking away from families with children or anyone else by using these resources. We strive to remove as many barriers as possible to make these programs easily accessible for seniors, through deliveries, drive-up options and pick-up locations on bus routes, and transparent, by posting accurate and timely qualification guidelines.
We also couldn't be more grateful for seniors at Second Harvest Heartland; many offer up their valuable time to volunteer with us, packing food that gets distributed to fellow seniors in their neighborhood. It's heartbreaking for us to know this group continues to experience food insecurity at such high rates. These food assistance resources are available when people need them and can make a big difference for seniors and their families, providing peace of mind and access to the fresh, nutritious foods they enjoy and need.
To find out if you or a loved one qualifies for any of these programs, please visit www.2harvest.org/gethelp.