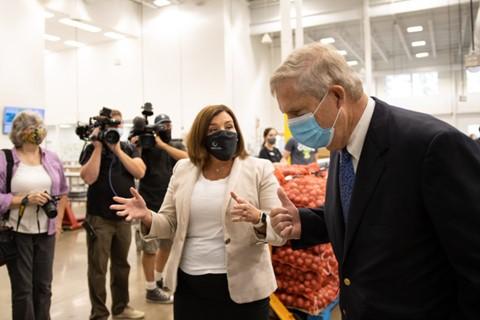 Preparing for the 2023 Farm Bill
What is the Farm Bill?
Every five years, Congress reauthorizes the Farm Bill, which lays out funding and requirements for a number of federal programs related to agriculture, the environment, nutrition and more. This wide-ranging legislation was last passed in 2018 and contained 12 sections, known as titles, encompassing commodity revenue supports, farm credit, trade, agricultural conservation, research, rural development, energy, and foreign and domestic food programs. The Congressional Budget Office (CBO) estimated that the 2018 Farm Bill would cost nearly $430 billion from 2019 to 2023.
The next Farm Bill will be negotiated in 2023, although Congress started holding hearings on the legislation earlier in 2022. This process will be largely overseen by members of the House Agriculture Committee and the Senate Committee on Agriculture, Nutrition, and Forestry, although eventually all members of Congress will vote on a final bill.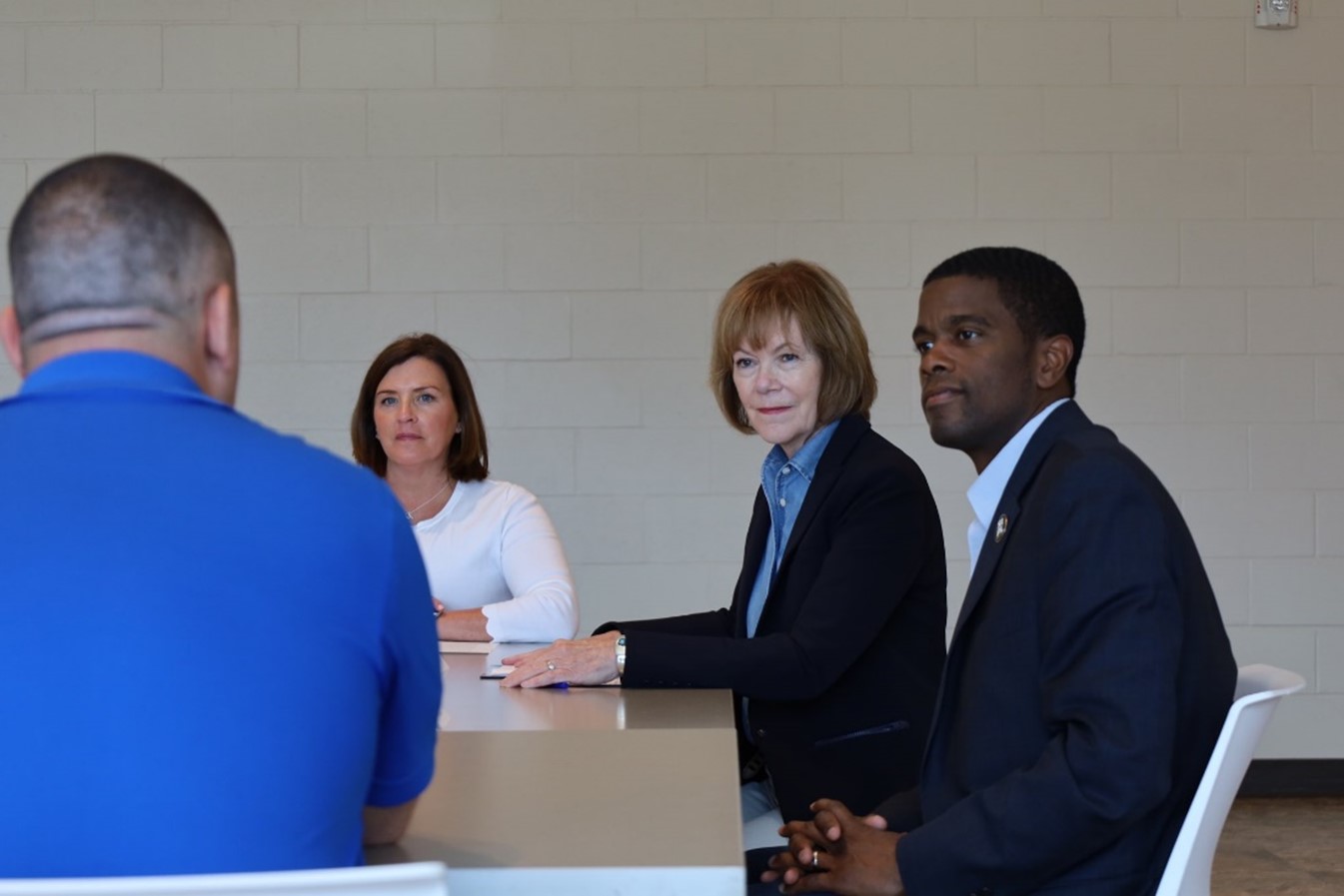 Second Harvest Heartland CEO Allison O'Toole attended a roundtable discussion with Senator Tina Smith and St. Paul Mayor Melvin Carter in June 2022 to discuss the growing need for food assistance. Senator Smith is a member of the Senate Agriculture Committee.
The Farm Bill is uniquely structured so that there are strong incentives to deliver a bipartisan, on-time package, which is increasingly a challenge for Congress. This requires that agriculture supporters, nutrition advocates and environmental activists—stakeholders who might otherwise be at odds—find common ground and work together. This time around, legislators are tasked with creating legislation that a majority of Congress can agree to by the end of September 2023, when the current Farm Bill expires.
It's not always easy, and in the past there have even been calls to separate out the nutrition title from the rest of the Farm Bill. Looking ahead to 2023, current and former lawmakers have acknowledged the need for bipartisanship, particularly around the nutrition title of the Farm Bill, with former House Agriculture Committee Chair and Minnesota Representative Collin Peterson arguing that weakening food assistance programs was the surest way to threaten a successful Farm Bill.
Why does Second Harvest Heartland care about the Farm Bill?
Given its name, many think of the Farm Bill as an agriculture-focused package. However, the vast majority of Farm Bill spending—75 percent, to be exact—comes from the nutrition programs included in the legislation. This is in part what makes the nutrition title a target for legislators trying to reduce overall Farm Bill funding. But we also know that investing in nutrition has a number of benefits, including generating economic activity, supporting stakeholders throughout the food system, and reducing poverty, particularly in rural areas.
The focus for the hunger-relief community will be ensuring that Farm Bill programs, which include the Supplemental Nutrition Assistance Program (SNAP),The Emergency Food Assistance Program (TEFAP) and the Commodity Supplemental Food Program(CSFP), operating in Minnesota as the Nutrition Assistance Program for Seniors, or NAPS), are adequately funded and accessible for those facing hunger in our communities. Because it will be another five years before significant changes can be made to these programs, it's critical that we act now to address barriers making it harder for Minnesotans in need to access food.
All these programs represent critical supports for Minnesotans facing food insecurity and are essential to helping us meet our mission to end hunger together. For example, for every meal provided by Second Harvest Heartland and our network of partners—107 million in 2021—SNAP provides nine. Advocating for a strong nutrition title in the Farm Bill is one way we show our commitment to our mission.
How will we advocate for Farm Bill nutrition programs?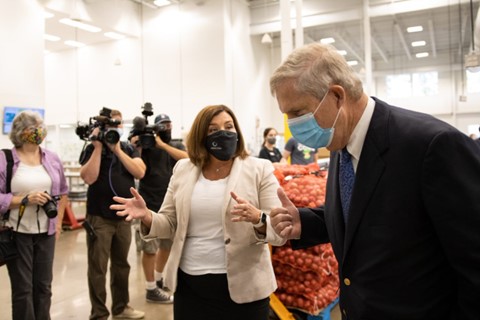 Second Harvest Heartland CEO Allison O'Toole explains our operations to United States Department of Agriculture (USDA) Secretary Tom Vilsack during a visit to our facility in August 2021. The USDA oversees the implementation of Farm Bill programs like SNAP, TEFAP and CSFP.
As members of the Feeding America network, we will work with other food banks and hunger-relief organizations across the country to advocate for strengthening federal nutrition programs that support our work and the people we serve. Minnesota is lucky to have strong representation on the House and Senate Agriculture committees, with both our Senators and two Representatives heavily involved in Farm Bill negotiations. We will work with Minnesota's emergency food system, anti-hunger advocates, agriculture stakeholders and others to regularly communicate with our influential members of Congress about how to make Farm Bill nutrition programs work better for Minnesotans in need.
Some of our priorities for the 2023 Farm Bill include:
Increase the minimum monthly SNAP benefit and make overall benefits more adequate.
Improve equitable access by extending SNAP to Puerto Rico and other U.S. Territories and eliminating barriers to participation for immigrant communities.
Lift SNAP's arbitrary three-month time limit for able-bodied adults without dependents.
Boost SNAP access for low-income college students.
Authorize TEFAP funding of at least $450 million per year and increase TEFAP Storage and Distribution Funds to reflect the actual distribution costs to food banks.
Ensure that USDA retains the authority to purchase bonus commodities in times of high need for emergency food relief.
Increase eligibility for all federal nutrition programs, and in particular raise CSFP eligibility above 130% of the Federal Poverty Level.
This August, we will also be holding listening sessions across Minnesota's eight Congressional districts so that stakeholders directly impacted by these programs can share their experiences and insights with our federal lawmakers. Be on the lookout for a report-out from those sessions later this fall, as well as additional opportunities for our supporters to take action in favor of a hunger-fighting Farm Bill!
Want to get involved? Here's what you can do to support those facing hunger: