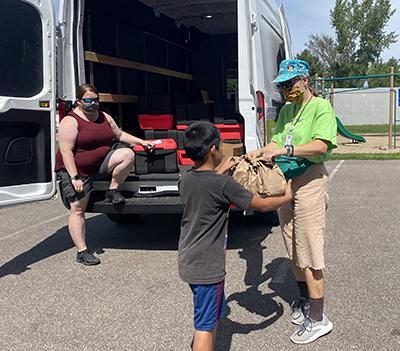 Partnering to Address Child Hunger in the Suburbs
When we talk about our mission of ending hunger together, we're not just talking about our many partnerships, but also those amongst our partners, like Jason Viana, executive director of The Open Door Pantry in Eagan and Julie Kronabetter, director of food & nutrition services for Burnsville-Eagan-Savage School District 191. We spoke with both of them to learn more about The Open Door's Mobile Lunch Box Program – the only mobile food program in Dakota County – and how these partners are finding ways to fight hunger and stigma in this suburban community.
Schools are trusted in the community
Jason learned that schools were seen as trusted spaces in their respective communities, as well as resource hubs. By talking to stakeholders like principals, social workers, and cultural liaisons, they were able to learn about the neighborhoods with the highest need, and that District 191 Burnsville-Eagan-Savage's Food and Nutrition Services department could help them address that need.
Together, they started a new neighborhood meal distribution site, leaning on the District's programmatic expertise and food production capability and combining that with the Open Door's transportation, logistics, and staff capacity.
"School district partnerships have been essential to helping us identify and connect directly with communities where food support is needed," said Jason.
Mutually beneficial partnership gets more food to more families
What started four years ago as just one partnership with one school district has now expanded into three partnerships with three school districts. "ISD 191's involvement has been key to the program's growth," Jason said.
Last summer, The Mobile Lunch Box was able to get meals out five days a week to 18 different community and neighborhood sites and serve 58,000 meals over the course of three months!
When asked what benefits have come from partnering with their local school districts, Jason said, "it's really a mutually beneficial partnership. We're able to get more food out to more families, and it also provides a great volunteer opportunity for our community members because who doesn't love feeding kids?"
School district finds a win-win in the collaboration
The school district has also found this collaboration a benefit. "The Open Door has been a fantastic partner for our district as they have volunteers and transportation vehicles," Julie said. "Through collaboration, we are able to prepare the food and The Open Door takes on the role to transport and serve meals to children and teens who otherwise would not be able to visit our schools for a meal.  It's truly a win-win-win: for us, them, and the families in the community," she said.
Tips for working with your local school district
If you're thinking about starting a mobile meals distribution or other project with your local school district, Jason offered the following advice:
Start with your champions that really know the needs of the schools or district. They can give you a better idea of the need in the area. These are your social workers, cultural liaisons, principals, etc.
Work to understand the overall food landscape of your community to ensure your project will complement what's already available, what's working, what the gaps are, etc.
Talk to the school district Food and Nutrition Services staff and be prepared with a plan to make it mutually beneficial for both you. The Nutrition Services staff are often very business-minded, so it helps to frame this as an opportunity to get more reimbursements for meals served under the Summer Food Service Program (SFSP).
Jason and Julie believe anyone can give this a try. "Go for it! Open the door and see where the adventure leads," said Julie.
If you would like more information about The Open Door's Mobile Lunch Box program, contact Jason Viana at jasonv@theopendoorpantry.org.
If you would like to explore partnering like this with a school district in your area, contact Second Harvest Heartland's Child Hunger Program Manager JoAnna Lund at jlund@2harvest.org.