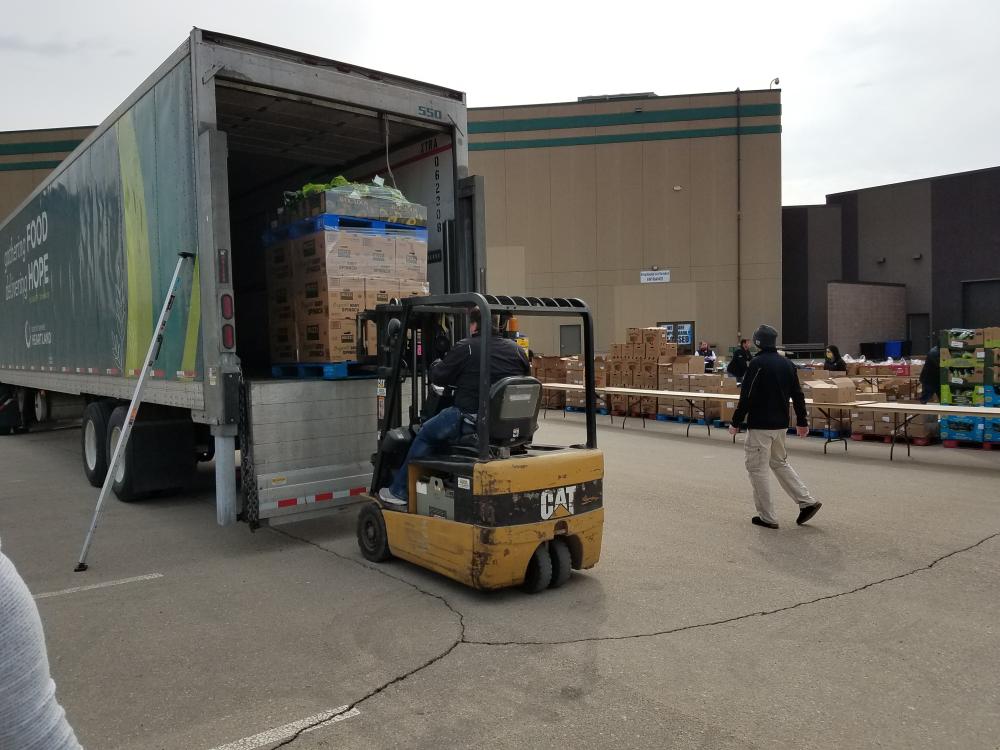 Packing Up Produce for the Lower Sioux Community
When Jackpot Junction Casino Hotel in Redwood County made the difficult decision to temporarily close amid the COVID-19 outbreak, more than 700 employees in the Lower Sioux Indian Community were suddenly left without a job.
At the same time, the Second Harvest Heartland warehouse was full of 40,000 pounds of ripe produce from local growers like Westcott Orchards, Van Erkel Farms, our local Walmart distribution center and other generous retailers. Because food shelves are switching to distributing more shelf-stable pantry items and ordering less produce during this outbreak, we still have a steady flow of produce donations ready to feed those who need it.
Our teams quickly sprang into action, partnering with Jackpot Junction and Bishop Whipple Mission/St. Cornelia's Church to mobilize more than 60 volunteers and organize our first-ever traveling farmers market in the casino parking lot.
The community was extremely well prepared for the market, with both space and volunteers, and the execution was nearly flawless. Typically, our produce drops are designed for 100-250 families, but this distribution was set up for more than triple that amount because of the unexpected unemployment level.
The spring-like day provided a beautiful backdrop for an efficient distribution of such a large-scale operation. Crisp lettuce, plump pears and potatoes, and other nutritious produce were packaged into individual boxes that volunteers slipped into the trunks of cars in two fast-moving lines.
"It was incredibly inspiring to see the community respond to the current crisis. At the same time, it's disheartening to know that the need for hunger relief is surging," said Bob Branham, Second Harvest Heartland.
This partnership is our first with a tribe on a reservation—and a continued example of the ways we're innovating to make sure we're getting food to the communities that need it most during these challenging times.
One community member who accessed the market said it's been a struggle to provide their children with every meal during the week while their weekly food budget has significantly decreased. They also haven't been able to go to the store, so it was so nice to have access to "fresh, edible, delicious produce that [they] really desire."
But we can't do any of this alone. If you have the financial means to make a gift to help us execute our COVID-19 response, please make a donation. Thanks to a generous match by the Richard M. Schulze Foundation, your gift will be doubled to help fund prepared meals, emergency food boxes, and efforts like this one in the Lower Sioux Community!