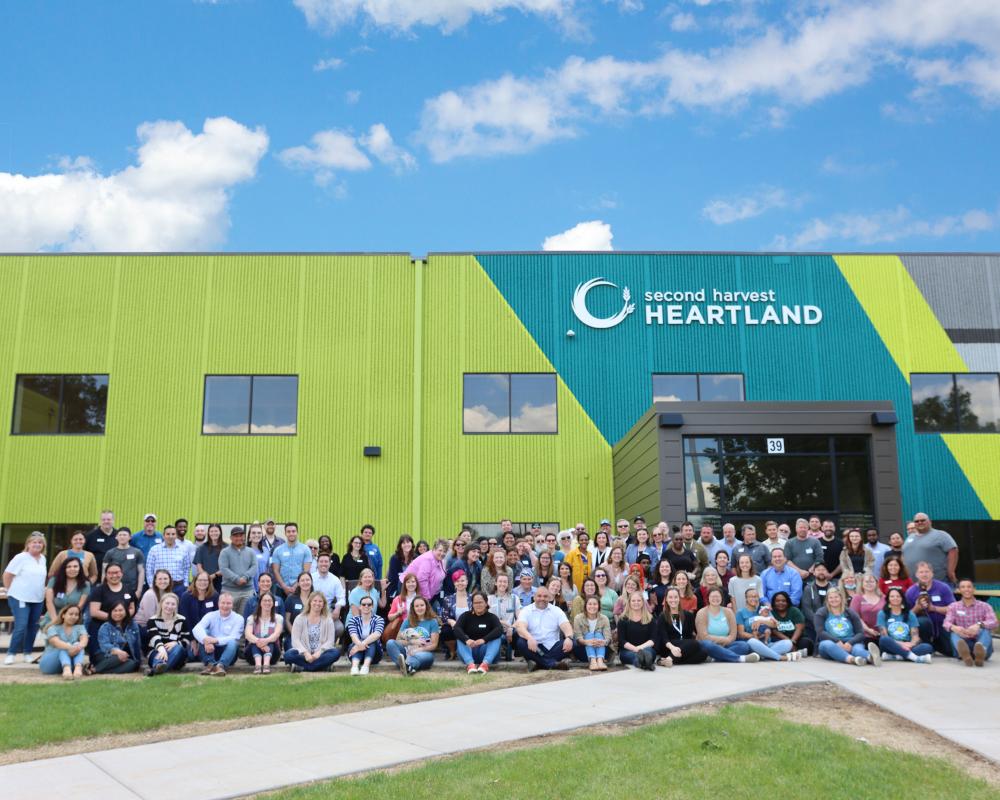 Our Team is Varied, Our Team is Strong: Get to Know the Second Harvest Heartland Staff
It's safe to say each of our employees has their own unique reasons for working at Second Harvest Heartland, both personal and professional. And yet, our experiences here fighting hunger are both our own and part of our team's collective voice. By sharing our stories, we're bringing each other closer together while putting our names, faces and histories to this organization's mission.
Over the past few months, we invited our Second Harvest Heartland colleagues to tell us why they do the work they do. We can't thank them enough for their openness and their time and we celebrate their commitment to fighting hunger and to being amazing teammates.
Gina Carlin, Transportation System Specialist
"I really enjoy my team. Our drivers are the best, Distribution Center and Food Rescue drivers alike. They really are the face of Second Harvest Heartland to our partner agencies and stores, and they do an awesome job."
Daud Mohamed, FOODRx Operations Generalist
"I love the patients we serve. In FOODRx, we often hear from patients that they were worried about where their next meal was coming from, but then we send them a 30-lb box of 25 meals, and all of a sudden, they're not worried anymore. Those kinds of stories are priceless."
Roel Ramos, Compliance Specialist
"The best part of my job is being able to visit our partners and letting them know that we're a resource for them and we have their backs. We all lead with our hearts. We are all relentless advocates for the hunger relief network and always willing to go above and beyond."
Kelsey Wright, Lead Volunteer Ambassador
"My role in the Volunteer Center is high-energy and often fast-paced. It is a very social role as I work with 150+ volunteers each day. The Volunteer Engagement team is a great team to be a part of. We work extremely hard, but we make sure to have fun along the way. We like to be goofy and make each other laugh, and we almost always have snacks in our office."
Jeremiah Speckel, Distribution Center Driver A
"I feel lucky to come here to work. We're able to provide food for people and their kids and give them hope. That brings so much happiness to me. Especially when kids are involved. When I was growing up, we had struggles and had to use a food shelf, so I relate with where people are at. I feel very fortunate to be able to pay that back in a job that's so rewarding."
James Thao, Commodity Supplemental Food Program (CSFP) Distribution Lead
"My job is a new experience every day, and the best part is being able to interact with our participants face-to-face and work with our wonderful staff and volunteers."
JoAnna Lund, Child Hunger Program Manager
"Helping people have access to the healthy food they want is one of my biggest passions. When I thought about if I wanted to work at Second Harvest Heartland, I reflected on the role that food and food access has played for me both personally and in my career. My team is tenacious, creative, innovative and hard working. And we don't forget to have fun and show our appreciation for one another."
Join Our Team
From truck drivers and forklift operators to volunteer leaders and program staff, our team is on a mission to end hunger in our region. Learn more about careers at Second Harvest Heartland.