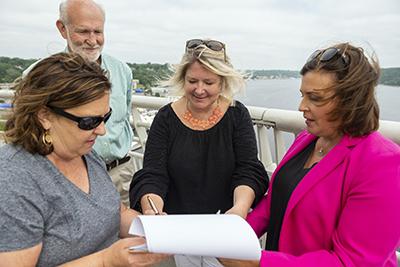 A New Partnership Aims to More Fully Address Hunger in Rural Western Wisconsin
While hunger exists in every Midwestern community, it's not the same in every community. A grassroots, local approach to fighting hunger—led by organizations who know their neighbors and their unique challenges personally—is critical to ending it.
That's why the St. Croix Valley Food Bank (SCVFB), based in Hudson, Wisconsin, is joining forces with Second Harvest Heartland to fill more fridges in St. Croix, Pierce, Polk and Burnett counties in Wisconsin. Long supported by Second Harvest Heartland, these communities will soon be served directly by the local team at the St. Croix Valley Food Bank.
Second Harvest Heartland will provide food for the local food bank to redistribute to a growing number of food pantries and hunger-fighting organizations, doubling the delivery of needed meals from three to six million annually. SCVFB will build relationships, supplement the food provided by Second Harvest Heartland with local product, offer more frequent deliveries to food pantries and raise hunger in the local conversation. They will be a local hub or, redistribution organization, for Second Harvest Heartland.
"Hunger is persistent and far-too-common in this part of the region," said Pat Pearson, director of agency relations with Second Harvest Heartland. "St. Croix Valley Food Bank is positioned to make a real difference in the hunger fight and we're so proud to call them partners."
SCVFB and Second Harvest Heartland formalized their partnership at a signing ceremony on the St. Croix Crossing bridge, following by the grand opening of SCVFB's 22,000-square-foot hunger-fighting warehouse in Hudson.
"This new partnership is going to benefit the Wisconsin agencies and their communities in so many ways, in terms of customer service, access to more fresh, healthy food, advocacy, and overall support of the hunger relief network in these four counties," said Lisa Boyd, agency partner specialist at Second Harvest Heartland.
"We are excited about this opportunity and truly believe that strengthening this partnership will get us closer to ending hunger in western Wisconsin," said Ann Searles, executive director of SCVFB. Learn more at www.stcroixvalleyfoodbank.org.