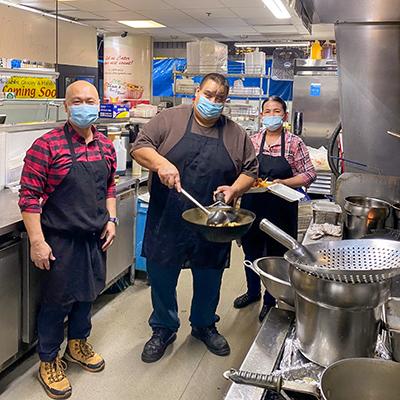 Minnesota Central Kitchen is Creating Chef and Neighborhood Powered Meals
A prepared meal can be a powerful thing – especially when that meal is sourced from and prepared in your own backyard.
That's why Minnesota Central Kitchen is by community, for community.
The Minnesota Central Kitchen collaborative is a community-response network, ensuring that even when things get tough, dinner is still on the table. It was born in the early days of the pandemic to rescue abandoned food, re-employ furloughed culinary workers, and get urgently needed meals to folks facing hunger. Minnesota Central Kitchen now harnesses the power of Second Harvest Heartland and more than 100 community partners to continue bringing nutritious, delicious and culturally connected prepared meals to people in the community.
Since launching in response to the COVID-19 pandemic in March 2020, Minnesota Central Kitchen has prepared and distributed more than two million prepared meals.
Supporting local businesses and culinary workers
Trung Pham, owner of Pham's Rice Bowl in Midtown Global Market, was able to bring most of the employees back that were laid off at the beginning of the pandemic thanks to a partnership with Minnesota Central Kitchen. Getting to help his neighbors facing hunger was the cherry on top.
"The positive feedback coming back from the community is they love the meals," said Trung. "Everything that we put in … we're preparing these meals as though these are our paying customers. We're creating that well-balanced meal and bringing it back to the community."
Food is a basic need, but it also brings people together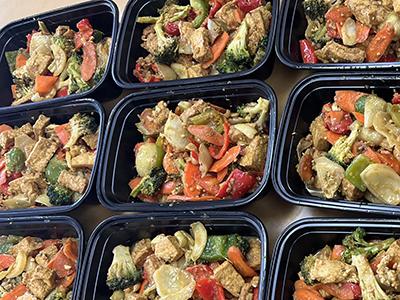 From the top-notch kitchen staff employed to prepare meals to the trusted community partners organizing to distribute them, Minnesota Central Kitchen seeks to equitably serve the community through collaboration. These kitchens and community distribution partners are deeply connected to their communities and the mission.
The Frogtown Neighborhood Association was excited to learn they could partner to distribute prepared meals in apartment buildings and complexes in their area that house refugees, seniors and families. Feeding Frogtown now works with Minnesota Central Kitchen restaurant partners and Frogtown neighbors Afro Deli, Cheng Heng and Homi Restaurante Mexicano distributing more than 1500 meals every Tuesday to residents.
"I go home warm-hearted, knowing that a local restaurant is now a part of a local neighborhood, and everybody gets to meet one another through food," said Sara Aegerter, Feeding Frogtown coordinator. "We're all in this together, so to be fed together … be able to try someone else's cultural food? Amazing."
Feeding neighbors and rescuing food from going to waste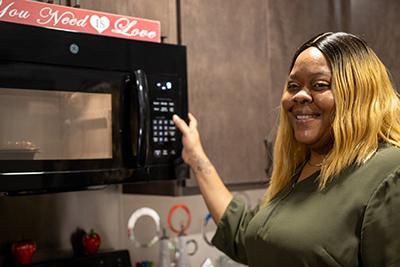 Around 60% of the ingredients used in Minnesota Central Kitchen kitchens come from Second Harvest Heartland, helping rescue abandoned food from going to waste. And once expert culinary teams transform these ingredients into individual and family-style meals that are easy to reheat and serve, they provide nourishment and relief to the people and in the neighborhoods that need them most.
Not having an outside support system has been a barrier for Latashia as she works to raise a family and keep up in her college classes. Latashia is a single mom of three living on the Jeremiah Program campus, a residential nonprofit organization that works to disrupt generational poverty for single mothers and their children. After a long day away from her children, Minnesota Central Kitchen meals are helping her get back some valuable time with her children.
"It's just as simple as a meal, but when you're a single mom, it's more than just that," said Latashia. "When we can come home to these prepared meals, it takes hours off my evening."
Take action: Your donation will help ensure dinner's ready for your neighbors, no matter what. Right now, gifts are being matched by The Cargill Foundation. That means every $1 you donate can double to provide twice as many meals.