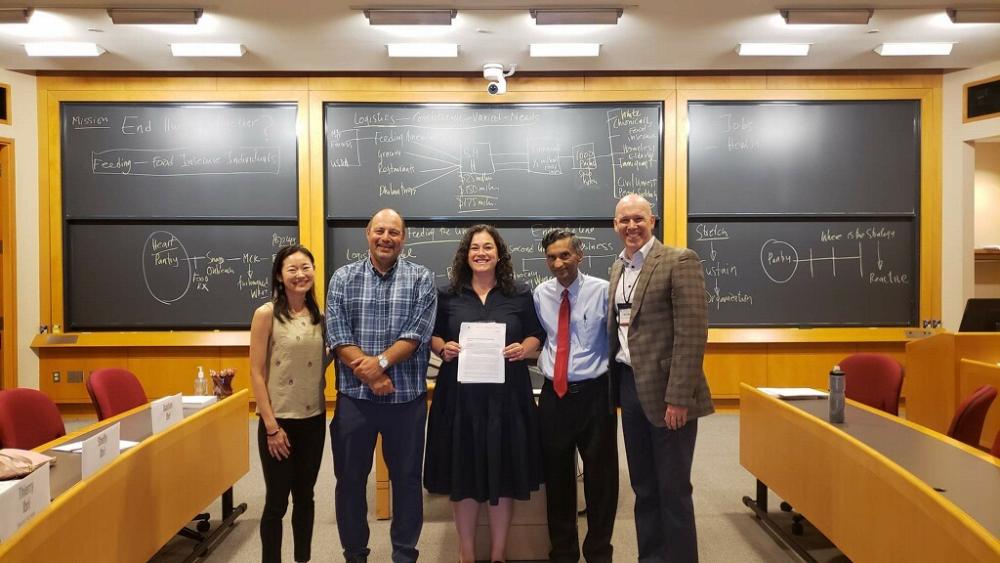 Minnesota Central Kitchen in the Classroom and on the Mainstage
Editor's Note: Minnesota Central Kitchen is now Kitchen Coalition! Learn more here.
There is no slowing down the momentum of Minnesota Central Kitchen (MCK)! Celebrating a 3 million meal milestone in recent weeks, coupled with several high-profile speaking opportunities, the freshly prepared meal program continues to inspire and recruit new partners.
In July, a Harvard Business School class of nonprofit CEOs from around the globe discussed the newly published Harvard Business School case entitled Second Harvest Heartland: Ending Hunger Together. Robin Manthie, Minnesota Central Kitchen's managing director, listened intently as the class debated the food bank's growth, trajectory and response to growing food insecurity brought on by the COVID-19 pandemic. Thierry Ibri, former Second Harvest Heartland chief operating officer, who collaborated in the development of the case also joined in the class discussion.
"Attendees were excited to hear how our food bank transitioned from a logistics food delivery model to demand-focused programming so quickly and effectively during a time of crisis with the pandemic and a national reckoning on race in our own backyard," Manthie said. "While some food banks have commercial kitchens and prepared meal programs, no one had engaged restaurants and caterers and community organizations in the way that we have. The program enables us to cook freshly prepared meals that taste like home for all neighbors in need. The ability to do this for neighbors of color is important because, in Minnesota, people of color are up to 6x more likely to be food insecure than White Minnesotans."
MCK Director Robin Manthie and Thierry Ibri are flanked by Research Associate Courtney Han and Professor V. Kasturi Rangan who prepared the case with the assistance of Robert Zeaske, Director of the HBS Social Enterprise Initiative
"Food banks across the country are committed to better understanding the needs and wants of their neighbors, especially BIPOC neighbors," Manthie stated. "We are all finding new ways we can listen to our neighbors and rethink how we do our work to break down barriers of systemic racism. The fact that our Minnesota Central Kitchen meals are produced by community members for community members, and physically in their community is unique and a great way to support our neighbors!"
While Manthie appreciated the opportunity to look back on the program, what she is most excited about is the future: continuing to address the needs of neighbors within the Second Harvest Heartland service area and inspire replication of the freshly prepared meals program by other food banks.
The Minnesota Central Kitchen team had the opportunity to do just that at the Feeding America Feed Nourish Connect Conference in Philadelphia this month.
"We were over the moon when we were invited to share our program from the main stage at the conference," Manthie expressed. "Feeding America has been incredibly supportive as we've fine-tuned the program with a sharper focus on equity and community building. We took the opportunity to share our model and invite other food banks to leverage our playbook and build their own program locally. Collaborating is at the core of who we are: partnership not ownership."
Manthie shared the MCK model, case studies and the funding structure to more than 800 fellow food bankers and hunger fighters in attendance. Joining her in a panel discussion was MCK chef partner Trung Pham of Pham's Rice Bowl in Minneapolis. Pham has been a partner since early 2021 and his kitchen has provided more than 38,000 MCK meals since joining. The respected chef shared his experiences with the program, noting that while the program was a lifesaver to carry his business through tough times and provide more consistent employment to kitchen staff, the personal drive is what fuels his continued commitment.
"I know there are hungry neighbors and if I can use my talents and business to make a difference, I need to do this," Pham stated.
Minnesota Central Kitchen Director Robin Manthie and kitchen partner Trung Pham discussed food equity and community building with Feeding America Network Director Kathryn Stickland and panelists from Inter-Faith Food Bank and Black Farmers Market)
The feedback from the conference has been validating and energizing. Dozens of food banks from across the country have reached out to the MCK team to learn more about the program and how replication is possible in their metropolitan areas.
"I left the conference inspired by our network—its diversity, commitment to better understand the needs and wants of communities, and passion to leverage the learnings from the pandemic to move forward," says Manthie. "This is our chance to move forward together. We innovated in the pandemic, let's take the best of a hard time and help others launch programs in their community so more neighbors can have freshly prepared, culturally connected meals."
If you are interested in learning more about the Minnesota Central Kitchen model for replication at your food bank, contact mncentralkitchen@2harvest.org. If you are interested in providing funding to scale the program and reach even more hungry neighbors, donate here.