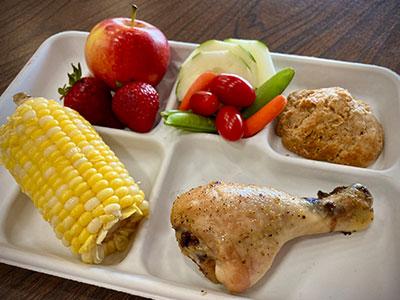 Making Hunger-Free Schools a Reality in Minnesota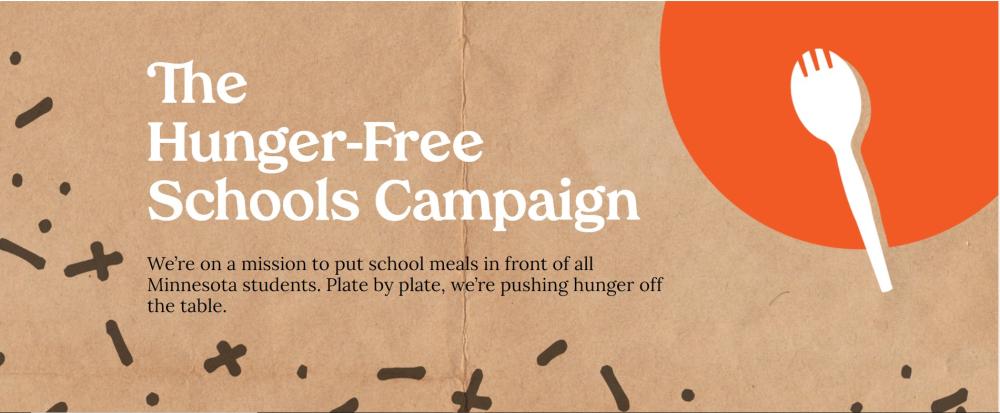 What is the Hunger-Free Schools campaign?
The Hunger-Free Schools campaign is an ever-growing group of hunger-relief advocates, health care organizations, businesses and education and youth partners. All members are united by a shared vision of no hungry students, more equitable schools, and a stronger, more productive Minnesota. Together, we work to advance policy change that will make it easier for Minnesota students to access nutritious meals at school.
The coalition is led by Hunger Solutions Minnesota and Blue Cross Blue Shield of Minnesota. In addition to Second Harvest Heartland, other supporting partners include: Allina Health, American Diabetes Association, Appetite for Change, Cargill, Children's Minnesota, Ed Allies, Education Minnesota, Every Meal, Food Research and Action Center, General Mills, MAZON, Minnesota Farmers Union, Minnesota Legal Aid, Minnesota School Social Workers Association, Share Our Strength, The Food Group, Twin Cities Medical Society and Youthprise.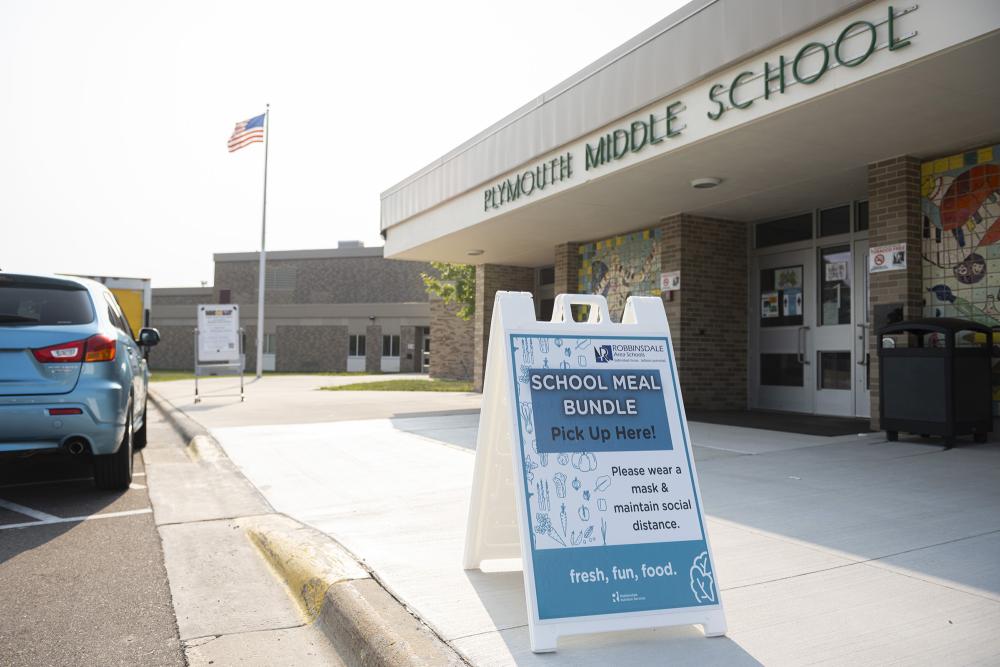 Why is Second Harvest Heartland a member of the Hunger-Free Schools coalition?
Although Second Harvest Heartland's primary work revolves around distributing food to a network of hundreds of food shelf partners across Minnesota and western Wisconsin, we understand that we can't solve hunger through food distribution alone. That's why we advocate for the public programs and policies that nourish our communities and work to end hunger. Changing policy to adopt universal school meals in Minnesota is one of the most effective investments we can make in addressing childhood hunger, and so we are proud to work with the Hunger-Free Schools campaign to advance this proposal at the Minnesota legislature.
School meals are a critical source of nutrition for the almost 200,000 Minnesota kids facing food insecurity, but nearly a third of those children don't qualify for free school meals. Access to school breakfast and lunch helps students learn and be active in the short term, and thrive academically, physically and emotionally in the long term. Passing free school meals legislation in Minnesota is the right thing to do to address child hunger, so that Minnesota schools can offer breakfast and lunch to all students at no charge, boosting access to healthy foods and reducing child food insecurity. Universal school meals are also the smart choice, helping to reduce administrative burden, eliminate unpaid lunch debt, and maximize federal resources.
Why are hunger-relief organizations pushing for universal school meals right now?
Minnesota schools have already been providing free meals to all students for the last two years due to COVID-19, but the pandemic provisions allowing these programs to operate will end this summer. At the same time, our state government has a unprecedented budget surplus of over $9 billion that legislators can choose to invest in needed programs. Although the Minnesota legislature already passed a state budget last session and doesn't have to do so again until 2023, Governor Walz has proposed a supplemental budget which includes $183 million each year to fund universal school meals in Minnesota.
While the legislature ultimately must decide if they support the provisions outlined in the governor's plan, it's a great first step to have the support of his administration. The Hunger-Free Schools campaign wants to use this momentum to have a robust conversation with policymakers and other stakeholders about the massive return on investment for making free meals available to all students and reducing childhood food insecurity.
What can you do to support the Hunger-Free Schools campaign?
A policy change this big doesn't happen overnight, and we'll need support from hunger-concerned folks across the state to get universal school meals across the finish line. Here are some ways you can help:
Stay informed on the progress of free school meals legislation in Minnesota. Join our advocacy list and follow us on Twitter for the latest updates. You can also hear directly from the coalition by following their Twitter and Facebook pages.

Sign the Hunger-Free Schools campaign petition. Show your support for boosting access to school meals for Minnesota kids by adding your name to our growing list of champions.

Take action during your next volunteer shift. Are you signed up for a packing shift at our Brooklyn Park location this spring? We'll have several opportunities available to help you share your support for this legislation. We know it can be intimidating or confusing to engage in the policy process, so our Advocacy team will have resources and tools on hand to make it as easy as possible to take the first step!