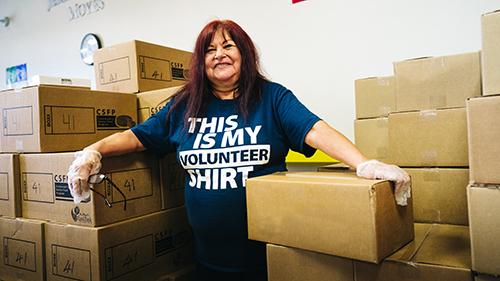 Make Your Plan to Vote to End Hunger This Fall
Most know Second Harvest Heartland by the millions of pounds of food we distribute to neighborhood food shelves and emergency grocery pop-ups, by our innovative FOODRx and food rescue initiatives, or by our child nutrition programming and partnerships.
What's less understood are the equally critical hunger policies that enable our neighbors experiencing hunger to access the food resources they need. That's why Second Harvest Heartland advocates for public programs and policies that nourish our communities and work to end hunger.
Protecting and supporting hunger-fighting programs and the people they serve are why the upcoming election is important to us at Second Harvest Heartland.
We know that people who are struggling with hunger often face additional barriers in front of them that may discourage participation in the voting process. We seek to make that easier by sharing information on when, where and how to vote.
The hunger-fighting programs and policies so many of us rely on are only as strong as the policymakers who create and vote for them. That means elections matter.
With early voting now underway in Minnesota, we encourage all eligible voters to make a plan to cast their ballot on or before November 3.
Important dates and deadlines
Information below is specific to Minnesota. Wisconsin election information is available here.
SEPT. 18
Early voting begins! Yes, voting in the November 3 election began on September 18. You can request an absentee ballot online to vote by mail or you can vote early in person. There are also options for voters in specific circumstances to have an agent pick up and deliver their ballots.
OCT. 2
Recommended date to apply for absentee ballot. This should give you enough time to receive and return your ballot by mail. It's a two-step process to request an absentee ballot by mail and can be completed online in just minutes. You can then track the status of your absentee ballot.
OCT. 13
Voter registration deadline! You can register or update your registration online. You can also register on Election Day if you plan to vote in person on November 3, just make sure you bring what you need to do so. Not sure if you are registered? You can check your status online.
NOV. 2
In-person early voting ends at 5:00 p.m. If you are not planning to return your absentee ballot by mail or vote in-person on election day, you can show up before election day, in-person, to vote early with an absentee ballot. Early voting locations vary by city and town, but all voters have at least one option available to them at their county election office. Sites are open through the early voting period (September 18 through November 2), including the last Saturday before election day, from 10:00 a.m. to 3:00 p.m.
NOV. 3
Election day! Vote in person at your neighborhood polling place.
Or, if you haven't yet returned your absentee ballot by mail, you have two final options to ensure your vote is counted:
By mail: Make sure it's postmarked November 3. It also must be received by your county elections office by November 10.
In person: The ballot must be returned to the election office that sent you your ballot, and must be received by 3:00 p.m. Do not bring your absentee ballot to your polling place.
Finally, look up your sample ballot, research the candidates, and make a plan to vote – and vote to end hunger – today!
We invite you to stay connected to us for what comes next: Policymaking at the state and federal level to ensure that hunger-fighting policies and programs are created and expanded to serve the 1 in 8 Minnesotans experiencing food insecurity. Let's stay in touch!