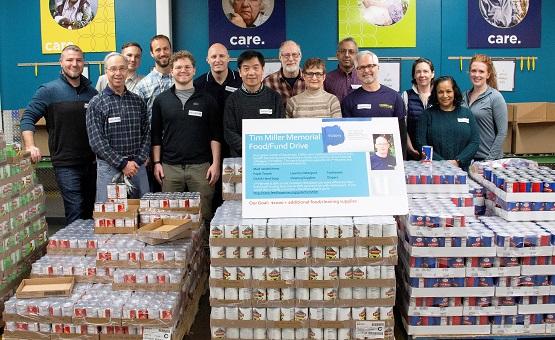 Longtime Volunteer Memorialized with Food and Fund Drive
Tim Miller was a longtime Second Harvest Heartland volunteer, donor, and third-generation 3M employee who passed away unexpectedly last fall. Because Second Harvest Heartland held such a big place in Tim's heart, his coworkers at 3M (many of whom had volunteered at our Maplewood facility with him) held a memorial food and fund drive and volunteer session in his honor. The goal was to raise $1,000 in one month. Tim's generous coworkers from the Construction and Home Improvement Markets Division ended up raising $2,300 and donating more than 300 pounds of food and cleaning supplies.
"That we raised way more than we expected speaks to how Tim's coworkers felt about him," said Jeff Linert, Tim's friend and 3M coworker.
Tim's coworkers didn't stop there. A group of 15 employees from Tim's 3M division came together for an emotional volunteer shift in Tim's honor. Tim's parents, wanting to visit the place where their son volunteered so regularly, also participated in the shift.
"The Second Harvest Heartland folks dropped what they were doing and with compassion thanked Tim's parents for coming out and for all he had done with Second Harvest Heartland," said Linert. "It truly honored Tim. His parents are not going to forget this day."
We won't either.
Volunteers like Tim are the heart and soul of our operations. Tim dedicated a big part of his life to feeding his neighbors experiencing hunger.
Please give your time and your voice to those who are less fortunate. And if you're able, consider giving a donation to Second Harvest Heartland to help Minnesotans get back on their feet again.