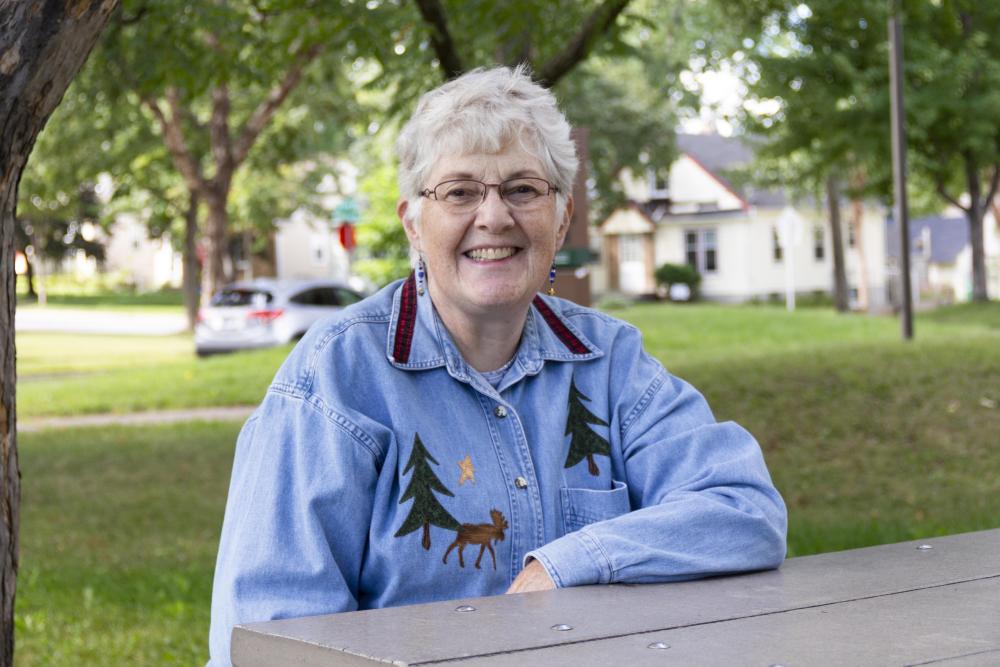 A Life—and End of Life Plan—Defined by Service
Julie grew up in a "finish everything on your plate" household. She was raised middle-class by parents who volunteered with Meals On Wheels and Catholic Charities meal programs. Her mom had worked as a public health nurse.
"Growing up, I was keenly aware of the many advantages and resources available to me. I always wanted to help people who were struggling." That upbringing inspired a 32-year career with Hennepin County Social Services, beginning in the Minnesota Family Investment Program and concluding managing early childhood programs. As soon as her first steady paycheck came some 50 years ago, Julie began supporting local food shelves and soon after, Second Harvest Heartland.
Addressing the most fundamental need
The importance of food shelves came closer to home for Julie recently when a close relative needed help stretching their grocery budget to help cover the costs of health care and other basic needs. Like second-nature, Julie escorted them to a neighborhood food shelf and another no-cost food distribution site.
"Donating to food programs is even more critical in my life now. I know how much it hurts your pride to ask for assistance, but it shouldn't. Nor should basic needs go unmet in our prosperous nation."
Particularly during the COVID-19 pandemic, when food access and affordability are impacting record numbers of Minnesotans, Julie takes comfort in the breadth and depth of Second Harvest Heartland's expertise and its reach into communities. "I appreciate how innovative and creative Second Harvest is to so many changing circumstances, like the FOODRx program and Minnesota Central Kitchen, but also in how more fresh produce and protein are available in food shelves. 'It's not just about being fed, but being fed well."
Planning for peace of mind
When it came time for end of life planning, Julie knew she needed to be proactive. She finished her healthcare directive, will, and power of attorney with the meticulous order and organization of a proud astrological double 'Virgo', making sure to take care of her siblings, nieces, and nephews in her plans.
Then, to continue her life's work long after she's gone, Julie chose to name Second Harvest Heartland as a beneficiary on two of her mutual funds. The process is as easy as securing the tax identification number, address, and contact information from Second Harvest Heartland, then sending one form to the investment company with a copy to her estate executor.
"It felt important to set up some legacy planned giving that would be consistent with my values and what I have supported throughout my life. My end of life planning has given me such a sense of peace, allowing me to let go of all my 'what if' concerns and just live a good life."
For more information about including Second Harvest Heartland in your estate plans, please visit our Planned Giving page.