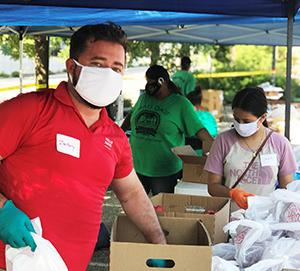 "I'm Looking Forward to Not Going Back to Normal"
Late this past summer, Family Achievement Coaches at the Northside Achievement Zone (NAZ) in North Minneapolis began noticing that many of their families were struggling with food access. A Wilder Research study confirmed that 60 percent of families indicated that they were not eating the way they used to. And 80 percent said this was a new experience since the onset of COVID-19 and aftermath of social uprisings.
That's in part why NAZ's President and C.E.O. Sondra Samuels isn't looking forward to going back to normal.
"We know that the depth of the crisis around food is the tip of the iceberg," Sondra explained in Second Harvest Heartland's recent update to the community on COVID response and surging hunger. "Underneath the iceberg of all of the disparities around jobs and income and housing and C-19 and the egregious murder of George Floyd and the rioting and the looting that followed, all of that together and the argument about the future of policing have all come together to create this perfect storm."
And a perfect storm requires a collective, community response. That's what Sondra with NAZ, Stella Whitney-West with NorthPoint Health & Wellness, and Antwayn Hunter with Appetite For Change gathered to discuss seven months into our current crises.
"We need each other during this time. Us coming together? That's where the power is. We have the power to make our city over again," Sondra continued, and Stella echoed, explaining how NorthPoint was born out of the rebellion on Plymouth Avenue 52 years ago, when neighbors demanded access to health care, education, food and more.
"We have to ask ourselves: How are we defining a new normal? The new normal is that we work together as partners to ensure that we don't have to work to meet these basic needs in the future," Stella explained.
Partnership is what has allowed Second Harvest Heartland to provide nearly 110,000 pounds of food to NorthPoint and NAZ distributions, serving more than 1,000 families on the Northside since mid-summer. And this doesn't include the additional thousands of pounds of food that NorthPoint has been providing through its Free Fresh Food Friday events. Support for both has come from partner Wells Fargo.
Critical as groceries have been, nothing compares to a prepared meal, and nothing is harder to come by for many right now. That's where restaurant and catering company-turned-food distribution operation Appetite For Change comes in.
"To see folks show up to their door, happy to see you is one of the most beautiful things I've done in my whole life," explained Antwayn. "This (pivot to food distribution) also allowed us to bring back staff. Some people's jobs changed a bit – from running restaurants and catering to figuring out how to get all this food throughout the Northside. Our sales folks went from managing accounts to packaging food. But since then, we've been able to build our partnerships, build our distribution points, and honestly build this program to the point where it's something we can continue even once we go back to whatever normal is."
In addition to making fresh food like protein dairy and produce available through home delivery, this partnership has also delivered more than 20,000 prepared meals to NAZ families. And beyond this partnership, Appetite For Change has provided more than 136,000 to go style meals through Second Harvest Heartland's Minnesota Central Kitchen initiative.
"Partnering to deliver groceries and cooked meals – which our families love – has been a real game-changer. We look forward to, as we continue down this path, to meet the needs right now so that in years to come we don't need to do this. And that's in programming and policies that we have to change," Sondra explained.
Watch the full conversation here:
The good news is that we live in the heartland where there is food and generosity to spare.
Take action to ensure we build a better 2021, where generosity wins out over suffering and tables stay full:
Vote early or on November 3 to ensure hunger-fighting policies and programs are a priority.
Contribute financially to Second Harvest Heartland and these essential community partners (links above), just as Wells Fargo did to support fresh and perishable food distributions in North Minneapolis.
Encourage access to food assistance and lend a hand to your neighbors or family like these Northside partners are demonstrating.