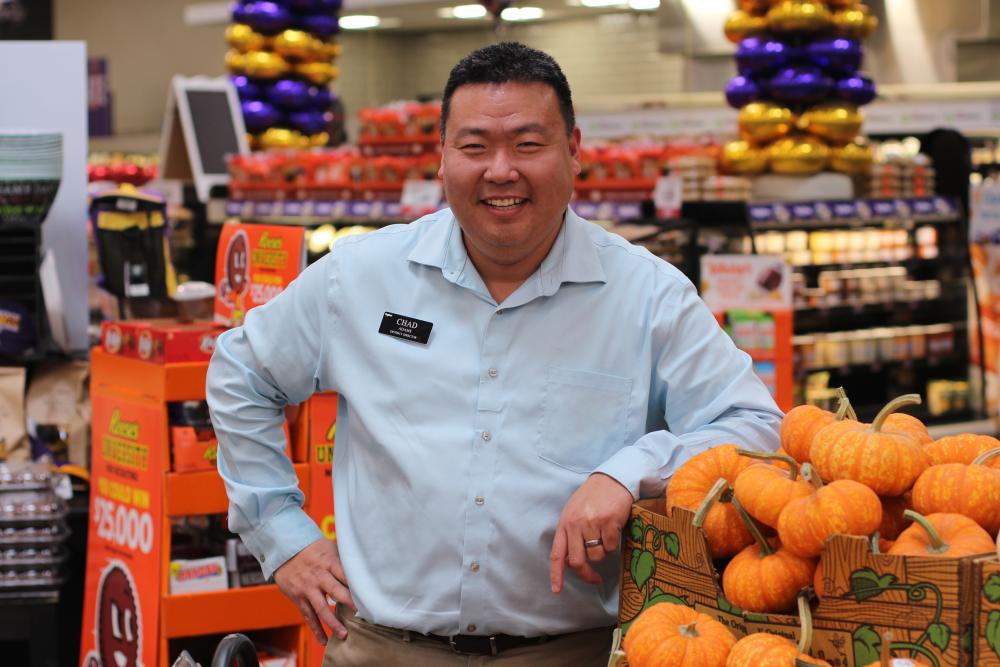 Growing The Future: How Hy-Vee Helps Keep The Twin Cities Community Fed
When walking into a Twin Cities area Hy-Vee, shoppers are greeted by displays filled with bright and fresh produce. As the weather begins to get colder, there is an emphasis on seasonal favorites—including pumpkins ripe for both decorating and fall recipes, as well as Minnesota Honeycrisp apples. These apples fall under what Hy-Vee calls "The 200 Rule," meaning that only produce grown within 200 miles of the store gets to carry this label. This is one way that Hy-Vee not only puts an emphasis on local farmers and orchards in Minnesota, but demonstrates a dedication to local communities.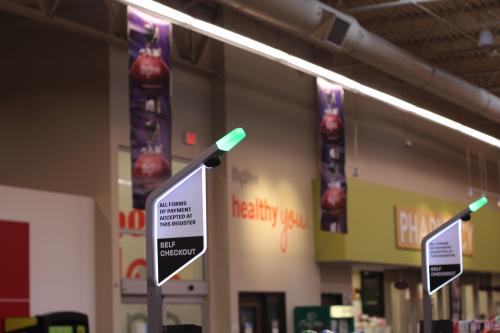 Customers can round up their purchases at all checkouts
There are multiple Hy-Vee stores located just a few miles from Second Harvest Heartland's Headquarters in Brooklyn Park, so it is truly a neighborhood grocer. A way that Hy-Vee contributes to the Twin Cities community is through donating items such as fresh produce and paper goods to organizations closely affiliated with Second Harvest Heartland and the greater Feeding America network.
"We're here to help people," says Chad Adams, District Director and Manager of Hy-Vee stores in the Twin Cities. "We know holiday seasons are coming up, so we've received a lot of requests for food from just these two stores. We're always here to support as much as possible."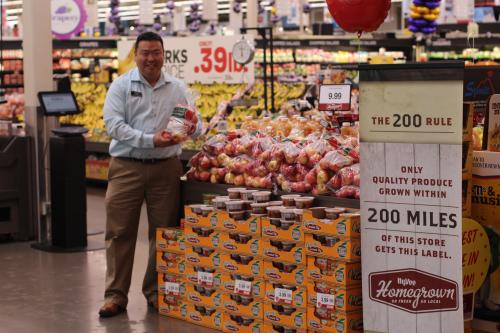 Chad makes sure his Hy-Vee stores are stocked with local produce
A big support in the fight against hunger has been Hy-Vee's 100 Million Meals Challenge, a collaborative campaign that brings together Feeding America partner food banks like Second Harvest Heartland, manufacturers and suppliers, and Hy-Vee customers to help support people across Minnesota and the Midwest who are experiencing food insecurity. Launched in March, the goal is to provide 100 Million meals to the emergency hunger-relief system by the end of 2023. Customers can round up their purchases to the nearest dollar during checkout to donate to the campaign.
"There's a lot of good feedback from not only our customers but our cashiers—it's a great program for them as well. It's a good feeling when someone gives a donation and makes everyone really feel a part of the community," says Chad.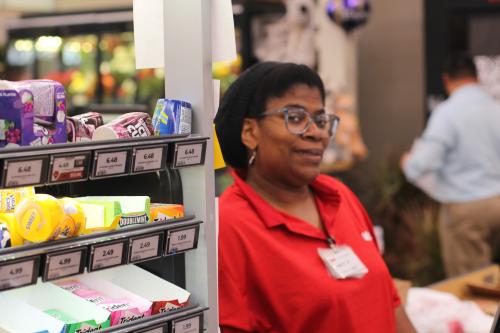 Nakita, a cashier helps customers contribute to the 100 Million Meals Challenge
Second Harvest Heartland is proud to partner with Hy-Vee in helping feed our communities and are especially proud of the stores right down the road from our warehouse in the Twin Cities.
"Our customers want to be a part of the fight against hunger," says Chad. "Between our partners, Hy-Vee, and all of our customers, we all want to do whatever is needed to get as much food as possible to our communities in the Twin Cities and surrounding areas."