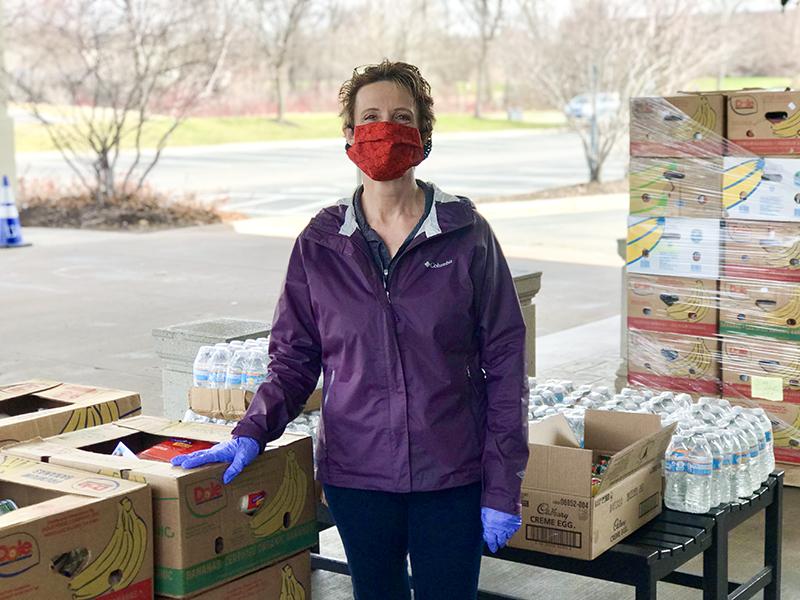 #GiveAtHomeMN—Minnesotans come together to support nonprofits impacted by COVID-19
During the week of May 1–8, Minnesotans will come together through the #GiveAtHomeMN campaign to support those in need during the COVID-19 crisis. Similar to Give to the Max Day, #GiveAtHomeMN is a statewide online fundraiser hosted by GiveMN—and showcases the power of Minnesota's generosity. You can help today by visiting givemn.org.
Unprecedented times, unprecedented need
While COVID-19 affects our community, helping our neighbors in need is more critical than ever. Since the outbreak, food shelves are reporting double, sometimes triple the need for food assistance.
For nearly 40% of individuals being served, it's the first time they've needed to ask for help. According to Feeding America, it's estimated that the crisis could mean a 46% increase—17.1 million more people nationwide—at risk of hunger.
Second Harvest Heartland, in partnership with nearly 1,000 food shelves and other hunger-relief organizations, is providing tens of thousands of emergency food boxes and other meals for families facing hunger due to missed work, illness or other hardships during the crisis.
We're also innovating to cope with the long-term effects of COVID-19, by:
Coordinating free emergency farmers markets
Developing new kinds of pre-packaged options to safely distribute fresh food
Providing additional service to help food shelf partners meet the increased need
"It is eye-opening to see so many communities coming together to hit this pandemic head-on. We will honestly be closer, stronger and proud as we navigate through this." – Participant at the Lower Sioux Community emergency farmers market
Local hunger heroes at work
Second Harvest Heartland's food shelf and meal program partners are adjusting to the increased demand and challenges presented by social distancing.
Staff at United Community Action Partnership say they are bringing out food for one car at a time as volunteers shop for clients.
Rev. Shawn Morrison of Good in the 'Hood, a Minneapolis nonprofit that provides groceries, hot meals and other services, said that requests for help have tripled recently. "There is a whole demographic of new clients...who have never participated in the food shelf world before, and we need to provide for them and help them navigate."
At a recent emergency farmers market in Redwood County—in partnership with Jackpot Junction and Bishop Whipple Mission/St. Cornelia's Church—a participant shared how food assistance programs are helping. "Having children home for every meal during the week has increased the amount of food needed and at the same time our weekly food budget decreased. Having programs like this is beneficial to offset the difference."
Your support is needed now to continue this vital work, and ensure families aren't missing meals during these challenging times.
How to participate
To take part in #GiveAtHomeMN, simply search for the causes that mean the most to you and give as you are able at givemn.org.
Donations to Second Harvest Heartland are greatly appreciated, but we couldn't do our work without local food shelves and meal program partners. Please consider donating to these local organizations as well. Visit hungersolutions.org to find food shelves and meal programs in your area.
Although monetary donations are most needed, many organizations, including Second Harvest Heartland, are also seeking volunteers.
If you'd like to go the extra mile, you can even create your own fundraiser page for your favorite cause with a few clicks. Search for the cause you would like to support and click the "fundraise" button to see how much money you can raise amongst your friends and family!