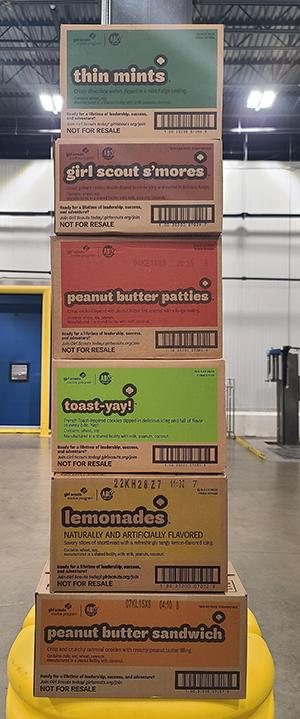 Girls Scouts Bring Joy to the Hunger Fight
Last month visitors to food shelves throughout our region had some extra special items available to them: peanut butter patties, shortbread, lemonades, s'mores, toast-yay!, and of course, thin mints. As it was across the country, it was Girl Scout cookie time!
Girls Scouts as hunger-relief partners
Back in 2003, the Girls Scouts of Minnesota and Wisconsin River Valleys selected Second Harvest Heartland as its charity of choice to receive unsold cookie boxes at the end of the annual sales season.
Cookies are made available to our network of food shelves, pantries, meal sites and hunger-relief program partners through our ordering system, then delivered alongside their regular orders of produce, protein and self-stable items.
This year, 38,584 boxes were donated! A value of $192,920.
Sparking joy when it's needed most
Just like millions of kids and adults, our partners anticipate their chance to order Girl Scout cookies.
Our orders team is really happy to hear that we can provide Girl Scout cookies to our food shelf and hunger-relief program partners and their clients. We know how much joy these cookies can bring to people, and in these trying times we want to provide any glimmer of joy that we can. We know that the recipients of these cookies will be thrilled!
Join the Girl Scouts in the hunger fight
While we each might not take the pledge to serve our neighbors and communities like the Girl Scouts do, there's a role for each of us to play in ending hunger. We invite you to find the one that's right for you: