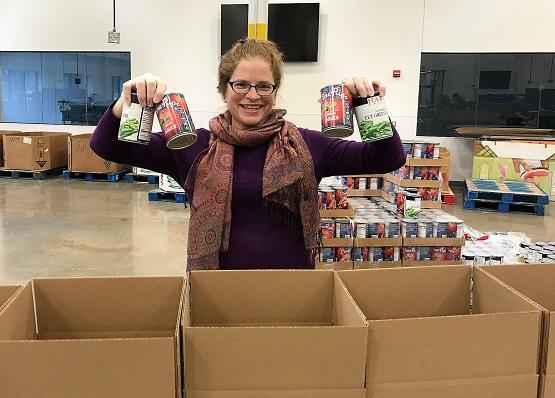 Get Help Finding Food - We Have the Resources You Need!
This is a challenging and unsettling time. With school closures, job disruptions, and health concerns, we know that many Minnesotans will turn to food shelves and food banks for much-needed support.
Although Minnesota has been ordered to stay at home, you can rest assured that we at Second Harvest Heartland provide an essential service and will continue to meet the need for emergency meals in our community.
If the COVID-19 pandemic is making it hard for you to afford food right now, our teams are here to help! We worked with key partners, including food shelves, restaurants, and elected officials in the community to develop a COVID-19 emergency response plan that includes:
Emergency food boxes. Especially in times of uncertainty, it's vital that we support our community's access to food. Second Harvest Heartland is providing emergency food boxes so those experiencing hunger can access needed meals while reducing their risk of exposure. 
Partnering with restaurants to provide prepared meals. We are coordinating an effort to distribute meals prepared by local restaurants through Loaves and Fishes—a free public dining program with 30 locations. Learn more.
Extra measures to keep our teams and our food safe. Our already rigorous cleaning routine has been stepped up and volunteer shifts are temporarily canceled.
Partnering with elected officials. We are a critical part of the regionwide response, and we are working to ensure every member of our community is prepared and well-fed during the outbreak. 
This emergency response plan is enabling us to work around the clock to deliver as much food as possible to local families and our food shelf and meal program partners.
Steps you can take if you need help getting food:
To help get more money for food, call our Supplemental Nutrition Assistance Program (SNAP, formerly food stamps) Outreach team: SNAP. You can also contact an outreach specialist by calling 651-209-7963 (toll-free 1-844-764-5513).
To find immediate food assistance, contact your local food shelf or meal program. Call ahead to check hours and availability as they may have changed due to the coronavirus. To find a food shelf near you, visit: https://bit.ly/2wmR2Hy
If you're an older adult age 60 or older in need of food assistance, boxes of nutritious food are available through the Nutrition Assistance Program for Seniors (NAPS). A monthly box of food can be picked up at a variety of locations around the state. Please call 651-484-8241 or toll-free at 1-800-365-0270 for more information.