Donor Spotlight: Harmony and Ava (H+A Dog Walking)
Summer looks different for everyone this year because of impacts stemming from the COVID-19 pandemic. For Harmony and Ava, two soon-to-be 7th graders at Jackson Middle School in Champlin, it looks like volunteerism and philanthropy.
When Harmony heard that 40 million Americans were likely to lose their jobs because of the pandemic, she knew she wanted to help. And she knew her friend Ava would be on board, too. Inspired by Harmony's mom who walked dogs as a kid, the two created H+A Dog Walking. They drew up signs, canvassed their neighborhoods, and launched their enterprise—with all earnings going to charity. But which one?
Ava's mom suggested Second Harvest Heartland after learning just how much more food assistance would be needed to meet surging demand: 1 in 8 Minnesotans, including 1 in 5 children, is facing food insecurity. Ava also knew the important role food shelves played in her mom's childhood.
By August, Harmony and Ava walked so many dogs that their donated earnings will provide 393 meals for fellow Minnesotans. They stopped by Second Harvest Heartland's new Brooklyn Park facility to drop off their donation and see how the nation's second largest food bank operates within the hunger relief network. The girls learned that even if you donate a dollar or two, it can make a difference in someone's life.
"We could not be more honored and humbled by Harmony and Ava's kindness, creativity and generosity," explained Allison O'Toole, CEO of Second Harvest Heartland. "That these young girls would spend their summer helping others is a testament to the strength of our communities and my belief that we're going to get through this pandemic by sticking together. I can't wait to see what these two do next!"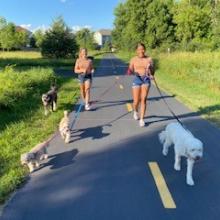 Harmony and Ava walking dogs
The best part of their dog walking endeavor, according to the girls, has been helping others while spending time with your best friend and all kinds of different dogs. The worst part? The steamy summer weather and the … messier parts of dog walking. (Yuck!)
Though they delivered their donation, Harmony and Ava aren't planning to slow their fundraising efforts. "We're going to continue to donate to Second Harvest Heartland and try to figure out other ways to raise money, including a lemonade stand once the pandemic is done."
This Donor Appreciation Week, Second Harvest Heartland wants to thank our network of generous donors, including Harmony and Ava.
Consider joining them as a donor—$1 provides three meals to folks in need. And although monetary donations are most needed, we're are also seeking volunteers. Sign up for an emergency food box packing shift at 2harvest.org/volunteer.