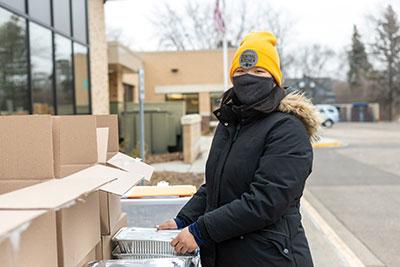 When schools shuttered in March, nutrition services teams across Minnesota stretched and struggled to imagine how they could feed the 300,000 plus students who were relying on them for free meals every day.
"We had to flip and pivot in just two days. In normal times, the kitchens at each of our schools are cooking and serving breakfast, lunch and supper to our kiddos, with many also providing a fruit or vegetable snack. We'd be sourcing healthy, local food and developing menus and recipes to serve our 7,500 students—half of whom qualify for free-or reduced-price lunch," explained Maria Anderson, Nutrition Services Coordinator with suburban Roseville Area Schools.
In-school meals shifted to curbside pickup and delivery of meals to keep students fed for five school days. Second Harvest Heartland's Child Hunger-Fighting team worked alongside school and district partners to reimagine their work, offer troubleshooting and resource supports and guidance on rapidly changing state and federal policies and to expand grant funding, so no student would go hungry this year.
Just as school kitchens were ramping up to meet the new demand, restaurants, caterers and commercial kitchens were closing their doors, laying off workers and wondering what to do with their well-stocked fridges and freezers. Liz Mullen put those ingredients to use in her kitchen, sure she'd find a home for the meals she was preparing. The Chowgirls Catering Executive Chef called Second Harvest Heartland's Chief Operations and Programs Officer to talk about the available meals—and kitchens, and teams—and in a flurry-filled few days Minnesota Central Kitchen was born.
In its first nine months, Minnesota Central Kitchen's revolving team of 15 kitchen sites prepared more than one million meals, available for free to anyone at more than 50 meal sites throughout the Twin Cities metro. Three of those meal pick-up sites were Roseville Area Schools elementary schools where culturally connected, family-sized meals were made to accompany student meals thanks to a Minnesota Department of Education grant and Second Harvest Heartland volunteers.
For Taylor, a working mom of four young kids enrolled at one of the elementary school meal sites, "Having a prepared meal means a lot. You work all week. You come home and all you have to do is put it in the oven. It helps a lot. Not only financially, but it just gives you a little more extra time."