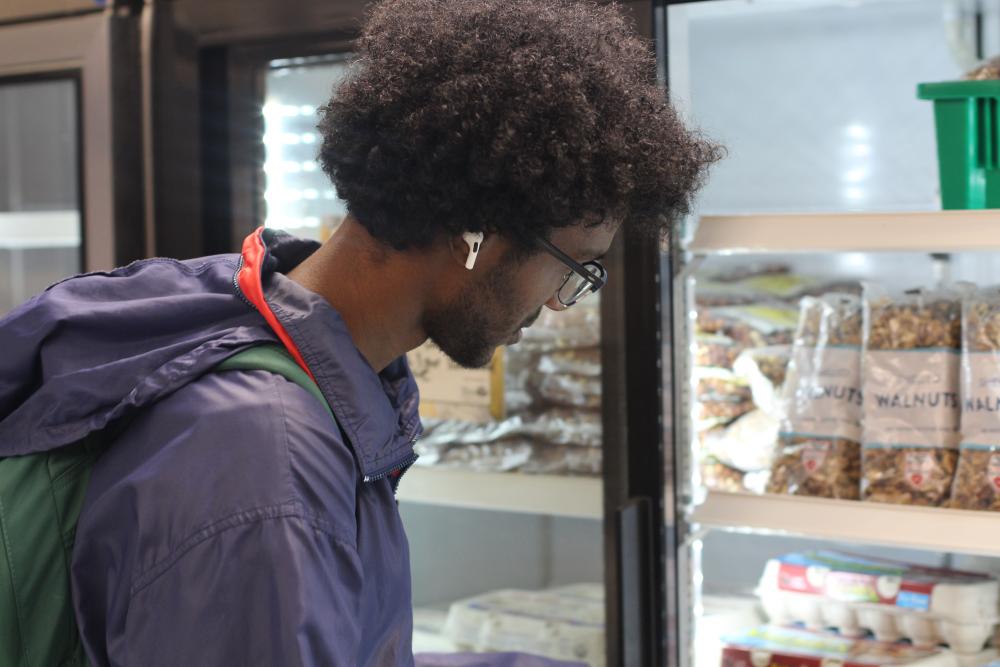 College Food Pantries Provide More Than Just Between Class Snacks
Hanad, a student at Normandale Community College, pops into the Campus Cupboard at Normandale before his afternoon art class.
"I'm in here once or twice a week. Honestly, I come here mostly for the snacks," he says while holding up a granola bar and a bottle of water.
When most picture a typical college student, one pictures someone like Hanad—always on the go, with little time between a crowded course schedule to cook or pack a lunch. But many students who visit the Campus Cupboard make time to craft comfort food favorites out of fresh produce or reheat prepared meals supplied by Kitchen Coalition.
"Students love the ramen noodle cups we carry," says Angeles, a student worker welcoming the lunch-hour rush. "But we get fresh produce on Thursdays and that runs out quicker than the rest of our things. We have a lot of single mothers that come in. Students still really want groceries, and cooking is a part of taking care of ourselves."
Angeles and her fellow student workers are a huge part of what makes the Campus Cupboard so successful. Paige Wheeler, Lead Experiential Education and Campus Cupboard coordinator, has helped facilitate a welcoming environment where students can drop by for food assistance as they balance their lives as college students.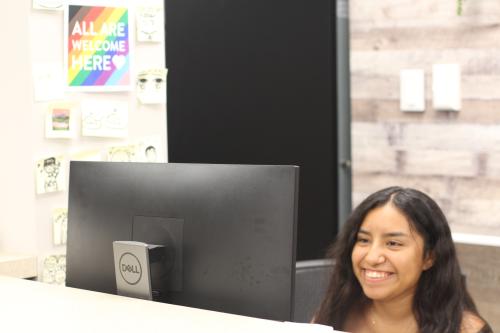 Angeles helps check in students at the Normandale Campus Cupboard
"Our first focus is always student-led," says Paige. "So, I think having a really strong base of student workers is helpful. Any time we're making improvements or adjustments, we always ask them first. We also have a student leadership group that works with me to think about how things can be improved. How can we make this space more welcoming? How can we be culturally responsive and inclusive and make it a priority? We've tried to be thoughtful with our artwork—displaying stuff that reflects our student population."
Gestures like this can reduce the stigma that is associated with college hunger. Karin Onarheim manages Boynton Health's Nutritious U Food Pantry at the University of Minnesota and has helped develop innovative ways to market Boynton Health's programs to students facing food insecurity. "We try not to make it too targeted. We ask things like 'are you having trouble affording groceries?' and making sure that folks who come to our pantry know why we're here. Anyone is welcome, but we are really trying to help those who are struggling financially."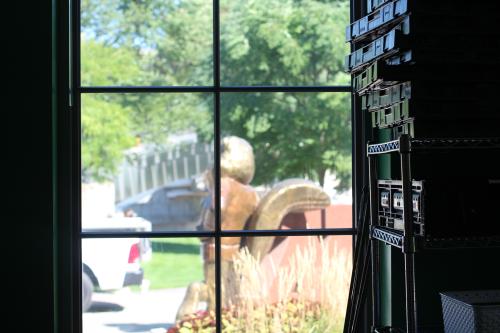 Boynton Health's Nutritious U Food Pantry moves into their new space in the Coffman Memorial Union
Campus food pantries are only a small part of fighting college hunger, but they are often the most visible and forward-facing service. By accessing a food pantry, students can learn about other hunger-relief resources that are available to them. Boynton Health's Nutritious U Food Pantry is just one part of how the University of Minnesota supports students.
"Our team at Boynton Health developed a Basic Needs Strategic Plan last academic year, and we're looking forward to implementing some new changes this year. We also get a group together made up of all different teams across campus to share updates on how we're supporting students' basic needs."
"We are trying to connect all of these dots," says Karin. "If you go to an event where meals are being handed out, you can also find more information about how to apply for SNAP benefits."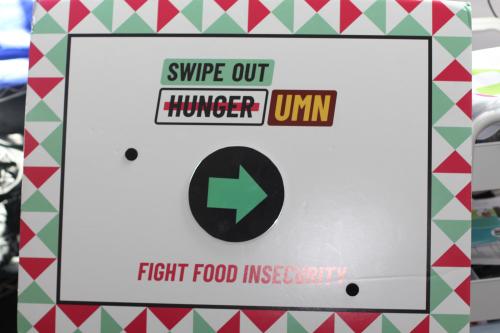 Student organizations are important advocates in destigmatizing hunger—Swipe Out Hunger redistributes donated dining dollars at the University of Minnesota
Both Karin and Paige recognize that to prosper academically, students must have their basic needs met.  "It's a huge success just getting to the U," says Karin. "But then, how can you remain a student and get through college?"
Food pantries on college campuses like Normandale and the University of Minnesota not only provide emergency food services but are important resource hubs in the fight against hunger. Second Harvest Heartland is proud to partner with campus food pantries across Minnesota, providing food and resources as we work together to end college hunger.
"You always want to do better," says Paige. "The thing with basic needs is that you're never like 'mission accomplished'. You always have new needs. You always have new students."