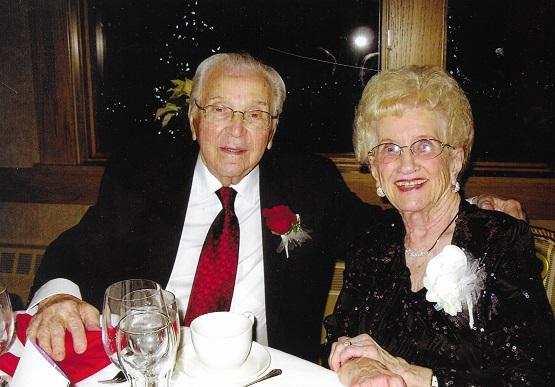 75 Years in the Making: Gift of Stock Leaves a Lasting Legacy
For nearly 75 years, Bob Rustvold—who turns 97 in January—and his late wife, Marion, always had something cooking—in the kitchen and out in the community.
Bob owned duplexes and apartment buildings across the Twin Cities and studied and invested in the stock market while working as a full-time marketing manager for Minnegasco (now CenterPoint Energy). When Marion wasn't busy with the kids, she volunteered at Mount Olivet Lutheran Church. Yet it was in the kitchen where Marion really shined. For Thanksgiving, Christmas, Easter, nearly every holiday the family celebrated, she'd prepare elaborate feasts. And in the summertime, she was famous among family and friends for her backyard fish fries.
Together, Bob and Marion raised four children, spoiled six grandchildren, worked tirelessly and traveled the world. When Bob retired at age 60, he and Marion dedicated all their time and energy to giving back to the community they loved. They gave generously to Mount Olivet, Union Gospel Mission Church, Volunteers Enlisted to Assist People (VEAP), the Edina Foundation, and Second Harvest Heartland.
Bob and Marion's son, Bob Jr., who took over hosting family dinners 12 years ago when his mother was no longer able to do it, said his parents taught their children the value of hard work and giving back to others by example.
"My parents were always very aware that there were people who were sleeping outside, people who didn't know where their next meal would come from—they dedicated their lives to helping those people," he said.
Their most recent donation of stock to Second Harvest Heartland will help provide nutritious meals to the 1 in 11 people, including 1 in 8 children, who experience hunger in our community.
"Taking care of people's most basic needs—food and shelter—that's what mattered most to my parents," Bob said. "This stock will help Second Harvest Heartland in a meaningful, effective way to fulfill one of those fundamentals — making sure people have enough food to feed themselves and their families."
Donating stock makes good financial sense as well. Giving stock held more than 12 months offers two-fold tax savings: You avoid paying capital gains tax on the increase in value of your stock and you get a tax deduction for the full fair market value of the stock on the date of the gift. Subtracting the tax savings from what you originally paid for the stock can result in a gift that costs just pennies on the dollar.