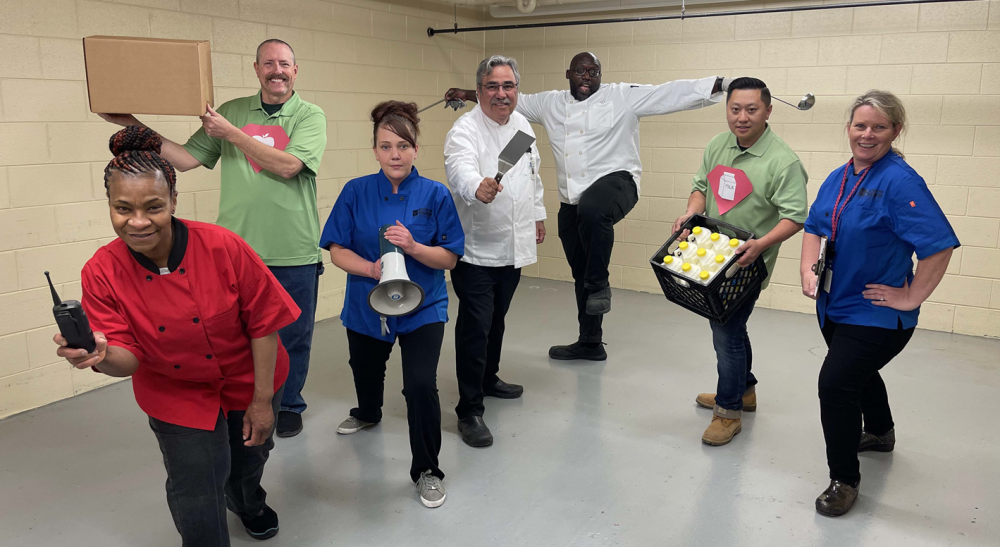 Saint Paul Public Schools Celebrates their School Lunch Heroes Year Round
As we all know, the past couple of years have been so different from any others. On the Child Hunger team, we've heard from many of our partners that school meals offered a sense of normalcy and comfort during the early days of the pandemic when so much was changing rapidly.
"It was all done with a sense of duty to the kids they have grown to love, and a belief in our mission," said Jill Westlund, nutrition coordinator at Saint Paul Public Schools (SPPS). "Providing food was our way to stay connected to the families in our community. To show them we care."
Throughout the difficult first days and months of the pandemic, SPPS's Nutrition Services staff received many letters, emails and pictures from students showing appreciation, and heard countless stories of how excited kids were when they would see a familiar face from their school delivering meals.
SPPS saw their staff being challenged in many ways. "They all dug deep and accepted new physical, emotional and mental tasks, despite any fear or self-doubt they may have been feeling," said Jill.
This collective determination was what inspired Nutrition Services Director Stacy Koppen to create updated School Lunch Hero characters to celebrate the staff. SPPS saw a need to move away from the stereotypical "lunch lady meme" to a more accurate representation of the tough, dedicated people from diverse cultural backgrounds who show incredible ingenuity as they work to fulfill the mission to eliminate hunger in the community.
Each character is modeled after a real SPPS Nutrition Services staff member and represents a different part of their operation. It was important to them to have diversity in the staff featured, not only in their cultures and ethnicities, but also in what role they play for the department. The staff highlighted included a chef, manager, warehouse member, driver, kitchen supervisor, Nutrition Services assistant and coordinator. When put together, this group paints a picture of vision, teamwork, action and resilience.
These characters were the focus of their meal booklets when SPPS was doing home meal delivery during school closures. In December 2020, SPPS began to use the characters for student engagement with coloring and writing contests. During that time, they had participation from hundreds of creative students.

Starting in May 2021 and throughout the summer, the heroes were featured individually, telling their stories. The introduction of each hero was accompanied by a collector pin, a special meal booklet with a hero coloring sheet, profile and QR code to a video introducing the real-life person behind the character.
"This campaign has been a way for us to stay connected with students while schools were closed and allows us to stay connected to distance learners," explained Jill. "These connections are not done in isolation. Rather, we keep circling back in different ways to build loyalty and familiarity with our people and our work. Knowing that these kids will be our customers for many, many years, we see the benefit to reinforcing positive engagement wherever possible."
For more information on SPPS Nutrition Services' School Lunch Hero Campaign, visit www.spps.org/ns and scroll down to "Meet SPPS School Lunch Heroes". You can also see posts on their Twitter and Instagram pages.