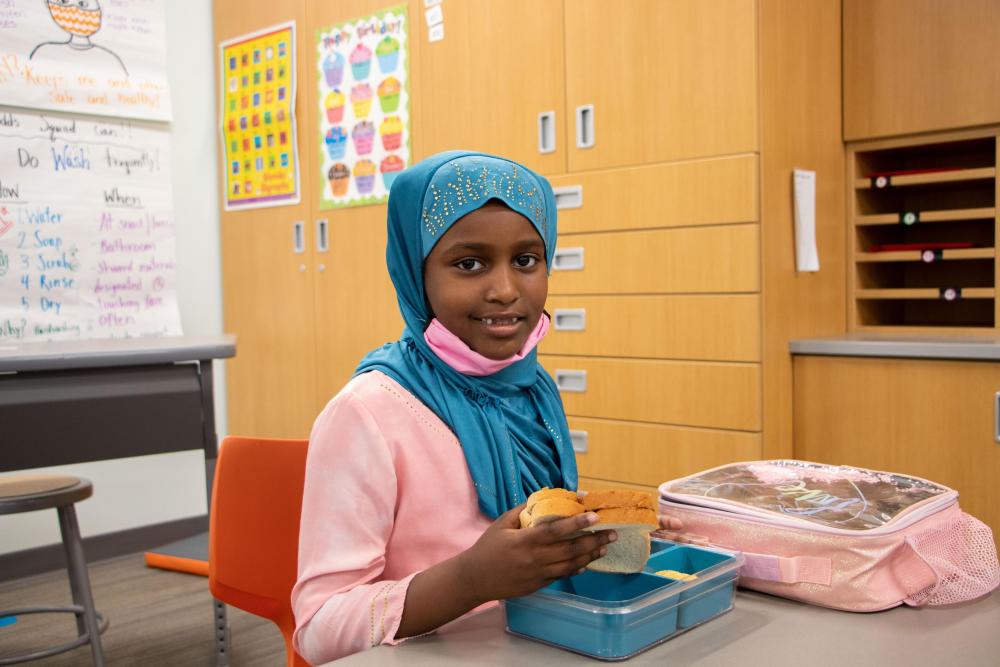 Why Does a Food Bank Focus on School Meals?
As a food bank, our mission is to end hunger together. And it's not just about keeping people fed, but fed well, so they're able to thrive. That need is no greater than with kids, who can't learn and grow if they are hungry.
The fact is, around 300,000 Minnesota kids rely on school meals as their primary source of nutrition. Our Child Hunger team works to ensure those programs are accessible for all children. Here's why we as a food bank focus on school meals.
Reduce rates of food insecurity
Food insecurity describes a household's inability to provide enough food for every person to live an active, healthy life. It's one way we assess hunger in our communities, and today, 1 in 9 Minnesotans including 1 in 6 kids are food insecure. By providing meals for free to those who qualify at the place where kids regularly gather, we can reduce rates of food insecurity. Much more broadly, school-provided meals also free up some household income for other expenses, meaning school meals can also help lift people out of poverty.
Increase access to healthy foods
School meals also help address the fact that children in low-income households don't often have access to the nutrient-rich foods essential for learning. Research shows that school meal programs play an important role in the nutritional adequacy of children's diets and that participation in school meals improves a child's intake of healthier foods like dairy, fruits and vegetables at breakfast and lunch. Even away from the lunch table, "exposure to healthier meals at school increases the healthfulness of foods acquired by children throughout the day."
Improve health outcomes
Longer-term, studies have shown that participation in free or reduced-price lunch programs reduces rates of poor health by at least 29 percent and rates of obesity by at least 17 percent. School meals program participation is also associated with lower body mass index, lower probability of being overweight, and lower probability of obesity, along with positive impacts on mental health. Early interventions in health outcomes can help reduce the burden of poor health in adulthood, first and foremost for the individual but also considering broader community costs.
Improve academic performance
Finally, and based on decades of research, "students who participate in school breakfast programs have improved attendance, behavior, academic performance, and academic achievement as well as decreased tardiness."
What the pandemic has taught us about school meals
Access to school meals is proving particularly critical today, when 40 percent of parents with young children have experienced economic fallout. And because so many schools have transitioned to distance learning for all or part of this past school year, most school districts across the state are operating universal free meals to ensure all students stay fed while away from school.
Going into the 2021 Minnesota Legislative Session, we're looking at how we can improve existing programs, like the Community Eligibility Provision, so more schools participate, and kids benefit. We're also looking at improvements to program administration at the state level to encourage greater and more equitable access.
Beyond our advocacy efforts, school nutrition workers can partner with our Child Hunger team to receive technical assistance and resources when implementing school meal programs, like when and where meals are provided, and how student and parents are given opportunities to enroll.
Expanded school meals are just one of the programs we advocate for in the fight to end hunger: