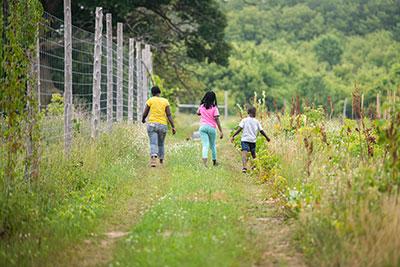 What Role Do Farmers Play in Fighting Hunger?
Farm to Food Shelf is a state-funded program that offers local farmers the opportunity to donate excess produce to area food shelves. By offsetting a portion of harvesting, packaging and transportation costs, the program makes it easy for Minnesota growers to donate surplus crops that would otherwise go unharvested or be discarded.
Donation of excess produce
In 2020, we sourced 6.5 million pounds of produce from Minnesota farmers and processors, which represents about 30 percent of the total amount of the fresh produce we source from farmer- and commercially grown partners. But it's not just about produce! Farm to Food Shelf funds enables us to source five million pounds of dairy, including 540,000 gallons of milk, and one million pounds of lean protein from local producers and processers last year. Since the program began six years ago, more than 36 million pounds of produce have been donated to Second Harvest Heartland and distributed to food shelves and meal programs in all 87 Minnesota counties.
Reduction in waste
At least 31 percent of our food supply goes uneaten according to the U.S. Department of Agriculture, and discarded food makes up the single largest source of material in our landfills according to the Environmental Protection Agency. When consumers eat with their eyes, purchasing the best-looking produce, that means farmers don't have a market to sell their perfectly edible but slightly different-looking fruits and veggies.
Farm to Food Shelf is not only cost effective and easy for farmers (thanks in part to the transportation and logistical support provided by Second Harvest Heartland) but it saves millions of pounds of food from going unharvested or wasted.
Increase in high-demand items
For years, the hunger relief network has hustled to bring more fresh, nutritious products to those facing hunger, not only shelf-stable items like peanut butter and pasta and canned vegetables. Unfortunately, in-demand items like dairy, protein and meat are also the most expensive at grocery stories. As tens of thousands more Minnesotans face hunger, many for the first time, having these familiar items available is important on every level.
Support of local farmers
Thirty Minnesota farmers participated in our Farm to Food Shelf program last year, from Hollandale to Trail, Atwater to Andover, and spots in between. Farmers like the Van Erkels:
"If I didn't participate in the program, I'd have to dispose of the onions and potatoes myself, which would be labor-intensive, time-consuming and costly," admits Van Erkel. "Farm to Food Shelf makes my life easier and it feels good to give back."
Programs like Farm to Food Shelf around the country are credited with both responding quickly and effectively to COVID while also rescuing small-scale farming.
What the pandemic has taught us about our partners in agriculture
Farm to Food Shelf has demonstrated the cost-effective, mutually beneficial role government can play to support both farmers and communities, especially in times of crisis. That's why Farm to Food Shelf funding is one of our top priorities during this year's state legislative session, which began January 5. We're asking the legislature to continue current funding levels for produce programs, for increased funding to purchase more milk and protein, and for evolution of the Farm to Food Shelf program to include all three commodities (produce, milk, protein) so we can continue to respond to dynamic market conditions and community need.
Farm to Food Shelf is just one of our many advocacy priorities in the fight to end hunger: