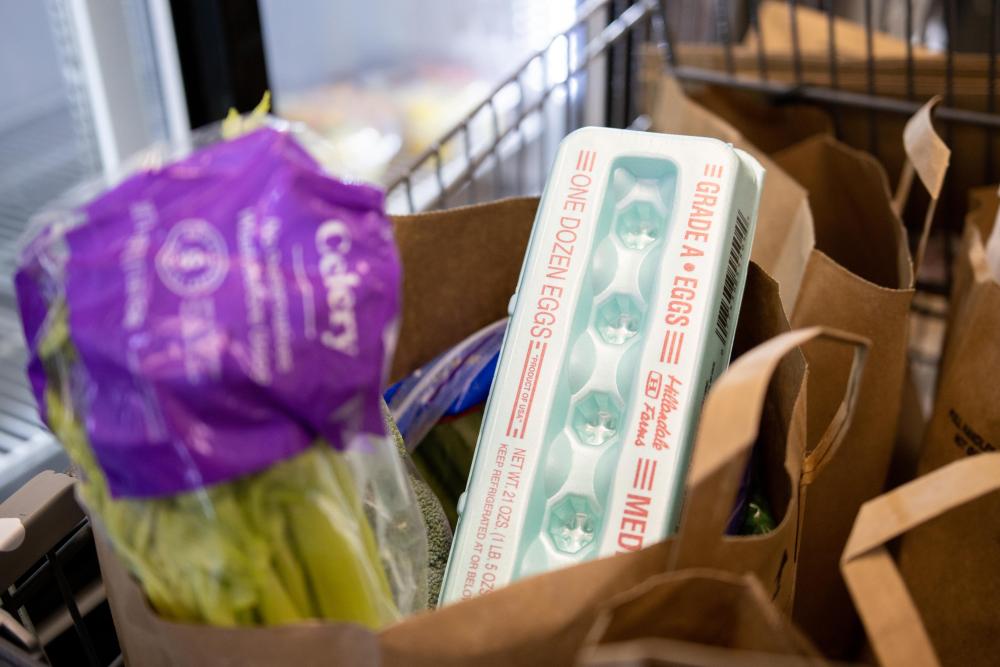 What Makes SNAP So Great?
The Supplemental Nutrition Assistance Program, or SNAP (formerly food stamps) is the closest thing we have to a silver bullet in the fight against hunger. Here's why:
Effective and efficient in an economic crisis
One of SNAP's core strengths is its ability to respond to worsening economic conditions, like we're going through today. As people lose their source of income, SNAP ensures they stay healthy and fed by providing temporary food assistance in the form of a debit card loaded with funds based on income and household size. And SNAP benefits can be made available to those in need almost immediately. In fact, our SNAP Outreach Team assisted twice as many households in SNAP applications and re-certifications last year than the previous year.
By design, SNAP is a critical tool during crisis, but one that sees less participation when economies recover, as was the case during the Great Recession of a decade ago.
Beneficial to local communities
Low-income individuals are more likely to spend all their income to meet daily needs like rent, utilities transportation, and food. This means that grocery budgets are often the first things to be cut for many families in financial crisis. But it also means that benefits like SNAP are spent immediately and in your local community grocery stores, retailers, and farmer's markets: 80 percent of benefits are spent within the first two weeks of receipt, and 97 percent are spent within a month. And according to the U.S. Department of Agriculture, every $1 spent in new SNAP benefits generates up to $1.50 in total community spending. This is what's referred to as a 'multiplier effect,' where a change in one input (SNAP benefit) causes a larger change in an output (gross domestic product). More simply, think 'bang for your buck.'
Encouraging of healthy eating and long-term outcomes
Not only do SNAP benefits allow participants to redirect their incomes to other urgent expenses, but they can help participants afford a range of food options, including healthier food that is often more expensive. And acceptance of SNAP EBT cards at a variety of grocery retailers, including farmer's markets, increases choice for participants.
Moreover, SNAP participation is linked with improved nutritional outcomes and lower healthcare costs. Children in families receiving SNAP during the Recession of a decade ago were more likely, two years later, to be classified as well than younger children whose families were eligible but did not receive SNAP.
Administered effectively and accurately
SNAP, like many government programs, is often criticized for perceived inefficiencies or inaccuracies in program administration. But these claims often don't hold up, and SNAP is one of the most effective and accurate benefits programs. More then 92 percent of SNAP spending goes directly to benefits that households use to purchase food, with seven percent going to costs of running the program, which includes anti-fraud activities. And SNAP has one of the most rigorous upfront eligibility determination systems of any public benefit program, with less than one percent of benefits going to people who are not eligible.
Nine times the reach of food banks
It might sound odd for a food bank to admit when its impact is overshadowed, but that's what SNAP does. While we delivered more than 105 million meals last year, SNAP delivers nine times that! That's why we believe SNAP is the bedrock of the hunger relief system. The efficiency of the program, and the multiplier effect it has in communities throughout our country, make it the silver bullet in fighting hunger.
Some nonpartisan promise amidst the crisis
In what's become increasingly rare, this past year we saw lawmakers come together to boost SNAP benefits and make the program more accessible for people in crisis. That said, we already know that the economy and family livelihoods will take years to recover, so we need to invest in SNAP now to support that recovery.
We were pleased to see Congress raise SNAP benefits by 15% through June 2021 in the most recent stimulus package, but we will continue asking legislators to extend these benefits for the duration of the economic downturn, as they did during the 2008 Recession, and increase the minimum benefit to $30. This will be done through direct contact with legislators, raising awareness in the media, and using our platform and the experiences of our SNAP team to highlight this issue as often as possible.
SNAP is just one of the many policies and programs we advocate for in the fight to end hunger: