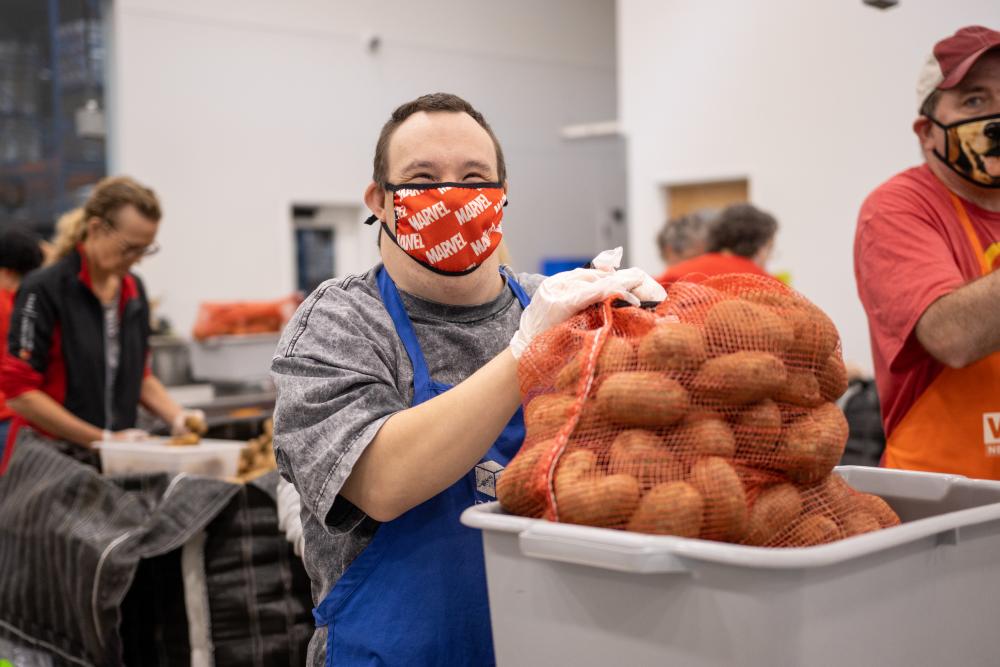 Welcoming Volunteers of All Abilities in the Fight Against Hunger
Every Wednesday and Friday morning, you'll find Pat, Grant, Kirsten and the affectionately nicknamed Big John hard at work in the Volunteer Center. The foursome come to Second Harvest Heartland through an organization called Opportunity Partners, a local nonprofit whose mission is to advance the quality of life for adults with disabilities. For over two years, this irrepressible team of volunteers has been sorting and packing, learning and collaborating. What's more, in volunteering they've found camaraderie—with each other, with our staff, and with retiree and fellow volunteer JP Dwyer.
There's something undeniably impactful about volunteering at Second Harvest Heartland. Volunteering at our Brooklyn Park facility, or anywhere for that matter, can create community and purpose. It can bolster well-being. Being of service fosters a sense of connectedness and pride that uplifts the giver while rippling outward, touching the neighbor as well.
But just as Second Harvest Heartland strives to recognize and remove barriers to food access, we must also remain dedicated to eliminating barriers to volunteerism. Without transportation, time, patient and compassionate training, physical accommodation or even the very encouragement to volunteer in the first place, service opportunities can be out of reach. That's why Second Harvest Heartland is committed to facilitating involvement inclusively and across age, background and ability level.
For community members with physical and developmental disabilities, the path to volunteering with us should be equally straightforward, even as it calls for greater thoughtfulness and flexibility from our Volunteer Experience Ambassadors (VEAs).
"We work closely with our volunteer groups and individuals to learn about what they need, and then the VEA team makes it work," says Nora Dragich, Second Harvest Heartland's volunteer center manager. It could be moving a pallet to make room for a volunteer's wheelchair or going a little slower on packing instructions. It's very custom, and we let the volunteers guide us. One size does not fit all, and that's how we approach things."
That approach to accessibility can open doors to new skills and abiding friendships for our volunteers.
"We've become good friends," JP says of the Opportunity Partners crew. "And it's been so special for me. I celebrate their birthdays, and we'll periodically go out for pizza. Those are the experiences I have volunteering here that really make it genuine and important to me. The beauty is that their heart is in it. They're putting the effort forth; they want to help."
There's a wish stenciled on our Volunteer Center wall. In a way, it's an ode to all that volunteering can mean to our community. And to our volunteers themselves. It reads: "May you be proud of the work you do, the person you are and the difference you make." In short, volunteering changes lives. May the opportunity be open to everyone.
To sign up for a food packing shift at our Brooklyn Park facility, visit Volunteer Central.