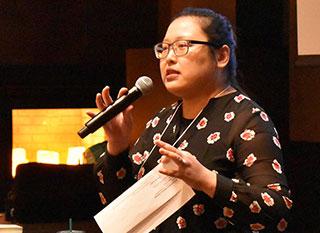 Welcome Sook Jin Ong, Director of Diversity, Equity and Inclusion
Sook Jin Ong joins us January 19 as Second Harvest Heartland's first Director of Diversity, Equity and Inclusion. Welcoming Sook Jin in this new role represents an important step for our organization on our path toward understanding, improving and advancing more just ways of addressing and ending hunger. We look forward to sharing our work along this continuum over the months and years to come. For now, we hope you'll join us in welcoming Sook Jin.
Sook Jin brings her passion and practice in blending human-centered design and systems thinking to be in service of building stronger, more just, and equitable food systems. Most recently, she led the innovation-focused center, Future Services Institute at the Humphrey School of Public Affairs, as its Director and co-founder. In that role, she led partners across the human services sector such as state agencies, local governments, and nonprofit organizations through rethinking and redesigning their programs, processes, and policies to be more equitable and centers the perspectives of families, frontline staff, and communities. She also taught the graduate certificate that helped build the sector's capacity to have leaders with design acumen for systems change and racial justice.
Prior to that, she managed the partnership between the Humphrey School of Public Affairs and the Minnesota Department of Human Services on improving service delivery in the Minnesota Family Investment Program (MFIP). Her professional experience has also included several years in the corporate sector back in her home country of Malaysia.
What drives your commitment to addressing food insecurity and working to end hunger?
Food is a universal right. I believe in having food that brings you comfort, nourishes your body, and feeds your soul and aspirations in life. With how different we all are, this universal right to food is then unique to each of us – what nourishes me may likely differ from what nourishes you. My commitment to ending hunger is driven by my want to see our families, neighbors, and communities have what they each need to feel nourished and loved, so they know they are valued and celebrated for who they are.
What past experiences best set you up for this new opportunity?
I spent my career helping organizations redesign their services and practices, and I have really enjoyed it when I get to know an organization through its people and values. When you redesign from a place of values, you help people build practices that are more sustainable and adaptable. In recent years, part of the redesign efforts I've led focused on the values of being equitable, diverse, and inclusive, mostly in human services organizations. I see myself as a facilitator and guide, encouraging people to come up with ideas and improvements by collaborating with community members and other partners in the sector, and to see how the changes they want to implement need to be ones that are meaningful to the many, many communities they serve.
What are you most looking forward to about being the first to hold this new position at Second Harvest Heartland?
From what I've learned so far, I might be the first to hold this new position, but there has been groundwork laid to move towards being a more equitable, diverse, and inclusive organization. It's good to know I'm joining an ongoing journey! I am excited to work with my colleagues to deepen this work in ways that the Second Harvest Heartland team and our communities will find meaningful and impactful. This work needs to be everyone's work, and it requires challenging ourselves to uncover ways in which we have internalized and perpetuated practices that hinder members of our community from thriving.
What's your favorite food or meal? Any specific reason it's your favorite?
That's a hard question. What if I give you three that come to mind?
One of my personal favorites as a Minnesotan of nine years now is manoomin/wild rice. We are blessed to live in such an abundant land, and our Indigenous communities help us understand nature's gifts. I love manoomin porridge.
Tamales bring comfort to my soul. They remind me of zhongzi (Chinese leaf-wrapped dumplings filled with glutinous rice and meat) and are much more easily found here in the Twin Cities, so it's easier to scratch that craving.
Sweet corn is the defining taste of summer for me, and no summer is complete without at least two ears of roast corn from the State Fair.
Getting to know new colleagues and partners is extra challenging during the pandemic and remote work. What's one thing you want to ensure people know about you from the start?
As someone who sees the world through connected ideas, I like to seek out various perspectives. Don't be surprised if I reach out to say hello and want to know more about you. If we don't get to see each other in-person for a while, let's begin our relationships over the phone and video, and keep finding creative ways to get to know each other. Your work means a lot to me, and I would be happy to support you in moving towards a more equitable direction.
You're setting up your office space at our Brooklyn Park facility. What are the three things you make sure to bring and set up on day one?
My notebook, a mug for coffee/tea, and some good pens. Let's get to work!