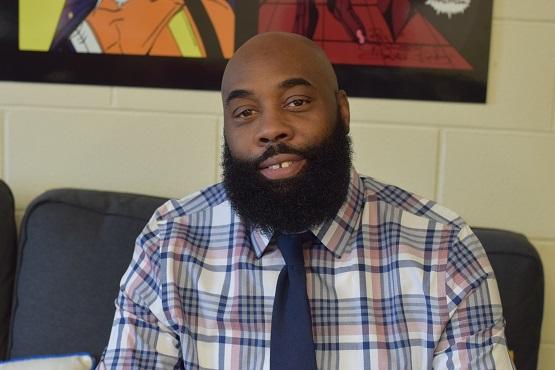 A Warm Meal = A Fresh Start for Terrence
When Terrence was homeless, he'd frequently have to choose between a safe place to sleep and a warm meal. Often, he chose to pay for his safety—for the comfort and security of a roof over his head, over the comfort of a warm meal—no matter how hungry he was. For a long time, Terrence didn't believe he could have both food and shelter. For a long time, he didn't have hope for a better future for himself. Terrence struggled with addiction and depression, lived in his car, and endured the anguish of losing two sons within three years to gun violence. He knew he was on the wrong path but felt powerless to do anything about it. He also knew there were homeless shelters in the Twin Cities that could help him, but he was too ashamed to ask for help.
"I felt bad and depressed about being homeless," he admits. "I didn't want to be homeless. No one does. I wanted to live right. I just didn't know how."
That was 15 months ago. Today, thanks to the help of an uncle who reached out to him, Terrence lives at the Union Gospel Mission Twin Cities. There, he is a student of the discipleship program, a program that is spiritual in nature, but also practical.
"It's very educational," he says. "They have a mental health clinic and classes. [The discipleship program] helps me deal with issues from my past that led to my homelessness. I'm blessed."
At Union Gospel Mission, Terrence has his own bed, a shower, a washer and dryer for his clothes, and three warm meals a day from Second Harvest Heartland.
"You know every day you're going to get a good meal," Terrence says. "It takes away the stress of waking up and not knowing where your next meal will come from."
"None of this would be possible without the food that Second Harvest Heartland supplies," explains Dave Clutter, Development Advisor at Union Gospel Mission. "The food makes it possible for us to serve people like Terrence and give them a way off the streets for good. Beginning with that first warm meal at the Mission, Terrence got a fresh start."
Part of Terrence's fresh start included Bible classes and work therapy. He graduated from the adult education and job training program and now works as an intern so he can give back.
Terrence also recently launched his own beard balm business to support himself. More importantly, his experience with Union Gospel Mission and Second Harvest Heartland helped him regain something he thought he'd lost long ago—hope. "Just because you go through a bad path in life," Terrence muses, "doesn't mean you can't have a different path."
Give today so we can continue to support our partners
Second Harvest Heartland partners with Union Gospel Mission and nearly 1,000 food shelves and hunger-relief programs every day to reach the 1 in 11 Minnesotans who don't know where their next meal is coming from.
Please give your time and your voice to those who are less fortunate. And if you're able, consider giving a donation to Second Harvest Heartland to help Minnesotans like Terrence get back on their feet again.