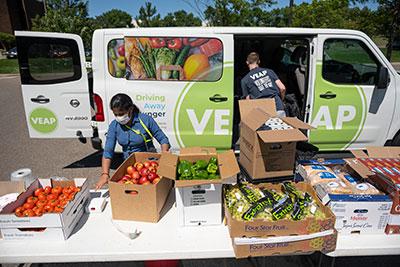 VEAP is Working to End Food Insecurity in the Southern Suburbs
Sean Trenary weaves through VEAP's sprawling headquarters in Bloomington, greeting volunteers, checking in with staff, and overseeing a delivery of fresh foods ordered from Second Harvest Heartland. Formerly used as a concession preparation and food storage space for the Minnesota Vikings, this building now functions as a food pantry and storage space for VEAP. Fresh produce, dairy, meat and dry goods fill VEAP's 25,000 square-foot space, from the massive walk-in freezers and refrigerators to cavernous rooms lined with metal shelving.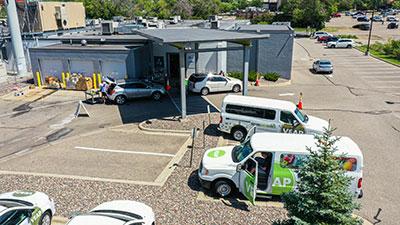 VEAP serves South Minneapolis and southern Hennepin County suburbs like Bloomington, Edina and Richfield, accepting donations from the community and subsidized food or rescued items from Second Harvest Heartland. The food is then distributed at VEAP's food shelf and mobile events through its Food & Basic Needs Programs. As a trusted, long term community partner of Second Harvest Heartland, VEAP works to connect families experiencing hunger to the fresh, nutritious foods they know and love. Second Harvest Heartland provides nearly 85% of the food that VEAP distributes.
"I have the best job in the world," says Sean, VEAP's mobile food services manager. "I get to go out, I get to be face-to-face with people, and I get to build those relationships and find out about what's going on in their lives."
For a growing number of families in the Twin Cities suburbs, hunger and food insecurity are a new experience. Millions of working Americans still struggle to make ends meet, and according to VEAP, many of the people visiting their food pantry and mobile distribution events work multiple jobs. Sean and his team know that hunger can happen to anyone at any time.
"It doesn't take too many things to go wrong and you need assistance," says Sean. "Everyone finds themselves in tough spots and it can happen anywhere, any place… But we at VEAP want to do our best to make you comfortable and welcome. And no matter what your situation is, we want to help people. We're all a community and we're in this together."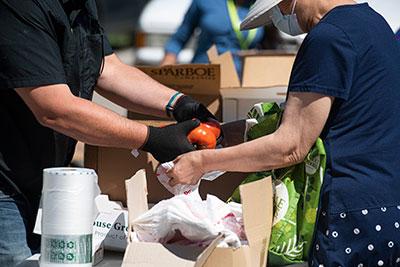 As with working families, the number of seniors experiencing food insecurity is growing. The latest State of Senior Hunger Report estimates state-level food insecurity among Minnesota seniors at 2.9%--up slightly from 2.8% in the previous report. Second Harvest Heartland is working hard to address senior hunger rates throughout Minnesota and Western Wisconsin. Partnering with VEAP helps ensure that suburban households--including seniors--can regularly access nutritious foods.
Today, Sean helps volunteers Kevin and Danny load 900 pounds of fresh fruits, vegetables, milk, cereal and household essentials into a fleet van heading for Yorktown Apartments, a senior housing complex. Sean double-checks that English, Russian and Mandarin instructions are packed in the van before embarking. The signs help serve the customers already lining up at Yorktown Apartments, where many residents speak languages other than English.
As visitor Andrea waits in line, she cheerfully speed walks in place, laughing as she explains this is how she gets steps in. Andrea comes to VEAP Mobile Food Pantry events often to shop for herself and neighbors, some of whom are elderly or live in multigenerational homes. Andrea typically visits VEAP at Dar Al-Farooq Islamic Center in Bloomington, but was happy to discover the Mobile Food Pantry also visits Yorktown, offering the same welcoming atmosphere and nutritious foods.
"It's quality food," says Andrea, "and with the [grocery] prices going up, a lot of the people I shop for, they couldn't afford to eat this well at all."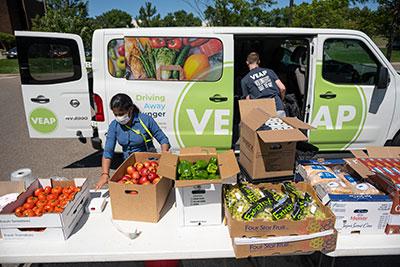 Much of the food distributed through VEAP's Mobile Food Pantry comes from Second Harvest Heartland's Retail Food Rescue Program. The rescued foods are available to anyone who visits VEAP—no questions asked. The flexibility allows even more families to leverage their options and make Minnesota's food assistance network work for them.
Still, with growing hunger and food insecurity rates across many communities, Sean knows that important work remains to be done.
"I worry about the people we miss," says Sean. "For all the folks we serve, I'm sure there's double that should be getting assistance from us… There's also a growing population of people on fixed incomes, and if we can take away the grocery bill for someone, that's huge."

For Andrea, knowing that quality food is available if and when she may need it through trusted community partners like VEAP provides so much comfort, she has decided to make Hennepin County her permanent home.
"Life is full of ebbs and flows," says Andrea, "and it's very secure for me to know that when I want them or when I need them, VEAP will be there for me. And in the times when I don't need them, that's the time that my kids and I volunteer, and we help out, and we donate, and we do food drives and that kind of thing. Because everyone's life has the vinegar and the honey, and VEAP in particular really practices that."