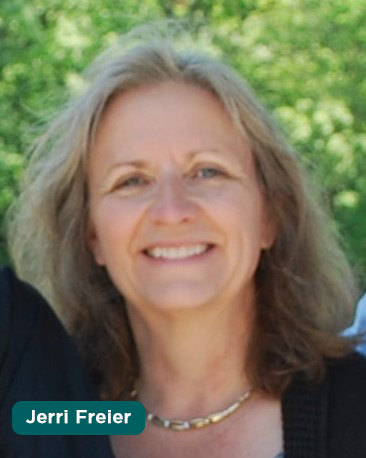 Two Jerries Are Better Than One
In recognition of Volunteer Appreciation Month, we're highlighting the commitment of two volunteers who each dedicate hundreds of hours a year to behind-the-scenes database management support, and both happened to be named Jerri/Jerry!
Nine years ago, rather than giving something up for Lent, Jerry Elfert wanted to give something back. So he began volunteering for Second Harvest Heartland by packing and sorting food, though he quickly tired of the routine task and asked if he could instead give back by sharing his wealth of experience from a career working in Information Technology. He got connected with our IT and Development Operations departments and found a volunteer opportunity that was the perfect fit.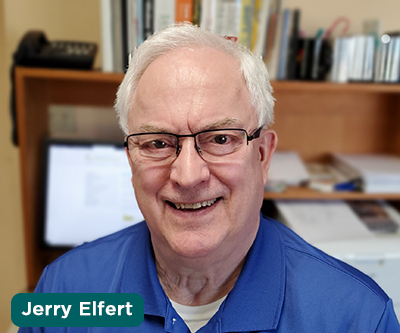 "While processing hundreds of thousands of data records can get boring, I really like the process of creating tools to automate the update process," Jerry said. By cleaning up data in the Development team's database, Jerry's volunteer role helps him stay active and meet interesting people while fulfilling his desire to give back to society.
Another longtime volunteer, Jerri Freier, began her relationship with Second Harvest Heartland over a decade ago when she and her husband decided to focus their donations on local charities that make meaningful contributions in the community.
"Quite frankly, the food rescue that was going on at Second Harvest Heartland at the time really, really impressed me," Jerri explained. Jerri's admiration for the coordination of food bank operations gradually furthered her commitment as a volunteer. First, she found herself working to support the capacity of the Volunteer Engagement team with administrative tasks, and then she shifted into her current role as a primary database management volunteer.
In Jerri's words, "I believe when you give of yourself, you get more back – and when you've been lucky, you need to help those who've not. I recommend volunteering with Second Harvest because it is a highly effective non-profit organization that knows how to utilize volunteers. Because of what I do (recording and reconciling volunteer hours), I see a lot of the ways people volunteer. It doesn't matter if it's a larger, regular commitment or a sporadic small donation of time. There are so many ways to help!"
Though both Jerry and Jerri expressed that they feel their volunteer roles are not glamorous or interesting, we think the opposite! The contributions they each make bring significant value to our work of ending hunger.
"Jerry Elfert and Jerri Freier are deeply integrated in our day-to-day work, and our teams rely on their expertise and attention to detail," Paige Stein, Volunteer Resource Developer, shared. "Not only do they add capacity so staff can focus their time on other projects, they bring fresh perspectives that help move our work forward. Plus, they each share remarkable dedication and good humor to brighten our days! Like all our ongoing project volunteers, we truly cannot celebrate them enough."
If you are interested in filling an ongoing volunteer need like Jerri and Jerry, visit our website to learn more about current volunteer openings.