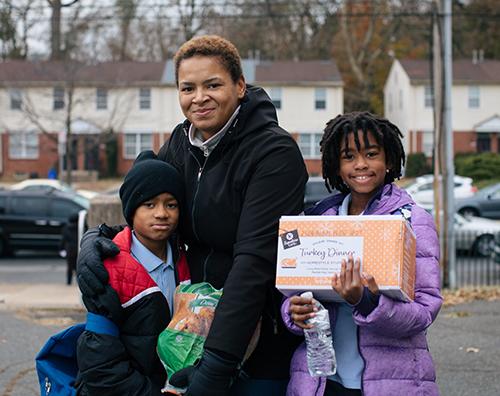 A Thanksgiving Like No Other

This year has been a story of nonstop adaptation and innovation for our region's food shelves, meal sites and hunger-relief programs. And just like for the number of Minnesotans facing hunger today, their needs are mounting.
For our hunger-relief partners throughout the region, Thanksgiving might be the most important holiday—it's all about food! They feel a sense of responsibility in making sure their clients have a good meal, and they go to great lengths to make it happen.
So, what does Thanksgiving look like this year for a Minnesota food shelf?
The gathering of shelf-stable Thanksgiving staples begins as early as summer, ensuring they're well-stocked come late November.
Securing meat, especially turkey, takes more creativity and hustle. Some organizations rely on donations from local grocery stores, while others use a voucher system so folks can pick out the meat of their choice. Some purchase these specialty items so they know they'll have them on hand for the holiday.
We asked our partners to share what they're experiencing during this particularly trying year, and how they're planning to keep serving clients:
Angie Cruzen from the Waconia United Food Shelf in Waconia
"COVID has not stopped the increase in client visits that we normally see during the holiday months, as our visits are maxed and pounds of food leaving with families is higher than average. Knowing Thanksgiving is a traditional meal most families like to have, we partner with our local grocery store who donates turkeys and we provide our clients a Thanksgiving bag full of all the fixings to make a complete meal."
Brandon Griffin from The Sanneh Foundation in St. Paul
"I think that many organizations like ours are looking for ways that we can fill the void of both family support and nutrition. This holiday is different in the fact that vulnerable and homebound adults are going to be even more isolated than usual. Many of our senior citizens only see their families once or twice a year during holidays. Now, we are going to be restricting that and the impact on mental health and immediate hunger needs is just compounding."
Tom Redman from the Bountiful Basket Food Shelf in Chaska
"Food shelves have always played a particularly special role during the Thanksgiving and Christmas season for anyone that may be experiencing a need for food assistance at this point in their lives. Our volunteers want to go above and beyond to help people during the holiday season. It is this spirit of people helping friends and neighbors who are in need that makes them feel good. There is nothing that can be so special and simple as sharing your food with others that have none or little."
Greta Lintelman from Heaven's Table in Fairmont
"It's about the little extra this year. Clients are so grateful for a complete meal pack. For turkey breast, for butter, for ground beef…beef is so expensive right now. Families with kids at home all the time are so happy to have an extra boost ahead of the holidays. Our home delivery option for those who are aging, homebound or uneasy about going out are grateful for the extra peace of mind that comes with staying safe. The little things mean so much more this year."
This year we're thankful for the hunger-relief organizations in our area and their tenacious effort in serving their clients, especially the many facing hunger for the first time.
Help our partners do this critical work in communities across our region:
Find a food shelf in your area and reach out to see what they need most this holiday season. It could be volunteers, food donations, financial support or something else.
Understand what additional food resource options are available to Minnesotans and spread the word to help reduce the stigma often associated with seeking help.
Share your story if food assistance has helped you get through this tough year.