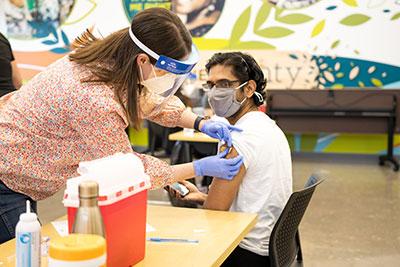 Thank You to Our Health Care Provider Hunger Fighters
Health care providers have always been heroes. And this past year proved that to a remarkable degree as the COVID-19 pandemic caused severe harm worldwide. It's that backdrop that makes a recent act by a group of Minnesota physicians all the more inspiring.
Despite all the challenges they were confronting daily, staff at M Health Fairview made a $100,000 donation to Second Harvest Heartland in December. That kind of contribution can provide 300,000 meals to communities experiencing record levels of hunger.
"It's good to do something that's bigger than ourselves," said M Health Fairview Hospitalist William Nicholson, MD, who serves as vice president of medical affairs. "We know this year has been tough on people, so we wanted to do something about it. Second Harvest Heartland is a very well-respected charity that serves the community we're part of."
The donation letter was signed by Nicholson and M Health Fairview hospital chiefs-of-staff, including Pathologist Byron Simmons, MD; Pulmonologist and Critical Care Physician Rita Patel, MD; Hospitalist Tom Scheider, MD; and Pulmonologist and Critical Care Physician Erica Kuhlmann, DO. Anesthesiologist Matthew Stiles, MD, the president of HealthEast Medical Staff, also signed the letter.
It's truly humbling and inspiring to receive this kind of support from such important leaders and caregivers in our community.
The intersection of hunger and health
"We understand now more than ever how inadequate nutrition can affect a patient's health and well-being," said Tom Scheider, MD. "We're happy to help our community neighbors."
Proper nutrition and access to food play an important role in prevention, treatment, and recovery from many health conditions. And this past year, the COVID-19 pandemic has made access to nutrition and food increasingly difficult for many, particularly those already facing food insecurity. Pre-pandemic, health challenges and food insecurity were positively correlated.
It's this irrefutable connection between hunger and health that has health care providers, even at their busiest, focused on food access. For M Health Fairview providers, they're focused on the entire health and wellness ecosystem that exists beyond their clinic and hospital walls, something that's referred to as social determinants of health. These are factors in our lives that do not seem to be health-related, yet still have dramatic effect on our health. Food insecurity, for example, can create immediate and long-term health impacts.
Integrating healthy food into patient health care
Based on this intersection, Second Harvest Heartland launched its unique-in-the-nation FOODRx program seven years ago. FOODRx fights food insecurity through partnerships with health plans and care providers, where we directly connect patients to nutritious food and education that will improve their health.
Jana Martin, a registered dietitian, leads our FOODRx program, which is currently integrated into a half dozen health plans and providers in our region. One current pilot project with Blue Cross Blue Shield of Minnesota is exploring the connection between nutrition and maternal health.
Join the hunger fight
There are a number of ways to join us in ending hunger, and we invite you to find the way that works best for you: