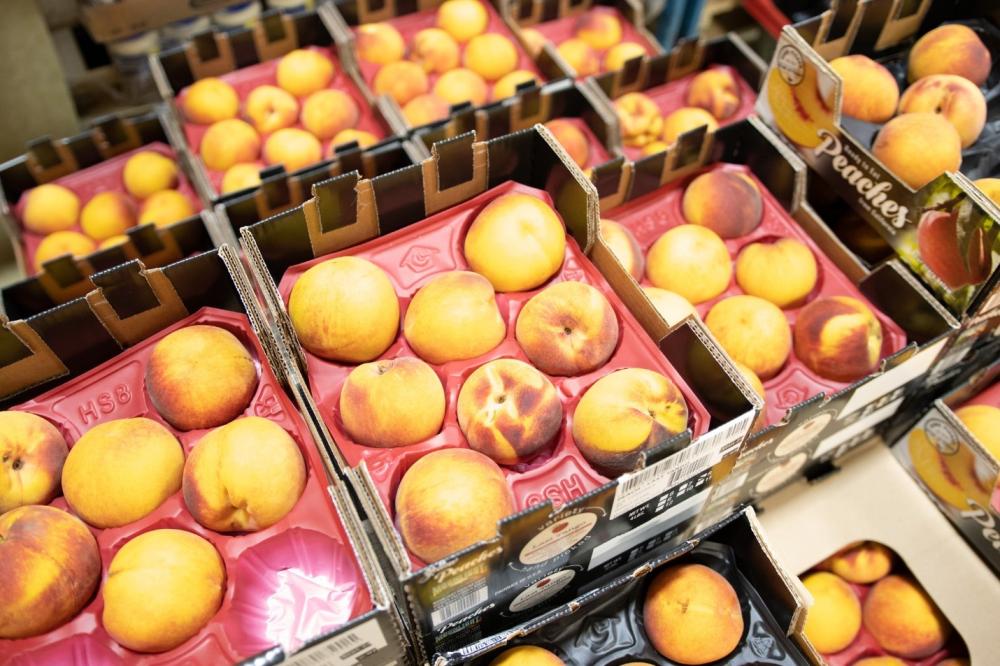 Supporting Central Minnesota with Warmth and Variety
On her first day working at Catholic Charities Emergency Services Food Shelf in St. Cloud, MN, Emergency Services Program Assistant Julie Reberg was told by a volunteer that the staff, volunteers and visitors to the food shelf would become her family. Now, over 17 years later, Julie has found that to be very true.
Catholic Charities Food Shelf of St. Cloud works with Second Harvest Heartland to provide food to households in St. Cloud, St. Augusta, Sartell, Sauk Rapids and Waite Park, MN, but their food shelf is open to anyone, regardless of where they live. They rely on an estimated 40 to 50 volunteers every day to keep their operations going, as well as eight employees.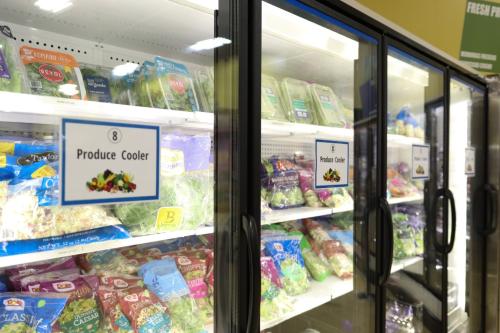 Catholic Charities Food Shelf of St. Cloud became a SuperShelf just before the pandemic. A SuperShelf is a food shelf that creates a welcoming, respectful and visitor-centered environment while increasing access to healthy and culturally connected foods. "I do feel that our clients are very happy when they go through the food shelf," said Julie, noting both the variety and quality of food available.
Like many food shelves in the state, Catholic Charities has seen an increased number of visitors in recent months. They attribute some of that growth to recent outreach within the Latino community in St. Cloud and are happy to see more visitors from Spanish-speaking communities at the food shelf.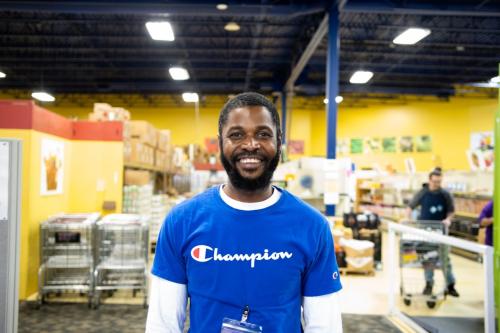 I love to help people," said Willie about why he enjoys volunteering at the food shelf.
Willie Nehan had been volunteering at Catholic Charities Food Shelf of St. Cloud for a month, working in various positions within the food shelf, including helping visitors shop. Emergency Services Program Manager Eric Vollen shared that they recently received an email from a food shelf visitor who wanted to share how much she appreciated Willie's help. She said, "He just made me feel so good. He was so helpful and thoughtful, and he deserves to be thanked."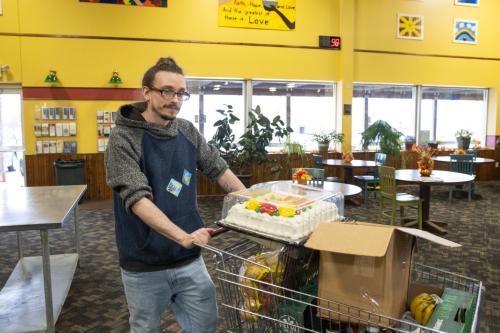 As a first-time visitor, Nathan had a very positive impression of the food shelf. He said, "There is a lot of good stuff here. I mean, I got a whole cake!"
Nathan just visited Catholic Charities Food Shelf of St. Cloud for the first time. He was recently released from prison and needed some support during this transitional phase of life. Nathan said he had been relying on other people, so he wanted to come to the food shelf and get something for himself.
When asked what he was most excited about in his cart, he said, "All the vegetables. I can cook a lot of food with this stuff." He shared that he got zucchini, squash, potatoes, tomatoes, bananas and more. Nathan loves to cook and one of the things he missed most when he was in prison was being able to cook his own meals.
"I would definitely recommend it," he said of visiting Catholic Charities Food Shelf of St. Cloud. "It's a good experience, the people are nice...it's beneficial to you, it's beneficial to the community—it's good for everybody and there is a lot of good food."