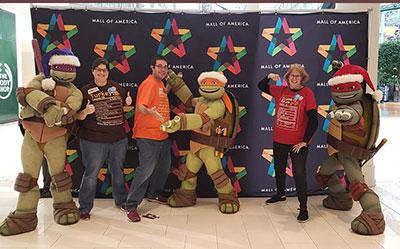 The Stepnick Family is Stepping Out to End Hunger This November
Thanksgiving has a different meaning to Claudia Stepnick's family.
Instead of observing the day with turkey and football like many families they know do, Claudia and her children, Joe and Mary, take the "giving" part of Thanksgiving to the next level. For the last eight years, they have participated as a team in the Walk to End Hunger, an annual fundraising event that helps Second Harvest Heartland provide crucial meals to Minnesotans experiencing food insecurity. Following the walk, the family often goes to donate blood and then finally relaxes by watching a movie together.
"We are happy to spend the day doing a little something for others," said Claudia. "My birthday is November 26, which is often Thanksgiving or close to it, and I can't think of a better way to spend my birthday than the walk!"
The Stepnicks have made many memories together during the Walk to End Hunger. From creating hats for the event to posing with the Teenage Mutant Ninja Turtles, the day has provided a lot of opportunities for both fun and reflection. Claudia's favorite memories are from two separate years following foot surgeries when she participated in the walk from a wheelchair and experienced things from a different perspective.
"We thoroughly enjoy every minute at the walk," said Claudia. "We look forward to it as the perfect way to start the holiday weekend. Giving back and giving thanks that we are lucky enough to be able to be there."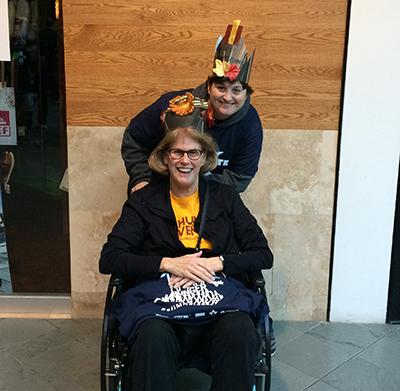 The Stepnicks are active in volunteering throughout the year at Second Harvest Heartland and several other hunger relief-focused nonprofits in the Twin Cities. Claudia is proud that Joe and Mary join her to raise awareness of and money for addressing food insecurity rates in our region. Mary has even organized groups from her office to go together to pack food, giving first-time volunteers an introduction to the hunger relief network and the role they each can play in it.
"One of the best things about being involved with the walk and our other organizations is that we have inspired other folks to jump in and go places to volunteer with us," explained Claudia. "Many folks are interested but shy about going that first time. When they go that first time with us to help pack, or deliver or serve, they often go back themselves in the future."
Because of the COVID-19 pandemic, the Walk to End Hunger has looked a little different, with participants walking whenever and wherever they can during No Hunger November. Last year, the Stepnicks missed the usual group spirit of the walk but spent a crisp and peaceful Thanksgiving morning walking at Silverwood Park instead.
In-person or not, Claudia says they will be participating in the Walk to End Hunger as long as possible because hunger can happen to anyone. "So many folks are one scary event from hunger, as we certainly learned during the pandemic."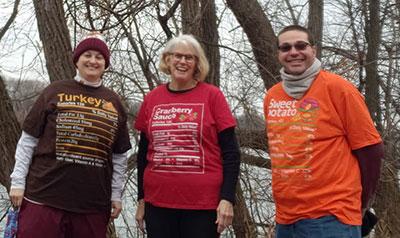 Join the Stepnicks by registering today for the Walk to End Hunger. Registration costs $25 for adults and is free for walkers under the age of 18. A route will be set up at Mall of America—where we usually gather for this exciting event—during the entire month of November, and will consist of kid-friendly activities, opportunities to win prizes, and more. There will also be plenty of ways to engage with this year's event from wherever you live, so feel free to step it out on the streets of your own neighborhood or simply join us online to raise funds for hunger relief.
To learn more about this year's Walk to End Hunger, visit walktoendhunger.org.