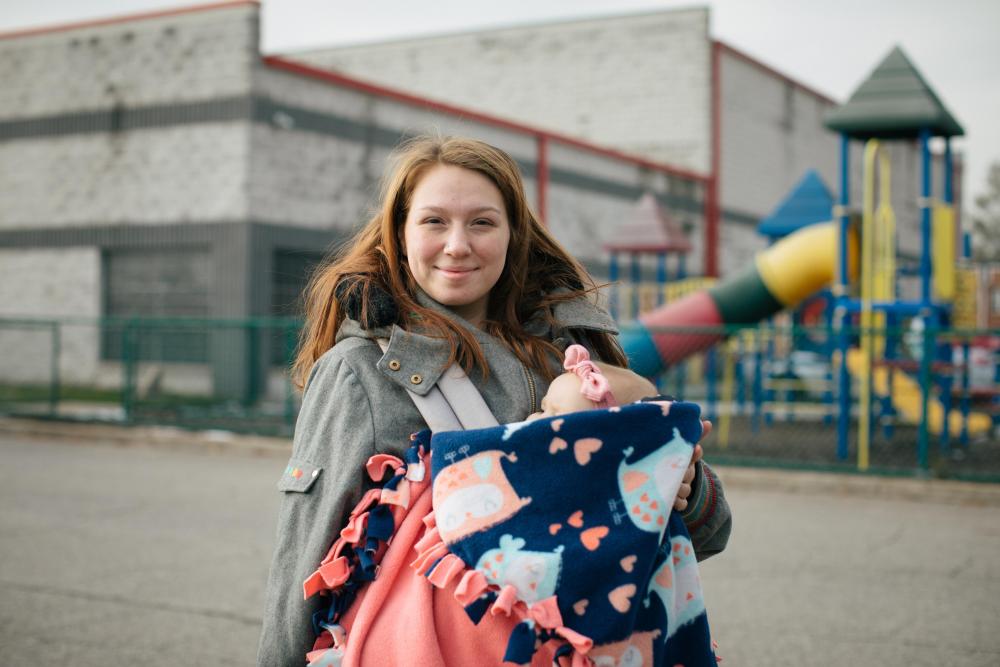 From St. James to Robbinsdale, Our School Partners Deliver for Kids and Families
For Abby Grove, there is no typical workday.
"Lots of phone calls and lots of emails," says Abby, laughing. "It depends on who needs help and what meetings there are where I am. I take care of five different districts, so it all depends on what's going on that day."
As Taher's regional food service director, Abby leads the food service contracts for St. James, Sleepy Eye, Butterfield-Odin, Brown and Edgerton school districts in southwestern Minnesota. Each community has distinct needs that can impact families' ability to access nutritious foods. For Abby, ensuring that all families have enough healthy, delicious foods is not only her job--it's her personal mission.
"Technically, St. James is in a food desert," Abby says, "and the people have to travel thirty miles to go either way to hit another grocery store."
In nearby Sleepy Eye, the recent closing of a Del Monte Foods canning plant resulted in community-wide job losses and a shrinking population of migrant workers and their families, an important part of the community and school district.
For each community in which Abby works, she worries about the rising costs of groceries and the fact that the number of hungry children in Minnesota has grown since the COVID-19 pandemic took hold. Childhood hunger in Minnesota is serious, affecting nearly 200,000 kids right now. According to the 2021 Map the Meal Gap study, 1 in 8 Minnesota children didn't know where their next meal would come from. Abby sees evidence of that in her work throughout southwest Minnesota.
"We get caught up in the ordering and the making and we sometimes lose that these kids are hungry," says Abby. "Mondays are our biggest breakfast and my staff and I have discussed that maybe they haven't had a lot of food over the weekend, and on Monday they're like, 'Yay, we get to go back to school and eat a prepared meal!' or 'My parents worked all weekend, so I ate what I could find."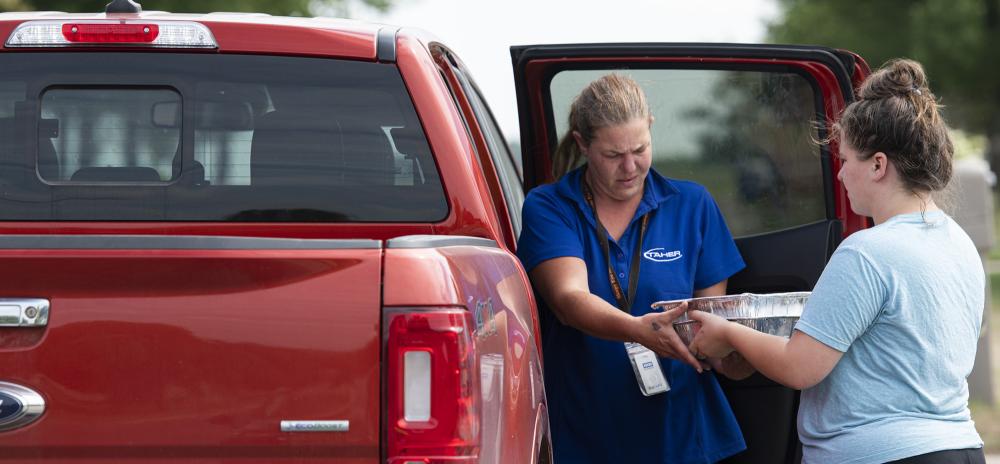 Fortunately, Abby and her staff work hard as one of Second Harvest Heartland's trusted community partners to provide nutritious meals for students year-round through Taher's school meal services. Early in the pandemic, Abby also received a grant that allowed St. James, Sleepy Eye, Butterfield-Odin and Renville schools to become distribution and delivery sites for Minnesota Central Kitchen—a Second Harvest Heartland initiative that provides prepared, family-style meals. Minnesota Central Kitchen harnesses our power as one of the nation's largest, most efficient food banks, addressing some of the biggest meal gaps our communities face through innovation and partnerships.
"Minnesota Central Kitchen meals fill a huge need," says Abby, "and to be honest, it's providing some food that people would never be able to make or try or find a recipe like these."
As with weekends, summers can lead to meal gaps for some Minnesota students. Programs like the Summer Food Service Program (SFSP), funded by the United States Department of Agriculture, provide free meals and snacks to all children 18 years of age and younger through schools and community partners. Districts like Robbinsdale Area Schools distributed thousands of SFSP meals throughout the summer of 2021. For Katie Wahl, director of nutrition services at Robbinsdale, one of the best things about SFSP is that meals are universally available to all children at no cost to families—a model Katie and Second Harvest Heartland's Child Hunger Team would like to see extended to school meals year-round.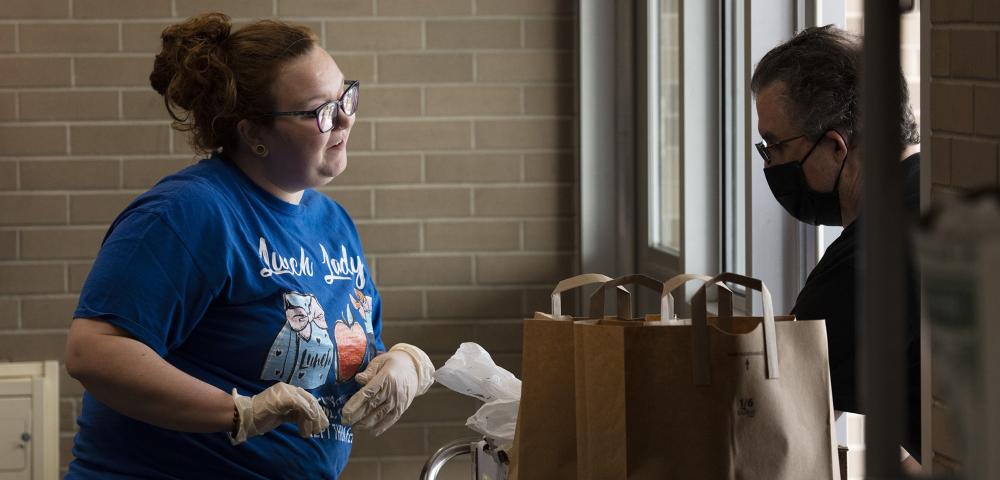 Oftentimes, state and federal resources and benefits come with eligibility requirements, which can exclude individuals and families who need assistance but may narrowly not qualify. That's why Second Harvest Heartland's Child Hunger team works tirelessly to offer tailored solutions that fit our partners' needs, co-creating solutions to end childhood hunger together. By partnering with schools across Minnesota, we have helped purchase vehicles and kitchen equipment, and even start programs like Breakfast After the Bell—an alternative meal model that serves breakfast after the start of the school day.
During the pandemic, the Child Hunger Team worked closely with Katie and her staff to find the right combination of meal options for the district's 11,500 students, making sure nutritious food was available to everyone.
For Kimberly Donaldson, who works on the nutrition services team and whose daughter attends school in the district, Minnesota Central Kitchen meals offered a nutritious option that was surprisingly delicious.
"The [Minnesota Central Kitchen] meals have been just wonderful," says Kimberly. "My husband had the taco one and loved it, and then we had one of the chicken ones with bok choy. They're nice because I like to eat healthy and I like my family to eat healthy."
Kimberly also knows that the rising cost of groceries has been tough for many families in the district.
"Produce has gone up so much in the price," she says, noting that families could take SFSP meals, Minnesota Central Kitchen meals, and even cartons of milk—an essential item that's expensive for many families.
"We know that a lot of our families had shifting financial dynamics during the height of the pandemic," says Katie, "and honestly, it's still probably ongoing right now. This freed up room in their budget so that they are able to focus on other things."
The SFSP meals and snacks and take-and-bake Minnesota Central Kitchen meals provided an essential combination for many families in the Robbinsdale Area Schools district, saving money and providing nutritious options. An added bonus? For Katie, who also has a daughter in school, the time saved was yet another win.
"It's no easy feat to have your kids home for this many months, and also being in charge of making sure their computers are charged and that they are getting on when they need to," says Katie. "I think that providing just a small amount of convenience, and all being healthy, nutritious food was a real big win for our families."
In Minnesota, no child should face hunger. At Second Harvest Heartland, we will continue collaborating with school districts and other community partners to make sure that every child can access the nutritious meals they need to succeed.