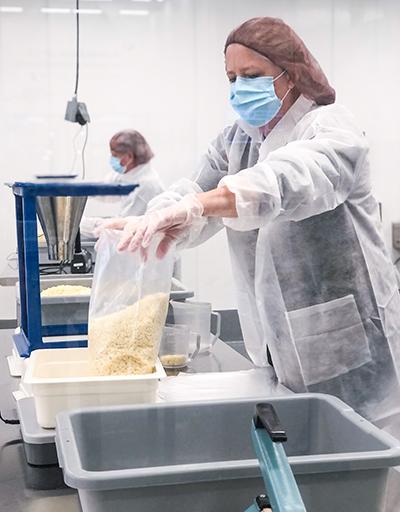 This Spring, Hairnets Are In and Contaminants Are Out
Lab coats, safety gloves, shoe covers, and hairnets. Volunteers in our Brooklyn Park facility can now be seen donning these latest fashion trends. These stylish precautions are just a few of the measures in place to keep contaminants out of the brand-new General Mills and Mosaic Clean Rooms, where our volunteers are busy packing ready-to-eat items like cereal. Bulk totes of crisp rice cereal, generously donated by Post Consumer Brands, are bagged, weighed, and sealed into smaller, more-manageable quantities to be sent out to food shelves and, ultimately, families.
Building and operating a sanitary space to re-pack ready-to-eat food in this way has been months in the making. It began when our food sourcing team received a donation of 60 pallets of unpackaged, bulk bags of cereal—too large for our neighbors in need and with nowhere to re-package them safely.
Innovating to better meet families' preferences
"Cereal is a high-demand item for our agency partners, as it's a desirable item for food shelf clients," Director of Sourcing and Demand Planning Julie Vanhove said.
Before this ready-to-eat product could enter our facility for sorting, the food-packing rooms required detailed cleaning. Our Sanitation, Facilities, and Operations teams helped develop cleanliness standards and purchased new supplies to mop the ceiling, walls, floors, speakers, and lights. Now that the new Clean Rooms are operational, the rooms are disinfected after each use.

"The items we'll be packing in the Clean Rooms are ready-to-eat (RTE), meaning the food is safe to eat without washing or cooking to remove contaminants," Volunteer Experience Supervisor Nora Dragich said. "There are numerous regulations, guidelines, and best practices that must be followed so we've implemented thorough education, training, and new protocols."
An example of a new protocol? Gloves must be changed between food and non-food tasks. If you touch a broom, you must switch out your gloves before resuming packing cereal.
Become a member of the Clean Room team
Thus, the trend forecast for this spring is that hairnets are in, and contaminants are out. Now that the Clean Rooms are open, we're excited to be able to pack high-demand products and provide new opportunities for volunteers.
Clean Room food packing will be one of the projects available during the 12:30-2:30 p.m. shifts on Tuesdays, Wednesdays, and Thursdays. Sign up on Volunteer Central.