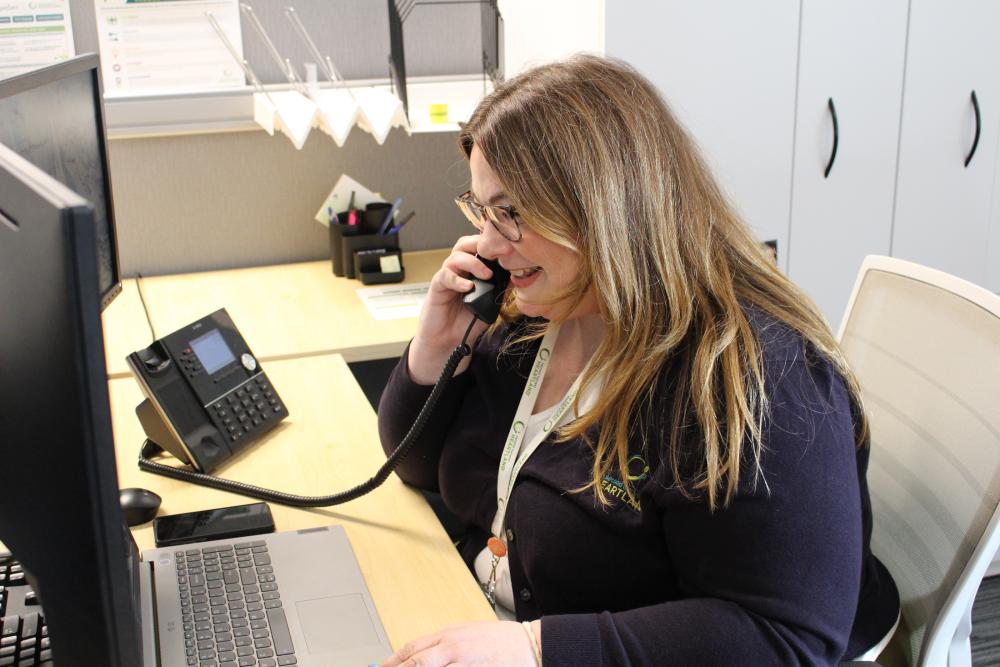 Desiree Olson supervises the outreach specialist team at Second Harvest Heartland. Here, she talks about her role in helping neighbors sign up for SNAP and other resources.
Can you talk a little bit about your role here at Second Harvest Heartland?
I am the Neighbor Services Strategic Partners Supervisor here at Second Harvest Heartland. I supervise a team of outreach specialists that service our 17-county area where we do outreach around SNAP, help people enroll, and assist with the application process.
We also talk about a menu of services that we provide at Second Harvest Heartland in the Neighbor Services Department, which ranges from SNAP to NAPS, which is a food box program for our seniors in Minnesota.
We also talk to people about other food related resources to get them connected to food. SNAP is a wonderful long-term solution, but often our neighbors are looking for an immediate solution to their food needs. So we connect folks to partnering food shelves and produce distributions, farmers markets and things like that.
I also work with a team of FOODRx engagement specialists. FOODRx is a program at Second Harvest Heartland where we engage with health care partners to get their patients connected to food boxes that cater to chronic health concerns like diabetes and heart disease. We work with the neighbors directly to determine really good ideas for recipes and hold their hand along the way while they're navigating some health concerns.
I also oversee our healthcare partnerships. We work with a range of healthcare partners as they develop systems to screen their patients for food insecurity and get them connected to thoughtful food resources. I work with those partners to make sure that their patients are seen and heard. Their referrals come directly to us, so we are able to engage with them directly and get them connected as soon as possible.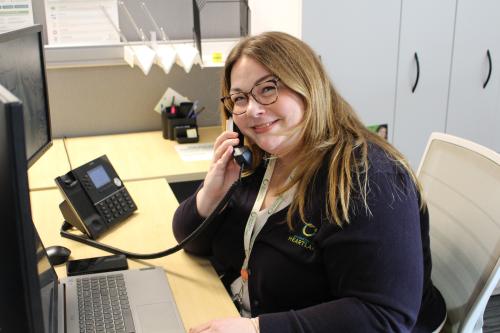 Desiree on the phone connecting with a community member
What are some preconceived notions of SNAP that are barriers to SNAP accessibility?
One of the preconceived notions that we need to overcome is that many are concerned that everyone is going to know they're on food assistance. The truth of the matter is I think that SNAP has done a really good job in creating a really confidential vehicle for getting food support.
SNAP is loaded on an EBT card, which looks like a credit card. So when people go to pay for their food, it looks just like they're paying with a debit card, which can really champion people to just go in and use this really wonderful model of getting choice food for their families.
Some of the other misconceptions is that SNAP is only available for people who are unemployed, or people believe they're disqualified because they've already qualified for an additional public program. This is not necessarily true. SNAP is available to all people who qualify: you can be employed, you just have to meet certain criteria which include household size and income.
Another misconception is that if you are enrolled in SNAP that you can't use other food services like food shelves and other produce distributions, or enroll in WIC (The Special Supplemental Nutrition Program for Women, Infants, and Children), NAPS (Nutrition Assistance Program for Seniors) or  CSFP (Commodity Supplemental Food Program). That's completely untrue. The fact is that you can be enrolled in SNAP and receive those benefits and also seek additional food resources through food shelves and food distributions.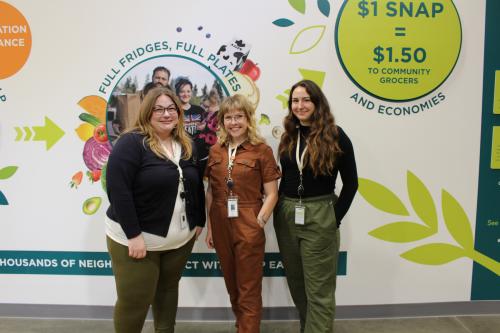 Desiree with members of the Second Harvest Heartland SNAP team here to help our neighbors
Are there common stories that you hear when you talk with folks that use SNAP?
We are experiencing a high volume of senior neighbors who are reaching out to us and inquiring about SNAP and additional food resources. Also, folks are always seeking assistance with the long and somewhat complicated application--if you've seen the CAF (Combined Application Form) application, it's about ten pages long. So lots of people reach out to us seeking information and assistance with that.
I think it's public knowledge that some of the public health emergency programs have ended in the last few months. As a result, neighbors from all age groups are experiencing lower benefit amounts. Emergency Snap (ESNAP) ended, and it has been kind of core shaking for a lot of our neighbors who have learned to expect that amount for the past three years. It's been an adjustment for a lot of our neighbors.
One of our specialists who works with our neighbors directly mentioned recently that he had been working with this senior couple, and they had disclosed that their benefit is now $23.00 a month. So obviously that's something that can be difficult to manage. In situations where our neighbors are struggling or just looking for other avenues, a SNAP specialist can come in and provide additional resources, and make sure if any recertifications need to happen. But we also provide them with additional food resources, such as getting them connected to food shelves, and for seniors, we see if they qualify for the NAPS program.
What is something that you wish more people knew about SNAP?
SNAP is a bridge to hope. We all have things we are working through. Food insecurity is a common and shared experience among many Minnesotans. It is often difficult to ask for help. It is a basic human right to have access to enough food and healthy nutrition. No one should struggle with that. At Second Harvest Heartland, we are here to break down barriers to food resources and support by meeting neighbors where they are and connecting them to short-and long-term solutions.